Hello and welcome to ExamPundit. Here are the Important Current Affairs of 28th September, 2015. These are very Important for the upcoming IBPS PO V Mains Exam.
Finance/Industry
–
Qualcomm Announced
Investment of 150 Million US Dollars for Indian Start-Ups
Silicon Valley based chip-maker Qualcomm on 27 September
2015 announced that it will invest 150 million US dollars for Indian start-ups.
The investment will come through a venture fund.
The announcement was made after the company's executive
chairman Paul E Jacobs met the Indian Prime Minister Narendra Modi at the
Digital Economy event in San Jose. The venture fund was in support of Indian
Government's Digital India and Make in India initiatives.
Qualcomm will provide local innovative start-ups the support
required to help country's Mobile and Internet of Everything (IOE) ecosystem
grow. The company is also set to extend its support to the start-ups in
financial, marketing and technology fields.
Qualcomm has been investing in Indian start-ups since 2007.
Seven MoUs signed to
boost start-ups in India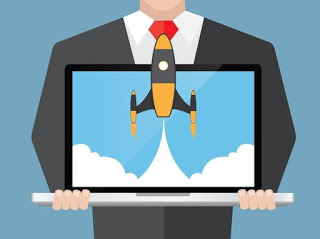 Aimed at giving a big boost to start-ups in India, as many
as seven MoUs have been signed between various organisations of India and the
US.
The MoUs were signed as Prime Minister Narendra Modi
attended the India-US Start-up Konnect 2015 in San Jose.
The first MoU between Centre for Cellular and Molecular
Platforms and the California Institute for Quantitative Biosciences is to
develop Indo-US Life Science Sister Innovation Hub so as to enhance
science-based entrepreneurship, research, academia and businesses by leveraging
each other's ecosystems.
Department of Biotechnology and Prakash Lab, Stanford
University signed another MoU on Foldscope — a frugal science innovation that
has emerged from a lab of an Indian with majority of Indians working in this
laboratory.
This lab will work with DBT to further develop and deploy
the products from this lab.
National Association of Software and Service Companies
(NASSCOM) and the Indus Entrepreneurs signed a MoU to collaborate in a mutually
satisfactory form and manner in order to support the creation of a vibrant
ecosystem to foster technology entrepreneurship in India and Silicon Valley.
IIM Ahmedabad's Centre for Innovation and Entrepreneurship
(CIIE) and Lester Centre for Entrepreneurship of the Haas Business School of
the University of California, signed a MoU to collaborate on mutual incubation,
and support each other's activities of mutual interest.
CIIE also signed a MoU with Los Angeles Cleantech Incubator
to extend NGIN Membership benefits to CIIE.
Reliance Defence
& EDIC sign MoU to manufacture defence equipment
Reliance Defence Limited (RDL), a wholly owned subsidiary of
Reliance Infrastructure Limited, has signed a strategic Memorandum of
Understanding (MOU) with Emirates Defence Industries Co (EDIC) for
manufacturing, servicing, knowledge transfer and technology development from
the UAE. They have agreed to jointly explore the opportunity for manufacturing
and building capabilities in defense vehicles, aviation and associated areas,
defence equipment and armament manufacturing, defence electronics, commercial and
naval ships and MRO of Military Equipment / Platforms.
The partnership will explore the opportunity in the UAE
defense industry where the costs for setting up facilities, recruiting and
developing scientists and engineers are high. The partnership will aim to build
synergy, bring down operational costs and leverage each others' capabilities.
RDL is pursuing partnerships in the Defence and Aerospace
segment with the leading international OEM's and raise equity stake in existing
companies within the country as also globally to meet solutions for the defence
sector.
India
–
India's 1st dedicated
satellite for astronomy research ASTROSAT launched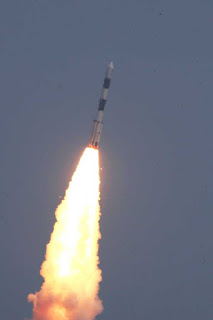 Indian Space Research Orgnaisation (ISRO) on 28 September
2015 launched India's first dedicated satellite for astronomy research, named
ASTROSAT.
The satellite was launched from the first launch pad of
Satish Dhawan Space Centre at Sriharikota, Andhra Pradesh at 10 am by Polar
Satellite Launch Vehicle (PSLV-C30). PSLV-C30 is the tenth flight of PSLV in
its 'XL' Configuration.
It was launched after the end of its 50-hour long countdown
for its launch which began on 26 September 2015 at 8am.
Scientific
objectives of ASTROSAT
To understand high energy processes in binary star systems
containing neutron stars and black holes.
Estimate magnetic fields of neutron stars.
Study star birth regions and high energy processes in star
systems lying beyond our galaxy.
Detect new briefly bright X-ray sources in the sky.
Perform a limited deep field survey of the Universe in the
Ultraviolet region.
It was for the first time that India launched US
satellites–four in all–belonging to a San Francisco-based company, under an
agreement signed with Antrix Corporation Ltd, the commercial arm of Indian
Space Research Organisation (ISRO).
With a lift-off mass of about 1,513 kg, ASTROSAT was first
injected into a 650 km orbit by PSLV-C30, followed by the other six satellites
in the space of about three minutes.
International customer satellites that piggybacked the polr
rocket were the LAPAN-A2 of Indonesia meant for maritime surveillance using
Automatic Identification System (AIS), and maritime monitoring nanosatellite
from Canada, NLS-14 (Ev9), which uses 'next generation' AIS.
Union Government
formed B S Baswan committee to revisit civil services examination pattern
Union Ministry of Personnel, Public Grievances and Pensions
in the fourth week of September revealed that an expert committee was
constituted to revisit the civil services examination pattern.
The seven member committee was constituted on 12 August 2015
and is headed by B S Baswan. Also, the committee was mandated to submit report
within six months from the date of its constitution.
Terms of reference
of the expert committee
To evaluate the effectiveness of the existing scheme of the
civil services examination in selecting suitable candidates keeping in view
various factors such as inclusiveness, fair mix of candidates from different
disciplines, etc.
To examine the plan of the examination and suggest suitable
changes to all the three stages of the examination viz., preliminary, mains and
interview.
To examine the time frame in which the examination is
conducted and suggest suitable changes to reduce the time taken for selection
of candidates by utilizing information and communication technologies, etc.
India Signs Deal with
Boeing, US for Apache, Chinook Copters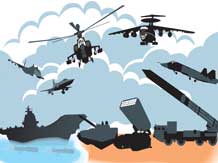 India today signed a nearly USD 3 billion deal for purchase
of 22 Apache attack helicopters and 15 Chinook heavy-lift choppers with
American aviation giant Boeing and the US government.
The first helicopter is likely to be handed over to India in
the next three to four years.
"The contract for purchase of 22 Apache and 15 Chinook
helicopters were signed here today," Defence Ministry spokesperson
Sitanshu Kar said.
The contract has a clause to place follow-on orders for 11
more Apaches and seven extra Chinooks.
The helicopter deal has survived over 10 price validity
extensions from the American side with the last one being for a month as
desired by India.
While the Chinook helicopter deal is a direct one with the
US firm, the one for Apache is a hybrid.
A part of the Apache deal was signed with Boeing for the
helicopter and the other with the US government, under Foreign Military Sales
route, for its weapons, radars and electronic warfare suites.
Sources said the total cost of the contract will be around
USD 3 billion.
World
–
Evidence of
summertime water flows on Mars: study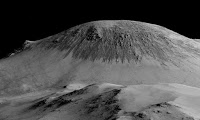 Scientists have found the first evidence that briny water
may flow on the surface of Mars during the planet's summer months, a paper
published on Monday showed.
Although the source and the chemistry of the water is
unknown, the discovery could affect thinking about whether the planet that is
most like Earth in the solar system could support present day microbial life.
Scientists developed a new technique to analyze chemical
maps of the Martian surface obtained by NASA's Mars Reconnaissance Orbiter
spacecraft.
They found telltale fingerprints of salts that form only in
the presence of water in narrow channels cut into cliff walls throughout the
planet's equatorial region.
The slopes, first reported in 2011, appear during the warm
summer months on Mars, then vanish when the temperatures drop.
Scientists suspected the streaks, known as recurring slope
lineae, or RSL, were cut by flowing water, but had previously been unable to
make the measurements.
Awards
& Honors –
Mathematician Jacob
Tsimerman won 2015 SASTRA Ramanujan Prize
Mathematician Jacob Tsimerman of the University of Toronto,
Canada on 28 September 2015 was chosen for the prestigious 2015 SASTRA
Ramanujan Prize.
Tsimerman is currently working as an Assistant Professor in
the University of Toronto. He primarily conducts research in Number Theory.
He will be conferred with the prize during the International
Conference on Number Theory at SASTRA University in Kumbakonam, Tamil Nadu
where the prize is given annually.
About SASTRA Ramanujan Prize
Founded by Shanmugha Arts, Science, Technology &
Research Academy (SASTRA) University in 2005 after the name of the genius
mathematician Srinivasa Ramanujan, the SASTRA Ramanujan Prize is awarded every
year to a young mathematician.
Lucknow-based
CSIR-CIMAP won CSIR Award for S&T Innovations for Rural Development, 2014
Council of Scientific and Industrial Research-Central
Institute of Medicinal and Aromatic Plants (CSIR-CIMAP), Lucknow on 26
September 2015 won the CSIR Award for S&T Innovations for Rural Development
(CAIRD) 2014.
CSIR-CIMAP was awarded for enhancing incomes of farm
communities through Vetiver based Technological Interventions.
The award was announced on the occasion of CSIR Foundation
Day by the DG, Council of Scientific and Industrial Research, Dr. Girish Sahni.
Reports
–
World Bank released
report entitled Leveraging Urbanisation in South Asia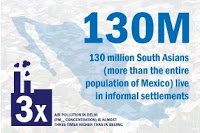 World Bank on 24 September 2015 released a report entitled
Leveraging Urbanisation in South Asia: Managing Spatial Transformation for
Prosperity and Livability.
The report provided original empirical and diagnostic analysis
of urbanization and related economic trends in the South Asia region.
Also, it also discussed in detail the key policy areas, the
most fundamental being urban governance and finance, where actions must be
taken to make cities more prosperous and livable.
Highlights of the
report
South Asia's urban population grew by 130 million between
2001 and 2011-it is more than the entire population of Japan- and is poised to
grow by almost 250 million by 2030.
Manufacturing and services account for more than 80 percent
of the region's GDP.
Report with
respect to India
13.7 percent of urban population or 1 in 7 in urban areas
live below the poverty line in the country compared to 13.1 percent in
Pakistan.
Among the very poorest, under 5 mortality rate is higher in
urban than in rural settings.
Delhi's air pollution (PM 2.5 concentration) is almost three
times higher than in Beijing giving it the dubious distinction of being the
world's most polluted city.
For the 12 largest Indian cities the proportion of built-up
area outside a city's official boundaries exceeds that within its boundaries.
Days
–
World Tourism Day
observed with theme One Billion Tourists, One Billion Opportunities

World Tourism Day was observed across the world on 27
September 2015. The theme of the World Tourism Day 2015 is One Billion Tourists,
One Billion Opportunities.
The theme wants you to talk Tourism and help to raise
awareness of its impact on countries and communities around the world. It talks
about its potential as a force for good and creating a better world for all.
Burkina Faso will host the Official Celebration 2015.
Current
developments and forecasts
International tourist arrivals grew by 4.3 percent in 2014
to 1.133 billion.
In 2014, international tourism generated 1.5 trillion US
dollars in export earnings.
UNWTO forecasts a growth in international tourist arrivals
of between 3 percent and 4 percent in 2015.


Regards
Team ExamPundit
Sponsored

(adsbygoogle = window.adsbygoogle || []).push({});
Books For 2015 Banking/Insurance Exams