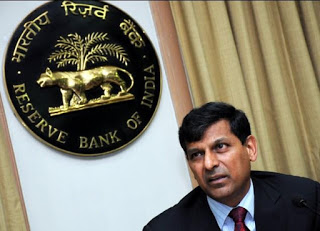 Hello and welcome to ExamPundit. Here is the detailed update on Reserve Bank Of India's Fourth Bi-Monthly Policy. Thanks Dheeraj and FedEx for their inputs! 🙂
The Reserve Bank of India (RBI) lowered the benchmark repo
rate by 50 basis points to 6.75 percent. It kept the CRR unchanged at 4
percent. This marks the fourth repo rate cut by the RBI since January 2015.
However, it has lowered its FY16 GDP growth target to 7.4 percent from 7.6
percent. It also said the focus should now shift to bringing inflation down to
5 percent by FY17-end.
Types

Current
Rate

Repo

6.75%
(Reduced by 50 bps)

Reverse Repo

5.75 %

Bank rate

7.75%

MSF

7.75%

CRR

4%
(UNCHANGED)

SLR

21.25%
The repo rate was last at 6.75 percent in March 2011.
However, the RBI cautioned that since the third bi-monthly
statement of August 2015, global growth has moderated, especially in emerging
market economies (EMEs), global trade has deteriorated further and downside
risks to growth have increased.
However, as far as India is concerned, a tentative economic
recovery is underway, but is still far from robust, the RBI statement
states.
The RBI has also said that foreign investment cap in
government bonds will be relaxed in phases to 5 percent by March 2018. A hike
in foreign investment limit in bonds will be announced every March, September.


Regards
Team ExamPundit
Sponsored

(adsbygoogle = window.adsbygoogle || []).push({});
Books For 2015 Banking/Insurance Exams