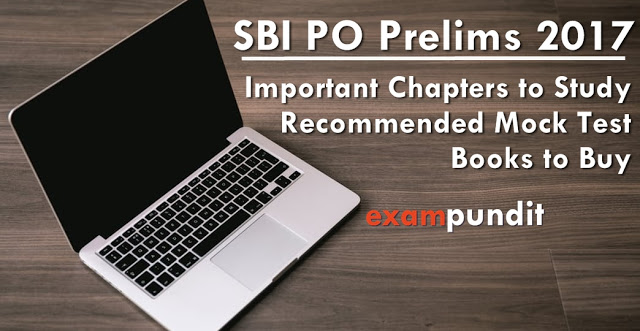 Hello and welcome to exampundit. Here are the important Chapters, Mocks and Books for SBI PO Prelims 2017.
English Language – Important Chapters
Spotting Errors
Reading Comprehension
Cloze Test
Fill in the blanks
Para Jumbles
Synonyms
Antonyms
Idioms & Phrases
Deriving Conclusions
Quantitative Aptitude – Important Chapters
1. DATA INTERPRETATION
2. SIMPLIFICATION
3. NUMBER SERIES
4. QUADRATIC EQUATION
5. ARITHMETIC & MENSURATION
Important chapters are:
Profit & loss
Compound & simple interest
Speed & distance
Pipe & cisterns
Work & efficiency
Age related problem
Problems on percentage
Mixtures & alligation
Probability based on permutation & combination
Cylinders, cone, sphere
Boat & Stream
6. DATA SUFFICIENCY.
Reasoning Ability – Important Chapters
1. Alphabetical and Alphanumeric series
2. Direction and Distances
3. Coding-Decoding
4. Ranking Test
5. Blood Relation
6. Input-Output
7. Decision Making
8. Syllogism
9. Inequality
10. Seating Arrangement
11. Puzzles
12. Assumptions
13. Arguments and Evaluating inferences
14. Stronger and Weaker arguments
15. Course of Action
16. Cause and Effect
17. Data Sufficiency
Video Lessons and Course for SBI PO Prelims 2017
Mock Test Series for SBI PO Prelims 2017 with a FREE MOCK TEST
CLICK HERE TO TAKE FREE MOCK TEST
Important Books to buy
Buy the best book for Reasoning Ability:
Buy from Amazon – Click to Buy
Buy from Flipkart – Click to Buy
Buy the best book for English Language
Buy from Amazon – Click to Buy
Buy from Flipkart – Click to Buy
Buy the best book for Data Interpretation:
English Version –
Hindi Version –
Sponsored
googletag.cmd.push(function() { googletag.display('div-gpt-ad-1487064173474-0'); });
Regards
Team ExamPundit