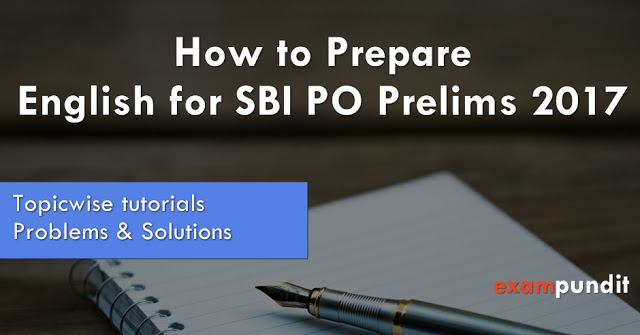 Hello and welcome to exampundit. Pattern can be changed at anytime like a sudden storm as you have experienced in last year's exams. So try to prepare yourself as 'the master' for any section, rather running after the typical methods. In this article we will try to guide you people how to build up the knowledge in English section.
Problems you face:
1. Even after attempting a good number of questions in English section, you cannot get the desired marks (sometimes) not because it's a foreign language, but because of the less knowledge in English grammar and vocabulary.
2. Sometimes, knowing all the grammatical rules does not work well especially in 'spotting error' section.
3. Though in case of grammar section time management is not a big deal, but in case of 'reading comprehension' you face that the time is running out like a hell.
4. 'Rearrangement' section also sometimes brings a miserable condition in examination hall and makes us confused even after applying all the rules you know. Besides all these major problems you also face some minor problems when you are in the exam hall and also while
practicing.
How to deal with the problems:


1. Building up reading skill: In case of grammar section, you have to have a tight grip on it. For this you have to go through the basics and proper usage of grammar and also practice it on daily basis. None can beat you in any section if you PRACTICE every section daily. And practice means not only giving mock tests, but also read any passage/news/novel/story etc. daily at least for an hour and observe the usage of grammar and calculate them mentally just like your aptitude section. Follow and observe if there is any grammatical error while reading (even when you are reading this article) and make yourself the master in English grammar. Reading also builds up your vocabulary knowledge which helps in solving synonyms and antonyms section. More you read, more you would come across with new words and make your own dictionary at home. Reading also helps to boost up your speed in reading skill which will help you to manage your time in case of 'reading comprehension'. Reading skill also prepares your brain to go with the SENSE of LANGUAGE rather than just following the grammatical methods. Because it's a language after all, sometimes going with the sense makes it easier to spot any error, to arrange the sentences and to derive conclusions.
2. Building up writing skill: You don't need to write any paragraph or letter(except SBI PO mains),then why should you build up writing skill? Here is the answer, English is not only a section or subject, it's a language above everything. If you practice to build up your writing skill you will easily find out which one is your weaker section, whether its lack of vocabulary knowledge or lots of grammatical mistakes. So write on any daily topic at least one page (it will also help you to gather current affairs knowledge).
3. Building up listening skill: When you will listen any language on a daily basis you will automatically acquire knowledge in that language. It will help you to build up your sense in language and instead of running after typical grammatical methods, it will give you a confidence to tick the right answer without wasting any time. So listening to English news channel one hour a day is must for building up your sense in language.
To sum up, just build up your reading, writing and listening skill in English language and definitely practice them on daily basis and also give mock tests for evaluating yourself, for sure you will get your desired marks in the exams.
N.B..: Instead of hunting the "expected stuffs", you should master in it.
Important Chapters for SBI PO Prelims English:
Spotting Errors
Reading Comprehension
Cloze Test
Fill in the blanks
Para Jumbles
Synonyms
Antonyms
Idioms & Phrases
Deriving Conclusions
Regards
Team ExamPundit
We are sorry that this post was not useful for you!
Let us improve this post!
Tell us how we can improve this post?
EP Recommends: Oliveboard Mock Tests