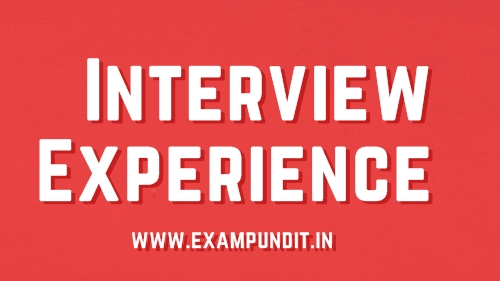 Hello and welcome to ExamPundit. Here is an Interview Experience of UIIC Assistant 2015 shared by Manikandan from Tamil Nadu.
Today (26-11-15) on 10AM I have attended my uiicl assistant interview
in madurai-R.O ( Tamilnadu). I am here sharing full interview and what happened
without missing friends like what they asked and what answered.
First reached the
venue at 9.30AM. I went to the verification hall.
All staffs are so friendly and helped a lot. Take your State
caste
certificate along with ur OBC certificate . Its necessary .
Next they
asked me to write a paragraph of 6 lines about a famous
leader whom i
liked in my mother tongue to check language proficiency.
next all
verification process finished. since the time is 10AM they
asked me to
attend the interview
directly and then attend cpt test. so went to
inside the hall. There are three member all r males. Hereafter
i will
switch to conversation view between me and panel members.
Me: Good morning sirs.
P1,P2,P3: Good morning take your seat.
P2: how are you?
Me: I am fine sir how are u?
P2: oh fine thank you. Tell about ur family.
Me: My father is working in National insurance company
limited and mom
is home maker.
P2: You completed ur
graduation on 2014. 18 months over what are u doing now?
Me: Working in a Small scale company .
P2 : wats ur nature of work?
Me: Supervising, inspection.
P2: Is the work shift basis?
Me: Yes sir 8hr shift
P2: Wats ur salary there?
Me : 10000 sir.
P2: here u know wats ur salary.
Me: s sir now wage revision has been given so around 23000
sir
P2: Ok good.
P3: Ur father is working in insurance wat he said about
insurance to u.
Me: Insurance is a contract between insured and insurer.
P3: oh good what are the various types of insurance policies
u know?
Me: Fire insurance, motor insurance , health insurance.etc..
P3: what is mean by health insurance
Me: Compensating the medical expenses faced by the insured
sir . Two
modes cash and cashless facility available.
P3: Cashless facility when it is given
Me: if insurance company have tie up with hospitals cashless
facility
can be given sir.
P3: A specific person engaged in providing cashless
facility.
Me: TPA . Third party administrators sir.
P3: oh good. Shall i ask about capitals
Me: sure sir.
P3: Capital of finland.
Me: Helsinki sir
P3: capital of mauritius
Me: Port louis sir.
P3: u know any one Lady chief minister in our country.
Me: yes sir there are 4 lady CM in our nation]
P3: oh good tell their names.
Me: Tamilnadu CM selvi Jayalalitha, WB CM Ms.Mamta banerjee,
Gujarat
CM Anadhi ben patel,
Rajasthan Vasundra raja sindhya.
P3: oh good.
P2: P1 sir u ask some questions.
P1: Road transport minister
Me: Shri.jairam nitin gatkaree
P1: Human resource and development minister
Me: Smt. Smriti rani
P1: Lok sabha speaker
Me: first lightly struggled
P1: dont wry take ur time and sumi
Me: yes sir smt.sumitra mahajan
P1: function of speaker
Me: They will precide the meetings and take disciplinary
actions
against members who trouble the assembly
P1: Earthquake has any measurement for it.
Me : yes sir richter scale.
P1: sound is measured in?
Me ; Decibel sir.
P1: Planning commission is renamed as?
Me: Niti ayog sir
P1: who is the chairperson of it
Me: Honourable PM Narendra modi
P1:Who is the vice president of it
Me: Arvind panagriya sir
P1: U know anything about him.
Me: sorry sir dont know. i know only his name here after try
to learn.
P1: Who is rajiv gandhi
Me: He is the former prime minister of india sir
P1: Son of whom
Me: Mrs.Indhra gandhi sir
P1: sry i ask wrongly tell abt rahul gandhi
Me; son of soniya gandhi sir
P1: wats his position now
Me: Vice president of congress sir
P1: Today morning newspaper any special news about him
Me: Sry sir tdy morning i did not read newspaper
P1: U not read news paper
Me: i read newspaper regularly sir. daily paperboy reach my
house at
9AM. today also he did not come to my home since i leave
today at 8.50AM .
P1: Oh kk
P2: U will work if u get posting anywhere
Me: Sure sir i will work anywhere u post me.
P1,P2,P3: All the best for ur final selection in our
company.
Me: Thanku so much sirs and wished them individually.
This is my entire interview friends. This is my 1st interview friends. give me
suggestion what are the things i want to improve.
Next cpt test:
Paragraph of 8 lines in MS word. Typed Font size 12,
justified alignment and font style Timesnew roman.
Next Ms excel .table consist of 4 states population in four
years.
U want to sum row wise and column wise after finishing.
Note: the formula bar is disabled. so u should use
"=SUM(Cell address: cell address )" and give enter in the total
column next drag to all
column r rows u will get answer. Eg: =SUM(B2:B5) in the B6
column. same
in rowwise also.


Regards
Team ExamPundit
Sponsored

(adsbygoogle = window.adsbygoogle || []).push({});
Books For 2015 Banking/Insurance Exams