Hello and welcome to ExamPundit. Here are the Important Current Affairs of 26th November, 2015. These are Important for the upcoming Bank and Insurance Exams.
Banking/Finance/Industry –
RBI relaxes expat rules for foreign banks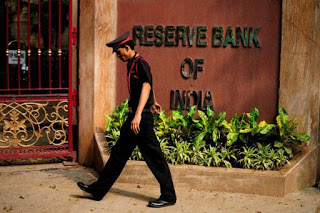 Reserve Bank of India (RBI) has
allowed foreign banks to deploy up to four expatriates for each branch opened
in India and up to six expatriates for their head office functions.
The banking regulator said this
has been done to review its position since some foreign banks requested it to
remove numerical restriction on engagement of expats.
These banks had expressed
concerns about the numerical restrictions in view of the operational
difficulties faced by them in doing business in India.
This move is expected to benefit
and help foreign banks get global expertise for their Indian operations as
well.
However, the regulator clarified
that the other instructions with regard to the posting of trainee officers and
remittance facilities by the expatriate officers in Indian branches remain
unchanged.
Union Bank ties up with Maharashtra for OTC tax collection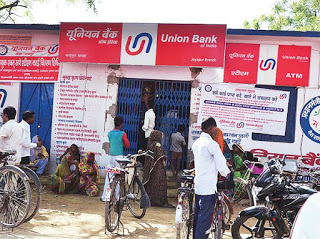 State-run Union Bank of India
today tied up with Maharashtra for over-the-counter (OTC) collection of taxes
and receipts.
The bank has integrated its core
banking with the Maharashtra virtual treasury, GRAS (Government Receipt
Accounting System), to facilitate OTC tax collection, which will provide one
more mode of payment for convenience of tax payers and the state.
It will give tax payers the
convenience of payment at the branch through their account or by cash with
online generation of challans and real time updation of records through GRAS.
The state will also be benefited
by having a hassle-free revenue collection, daily reconciliation, real-time update
of records and providing easy reach to the tax payers.
India to become third-largest air passenger market by 2026: IATA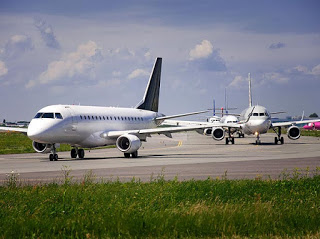 The global air transportation
body on Thursday predicted that India will become the third-largest air
passenger market by 2026.
As per the International Air
Transport Association's (IATA) updated passenger growth forecast, India will
displace Britain as the third-largest market by 2026.
The forecast said China is
expected to overtake the United States as the world's largest passenger market
by 2029.
The forecast projected that
globally total passenger numbers will reach seven billion by 2034 with a 3.8% average
annual growth in demand taking 2014 as baseline year.
Previously, IATA forecast that
global air passenger count will reach 7.4 billion by 2034 based on a 4.1%
average annual growth rate.
The global air transportation
body said that the revised result reflect a negative trend in the world economy
which is expected to dampen demand for air transport, especially slower
economic growth projections for China.
India –
India successfully test-fires nuclear-capable Prithvi-II missile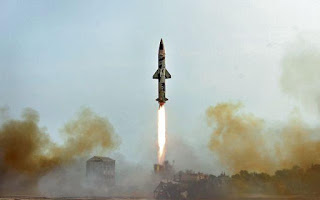 India today successfully test-fired
its indigenously developed nuclear capable Prithvi-II missile, which has a
strike range of 350 km, as part of a user trial by the army.
The missile test was carried out
from a mobile launcher from launch complex-3 of the Integrated Test Range (ITR)
at Chandipur near here at 1210 hrs.
The surface-to-surface Prithvi-II
missile is capable of carrying 500 kg to 1,000 kg of warheads and is thrusted
by liquid propulsion twin engines. It uses advanced inertial guidance system
with manoeuvring trajectory to hit its target.
Days –
National Milk Day observed in India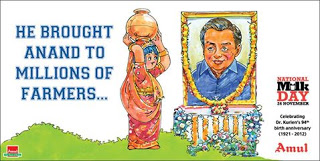 The National Milk Day (NMD) was
on 26 November 2015 observed across India to mark 94th birth anniversary of the
Father of the White Revolution Dr Verghese Kurien.
The idea of observing National
Milk Day was first mooted by Indian Dairy Association (IDA) in 2014 on the
lines of World Milk Day that is observed on 1 June every year under the aegis
of UN Food and Agriculture Organization (FAO).
The first NMD was observed on 26
November 2014 by all Indian diary sector majors including National Dairy
Development Board (NDDB), IDA along with around 22 state level milk
federations.
Dr. Verghese Kurien is also known
as the Milkman of India and the architect of Operation Flood, the idea that
transformed India from a milk-deficit country into the world's largest milk
producer.
He founded around 30 institutions
of excellence (like AMUL, GCMMF, IRMA, NDDB) which are owned, managed by
farmers and run by professionals.
International Day for the Elimination of Violence Against Women
observed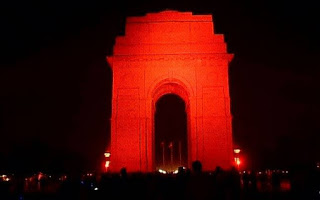 International Day for the
Elimination of Violence Against Women was observed across the world on 25
November 2015. The day is observed to raise awareness about violence against
women and discuss solutions that would work for women community.
The observance of the
International Day for the Elimination of Violence Against Women will be marked
by organisation of an event called Orange the world: End violence against women
and girls across the world.
The event is being organized
under the UN Secretary General's Campaign called UNiTE to End Violence against
Women.
Appointments –
Former Infosys CFO Rajiv Bansal joins Ola as CFO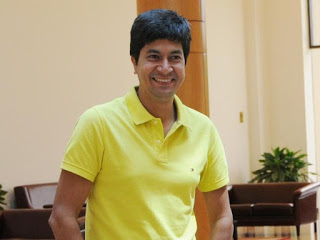 Former Infosys chief financial
officer Rajiv Bansal will join app-based taxi aggregator Ola in January 2016, a
company statement said.
Bansal, who has over 21 years
experience, 16 of those in Infosys, will be part of Ola's leadership team.
Mitesh Shah, who is currently the CFO, will lead Strategic Finance Initiatives
as part of Rajiv's team, going forward, Ola said in a statement.
Sunil Kanoria appointed as President of ASSOCHAM
Sunil Kanoria was on 25 November
2015 appointed as the President of The Associated Chamber of Commerce and
Industry of India (ASSOCHAM). Kanoria has succeeded Rana Kapoor, Yes Bank
Managing Director and CEO.
Kanoria has an impeccable record
as an expert in the field of finance. He
has been instrumental in bringing over 34000 crore rupees of consolidated
assets under SREI which became one of the first NBFCs to get listed on the
London Stock Exchange.
Kanoria is the Vice Chairman of
reputed non-banking finance company SREI Infrastructure Finance Limited.
Mauricio Macri won the Presidential election of Argentina
Conservative opposition candidate
Mauricio Macri won the presidential election of Argentina with over 51.5
percent of vote in the fourth week of November 2015.
As per the results declared by
the National Electoral Chamber of Argentina, Macri, the leader of the
centre-right Cambiemos [Let's Change] coalition, secured 51.5 percent of votes,
while Centre-left Peronist candidate Daniel Scioli conceded defeat with 48.5
percent votes.
With this win of Macri, Argentina
will see the centre-right leading the government after 12-years of leftist
government. In December 2015, he will replace Christina Fernández de Kircher in
the Casa Rosada presidential palace
World –
China building world's largest animal cloning factory
Chinese scientists in third week
of November 2015 unveiled their plan to develop the world's largest animal
cloning factory. It will be created to save critically endangered species from
extinction.
It will mainly focus at cloning
cattle, which would help China to keep up with Chinese demand of the meat.
It hopes to produce around one
lakh cow embryos annually, which would be five percent of the Chinese market
for beef.
Obituaries –
Sitting Rajya Sabha MP from Nagaland Khekiho Zhimomi passed away
Sitting Rajya Sabha MP from
Nagaland Khekiho Zhimomi passed away on 26 November 2015 following a cardiac
arrest at the All India Institute of Medical Sciences in New Delhi. He was 69.
He served as the member of
Nagaland Legislative Assembly for three times.
Noted Indian-Origin Businessman Banwari Lal Mittal died
Nepal's noted Indian-origin
businessman Banwari Lal Mittal passed away on 25 November 2015 at Kathmandu,
Nepal after protracted illness. He was 79. He is survived by his wife, two sons
and a daughter.
Mittal was the Founder and
Chairman of Shree Airlines of Nepal. Mittal launched Shree Airlines in 1990.
Today, Shree Airlines is the largest helicopter operator in Nepal with a fleet
of six 24-seat Russian-made MI-17 helicopters and four Eurocopter AS350 B3e
helicopters.


Regards
Team ExamPundit
Sponsored

(adsbygoogle = window.adsbygoogle || []).push({});
Books For 2015 Banking/Insurance Exams