Hello and welcome to exampundit. Our very own follower Abhineet Gaurav has shared the IBPS RRB OS-I 2017 Interview Experience from Lucknow, Uttar Pradesh.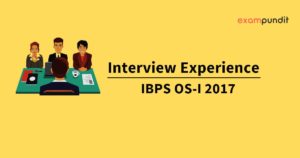 Here it goes….
---
My interview was held on 23rd December 2017 on the centre named:GRAMIN BANK OF ARYAVART; STAFF TRAINING CENTER ARYAVART, SNEHNAGAR NR NAHARIYA CHAURAHA AWADH HOSPITAL ALAMBAGH LUCKNOW-226005 (UP) after lunch i.e. 01:00 PM.
My interview was in 'X' panel. After the document verification process, which held smoothly I was called for PI. My no. was 1st as I requested them to take my interview first as I had to travel to Bihar from Lucknow. They did let me go first. As I entered the interview room with due permission they allowed me to enter the room. There were four male members and one female member. All members were above 55 in age. I greeted the director first and then ma'am and again to all male members. Director told me to sit. I thanked him with smile.
M_1: Aapka Shubh naam kya hai?
Ans: Told(Abhineet Gaurav).
M1: So Abhineet, what is your recent qualification?
Answered: sir, B.A. Geography(Hons.).
M_1: After the graduation what were you doing to current date?
Ans: As I had no work experience, I told him that sir, I was preparing for the banking exams.
M_1: So, did you appear in any interview?
Ans: I told yes! Three-time in PO exams(IBPS PO V & VI) and Bank of Baroda(PGDF)_:1
M_1: So Abhineet Gaurav, you would have certainly had good knowledge of banking.
Ans: Perhaps yes!(As I told him).
M_1: How many marks did you get in those exams.
Ans: I told him(60-55-65).
M_1: What question did they ask to you?
Ans: Told(I remembered 5-6 question at that moment).
M_2: Did you read about some(Banking Instrument)?
Ans: Yes.
M_2: Name three.
Ans: Bill of exchange, Promissory note and Commercial paper.
M_2: What is cheque and How many parties are there in a cheque.
Ans: Told.
M_2: What is financial inclusion and how will it be achieved?
Ans: Told but not satisfactory!
M_3: Name the five North East state and their capital?
Ans: Told.
F_4: The country of the lowest population?
Ans: Didn't remember at that moment.(Vatican city)
F_4: The country of highest population.
Ans: Told(China).
F_4: The country around Sikkim?
Ans: Told(China, Bhutan & Nepal).
And the final concluding question from Director.
D_If you are selected as Probationary Officer in the bank, What will you do on your first day?
Ans: Sir, I would like to reach there on time and I will do my best to perform the task assigned by my branch Manager.
He said me, Ok!…Best of Luck and you may go now…
Before I went out from the room, I said thanks to all of the members sitting there.
Hope for the best and Best of luck to you friends.
---
Average rating / 5. Vote count:
We are sorry that this post was not useful for you!
Let us improve this post!
Thanks for your feedback!
EP Recommends: Oliveboard Mock Tests