Hello and welcome to exampundit. Here is a set of IBPS SO Marketing Officer Professional Knowledge on Brand Management for IBPS Specialist Officer 2018.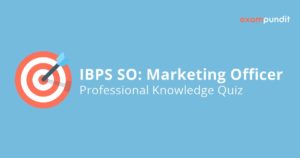 1. The unique selling proposition (USP) was started in:
a) Advertising era
b) Image era
c) Product era
d) The positioning era
2. An apparel marketer is planning to launch an existing brand name into a new product category. Which brand development strategy is being implemented?
a) Line extension
b) Multibrand
c) Brand extension
d) Rebranding
3. Which of the following is one of the marketer's major positioning tools, which has a direct impact on product or service performance; thus, it is closely linked to customer value and satisfaction.
a) Social marketing
b) Product quality
c) Specialty marketing
d) Position marketing
4. Opportunities for growth and expansion are identified by finding:
a) Customers' beliefs about the segment
b) Customers believe about our competitors
c) Customer's perceptions about the brand
d) Customer's response about the products
5. According to Scot Davis, how many years are required to change the brand positioning?
a) Two to five years
b) Three to six years
c) Two to six years
d) Three to five years
6. Which of the following is basically getting into different versions of the same base production the same market?
a) Product extension
b) Brand diversification
c) Market extension
d) Line extension
7. Which of the following is a "concise statement that summarizes brand's commitment or promise to target consumers and actively communicates the advantage over competing brands"?
a) Vision statement
b) Mission statement
c) Positioning statement
d) Value statement
8. Whichever positioning you may like to choose, it has to stem from which one of the following point of view so that they can own it?
a) Customers
b) Competitors
c) General Managers
d) Brand owners
9. Which one of the following is NOT considered as competitive differentiation?
a) Product
b) Sales
c) Service
d) Image
10. Marketers need to position their brands clearly in target customers' minds. The strongest brands go beyond attributes or benefit positioning. They are positioned on the basis of which of the following?
a) Desirable benefit
b) Good packaging
c) Strong beliefs and values
d) Service inseparability
You can check the previous quiz from here.
Regards
Team EP
We are sorry that this post was not useful for you!
Let us improve this post!
Tell us how we can improve this post?