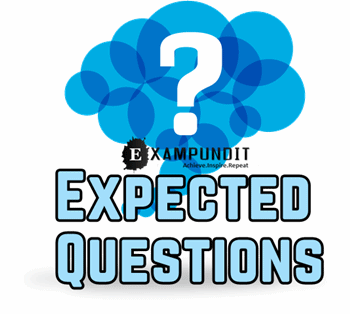 Hello and welcome to ExamPundit. Here is the Part one of the Expected Questions on Insurance Awareness in 2015.






1. The complaint to
Insurance Ombudsman must be lodged within _______.
– 1 year of the incident
2. How much do you
need to pay to lodge a complaint to Insurance Ombudsman?
– Nil
3. What is the
maximum claim amount for an Insurance Ombudsman complaint?
– Rs 20 Lakhs
4. TATA AIG General
Insurance Company is a Joint Venture between TATA Group and ______________.
– American International Group(AIG)
5. AVIVA India is a
Joint Venture between Aviva PLC and ___________.
– Dabur Group
6. Max Life Insurance
is a Joint Venture between Max India and __________.
– Mitsui Sumitomo Insurance Co Ltd
7. IndiaFirst Life
Insurance Company is a Joint Venture between Bank of Baroda, UK's Legal &
General and which other Indian
Public Sector Bank?
– Andhra Bank
8. SBI General
Insurance Company is a Joint Venture between State Bank of India and
______________.
– Insurance Australia Group
9. Insurance
Australia Group has recently increased the share to 49% in which general
insurance company?
– SBI General Insurance Company
10. What is the cover
amount of full disability in Pradhan Mantri Suraksha Bima Yojana?
– 2 Lakhs
11. Laxmi Vilas Bank
recently signed a 5 year Bancassurance Pact with which Insurance company?
– Max Life
12. Insurance Policy
which is provided as an additional layer of security to those who are at risk
for being sued for damages to other
people's property or injuries caused to others in an accident is called __________.
– Umbrella Insurance
13. A life insurance
policy that a company purchases on a key executive's life.
– Keyman Insurance /
Chairman Insurance/Business Life Insurance
14. Type of
reinsurance in which risks is coded on an individual basis. The coding company
can choose whether or not to
reinsurer can decide to accept or reject the business is called ____________.
– Facultative Insurance
15. The theory that
enables the insurance company to predict potential losses based on a study of
the insured's previous loss
experiences.
– Theory of Probability
16. Insurance policy
that has values assigned to insured items, the values being agreed by the
insurer and in the event of claim
for total loss, that is the sum paid without the need for further negotiation.
– Valued Policy


Regards
Team ExamPundit
Sponsored

(adsbygoogle = window.adsbygoogle || []).push({});
Books For 2015 Banking/Insurance Exams