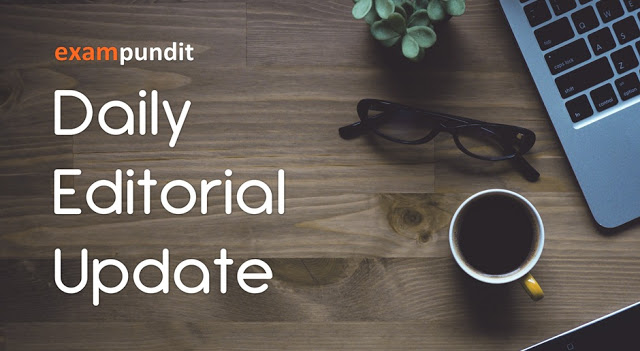 Hello and welcome to
exampundit
. Here is today's Editorial from the very best Economic Times titled "Penalty on customers: A myopic move by public sector banks".
_______________________
Today's Topic: Penalty on customers: A myopic move by public sector banks
The State Bank of India's (SBI) move to reintroduce penalty on depositors who do not maintain a minimum balance in savings account is short-sighted. This is so for three reasons. One, the justification offered, of having to recoup the cost on no-frills Jan Dhan accounts, is less than convincing. Two, if public sector banks (PSBs) are seen to be mercenary in their treatment of customers, depositors might well migrate to private banks that offer superior returns, if not service, and deprive PSBs of their huge cushion of current and saving accounts (Casa).
Three, banks stand to lose goodwill, of which they will need oodles, when their bad loans are restructured, involving haircuts and perceived concessions to defaulting borrowers, deemed, for the most part, to be dodgy types. Of the 27.84 crore Jan Dhan accounts opened so far, holding Rs 64,228 crore, PSBs account for about four-fifths of the number of accounts and of the deposits. With increasing proportions of the government's subsidy expenditure being transferred to these accounts as cash, banks stand to enjoy a float of a few lakh crore.
If they still feel they incur a net cost on Jan Dhan accounts, they are welcome to satisfy a relevant committee of Parliament that they deserve a budgetary subvention for performing this public service. They should not endanger their Casa cushion. Casa account for about 47% of the total deposits in SBI and 37.4% of the deposits in the other PSBs, yielding them a huge margin between the rates offered on deposits and those charged on loans. If penal charges force customers to do a hard commercial comparison between PSBs and private banks — such as the payment banks that promise ubiquitous access — and vote with their feet, PSBs would be left with egg on their face, and some petty change in penalty collections, of course.
These banks are sitting on a pile of bad loans that need to be restructured. They also require more capital infusion. When public money is used to bail out a bank, the public is likely to be more kindly disposed towards a benign fuddy-duddy who makes mistakes than towards a Shylock who privileges tycoons.
_______________________
Sponsored

(adsbygoogle = window.adsbygoogle || []).push({});
Regards
Team ExamPundit