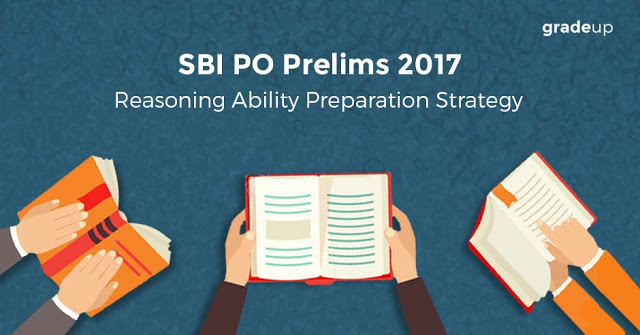 The
Notification for SBI PO Exam
, one of the most sought after exam of the country,
came quite earlier than expected this year. Almost a month is now left for the
Prelims phase of
SBI PO
Exam
, which
will start from 29th April 2017. Today, we will discuss about the approach that
you should follow for the Reasoning Ability Section of this exam.
Reasoning Ability Section for SBI PO Exam 2017
Before discussing about this section in
depth, make sure that you understand the Exam pattern of SBI PO Prelims 2017 clearly.
Have a look here for this.
S. No.

Name of Subject

No. of Questions

Maximum Marks

Duration

1.

English Language

30

30

Total duration of 1 hour (60 minutes)

2.

Reasoning Ability

35

35

3.

Quantitative Aptitude

35

35

Total

100

100
This is essential, because unless you
actually understand exactly where you stand in a particular section, you cannot
work on improving it. Now, let us see how you should approach for the reasoning
section in the SBI PO Prelims exam.
As mentioned in the table above,
Reasoning Ability section would consist of 35 questions, with a total of 35
marks. SBI PO Prelims 2016 consisted of following questions from the reasoning
section –
1. Inequality – 5 Questions
2. Order and Ranking – 3 Questions
3. Blood Relations – 2 Questions
4. Puzzles and Seating Arrangement – 25
questions (5 sets)
So, a major chunk of the reasoning
ability section comprised of puzzles (4 sets) and seating arrangement (1 set)
questions of moderate to difficult level. However, we would advise you not to
restrict your preparation to these topics. Make sure that you have a thorough
understanding of other topics as well. These are –
The approach that you follow while
attempting any particular section can make a huge difference in your scores.
First and foremost, time division for different
sections in not provided in the prelims phase. So, make sure that you devote
sufficient time to each section. Ideally, you should devote 20 minutes to the
reasoning ability section out of the composite 1 hour duration.
You need to select questions, that you attempt first
in any section carefully and smartly. For instance, starting the section with
the puzzle is never a wise idea. You may get stuck at any point and this may
eventually take up a lot of time. So, ensure that the questions you attempt
first are the ones that you clearly understand and have a good hold over them.
Ideally, you should attempt the following questions
of Reasoning Ability section first-
Direction sense
Alphanumeric Series
Syllogism (if you have a proper practice)
Coding Decoding
These questions are easier when compared with
puzzles or seating arrangement and you can easily score good marks in these
topics.
Once you have finished these questions, you can move
on to puzzles and seating arrangement questions, provided you still have time
for this section.
A thorough practice of puzzles and arrangement based
problems is a must for the SBI PO exam since you will have to attempt these
questions if the above mentioned topics are not asked in the exam.
For this, first, make sure that you have a crystal
clear understanding of the approach to solve Puzzles. While solving these
questions, take all the possibility scenarios into consideration.
Do's and Don't for the Reasoning Ability
section for SBI PO Prelims exam –
The cutoff for the Reasoning Ability section for SBI
PO Prelims was 7.00 marks (for general), while the overall cutoff was 47.50.
For students who are not good at the reasoning ability section, taking this as
a reference, make sure that you attempt at least 10-15 questions correctly in
this section, and cover for the overall cutoff from the other 2 sections.
Be very attentive while selecting the questions.
Do not spend too much time on a single question.
Remember, you do not need to attempt every single question in the exam.
Maintain proper Speed and Accuracy while attempting
this section because these factors will play a key role to clear this exam.
Attempt mock tests regularly. This will help you
with the time management in the exam.
Practice questions on a regular basis.
If you wish to be updated regarding the upcoming
exams, their patterns, syllabus and other details, you can try Gradeup App. It
provides free study material, updates of upcoming exams and mock tests for
various competitive exams.
exampundit recommends
To help you in your exam preparation, Gradeup has launched Online Mock test Series consisting of 25 SBI PO Prelim & 15 SBI PO Main full-length online tests for you to score better in upcoming SBI PO Online Exam. The 1st test for SBI PO Prelim and Main Exam is free, however, the complete test package for SBI PO Prelim can be purchased for Rs. 395/- and SBI PO Main for Rs. 395/-. Go through the link below for more details –
Don't
forget to download Gradeup Exam Preparation App for IBPS | SSC | CTET | GATE |CAT | JEE
All the best for your exams…
Team Gradeup..!!