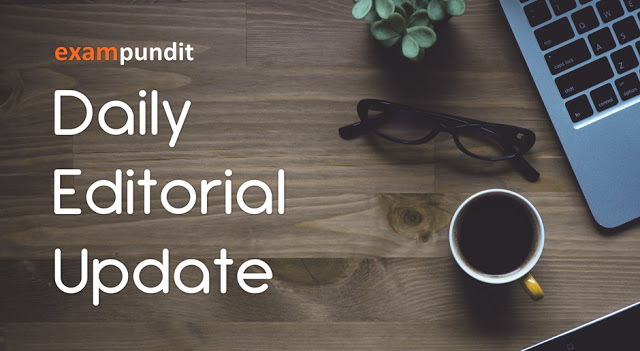 Hello and welcome to exampundit. Here is today's Editorial from the very reputed Economic Times newspaper titled "Compensate banks for farm loan waivers"
________________________________
Today's Editorial: Compensate banks for farm loan waivers
State Bank of India (SBI) chairman Arundhati Bhattacharya is right to say that writing-off farm loans spoils credit discipline. There is pressing need to alleviate agrarian distress, but loan waivers are bad in principle, and certainly not the best option.
It undermines the credit culture: borrowers would wilfully default on repayments in the hope of such schemes. This, in turn, could result in a rise in default rates, impair bank balance-sheets and injure long-term growth. Waivers also create a moral hazard as it penalises borrowers who have honoured their loan commitments. But if this is the way the political system wants to respond to agrarian distress, the government in power must compensate banks for the write-off to ensure that their balance-sheets are not further impaired, ideally by routing the funds through farmers, to protect credit discipline.
Already, state-owned banks are sitting on a pile of bad loans. The last major farm debt write-off to the tune ofRs60,000 crore was announced by the UPA government in Budget 2008-09. The BJP promised to waive farm loans, as a poll promise while wresting power in Uttar Pradesh.
A report by Kotak Institutional Equities estimates about 10% of theRs86,000 crore farm loans in Uttar Pradesh — mostly disbursed by state-owned banks — to be impaired. If other states follow suit, it could be a setback to financial sector reform. Compensating the banks — be it from the budget of the state or the Centre — means slashing spending elsewhere, if fiscal discipline is to be maintained. A cost-benefit analysis to figure out which scheme offers greater social benefits is in order.
The long-term solution to alleviate agrarian distress is to ensure higher prices for farm produce. Farming should be made profitable, and this requires stepping up investment in irrigation, rural roads and letting farmers sell their produce outside mandis. Removing barriers to optimise farmers' incomes will allow them to opt for commercial insurance and higher productivity. Credit flow to the farm sector and credit culture will improve. Farmers will stop looking for patronage.
________________________________
Sponsored

(adsbygoogle = window.adsbygoogle || []).push({});
Regards
Team ExamPundit