Hello and welcome to exampundit. Here are the important Daily Current Affairs 18, 19 and 20 May 2018. These are important for the upcoming SBI PO & SBI Clerk Exams along with Dena Bank PGDBF.
Get all other important Current Affairs and PDFs from here: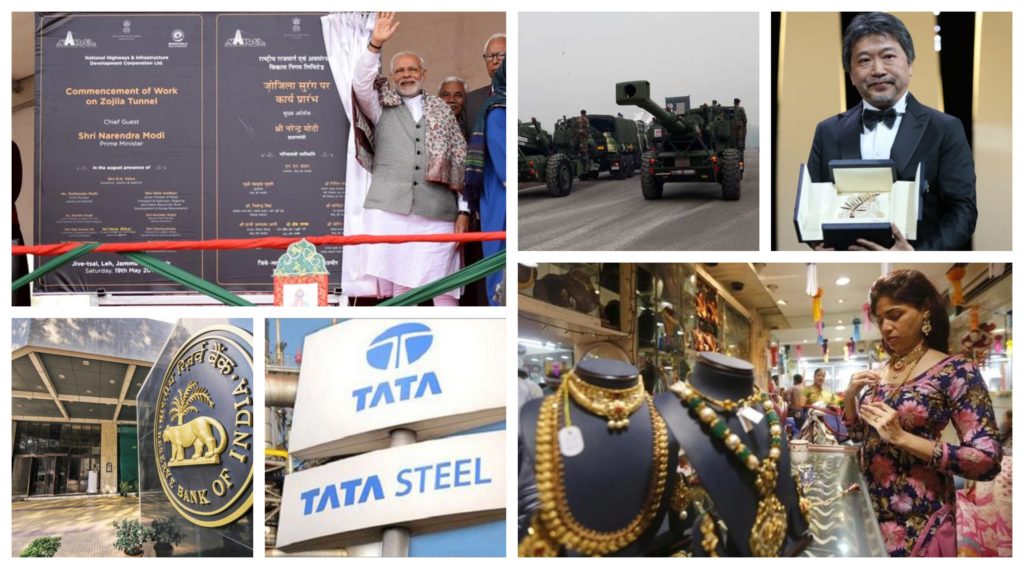 [toc]
Finance and Banking
---
'India sixth wealthiest country with total wealth of USD 8,230 bn'
India is the sixth wealthiest country in the world with a total wealth of $8,230 billion, while the US is the richest nation globally, says a report.
According to the AfrAsia Bank Global Wealth Migration Review, the US is the wealthiest country in the world with a total wealth of $62,584 billion, followed by China ($24,803 billion) at the second place and Japan ($19,522 billion) at the third place.
"Total wealth" refers to the private wealth held by all the individuals living in each country. It includes all their assets (property, cash, equities, business interests) less any liabilities. We exclude government funds from our figures. Larger countries have an advantage due to higher populations.
Other countries in the top 10 wealthiest list includes the UK $(9,919 billion), Germany ($9,660 billion), India ($8,230 billion), Australia ($6,142 billion), Canada ($6,393 billion), France ($6,649 billion) and Italy ($4,276 billion).
SC refuses to stay RBI virtual currency order
The Supreme Court on Thursday refused to stay the Reserve Bank of India's decision that mandated banks, e-wallets, and payment gateway providers to withdraw support for cryptocurrency exchanges and other businesses dealing with virtual currencies. However, it allowed cryptocurrency exchanges, their shareholders, traders and other individuals to present their cases within two weeks to the RBI, which will look into the issue in accordance with the law.
Various PILs, including the one filed by a group of 11different representatives from various crypto-related businesses, have challenged the RBI's April 6 circular that declared cryptocurrency-related businesses like virtual currencies, crypto assets, etc illegal in India. The regulator has given banks a deadline of July 6 to adhere to the new rule.
A bench led by Chief Justice Dipak Misra while transferring to itself various other similar petitions pending before the high courts of Delhi and Calcutta also stayed proceedings before the HCs. It also restrained all the HCs from entertaining any other petition against the RBI circular. It also sought the attorney general's assistance in the matter. Last week, it had sought response from the RBI and the Centre.
The Reserve Bank, through senior counsel Shyam Divan, told the bench that there is a need to have a proper regulatory mechanism in place and for this the finance ministry's Department of Economic Affairs had constituted an interdisciplinary committee last year to examine virtual currencies and came up with a regulatory framework.
Tata Steel subsidiary acquires 72% stake in Bhushan Steel
Tata Steel, through its wholly-owned subsidiary Bamnipal Steel Ltd (BNPL), has acquired 72.65 per cent controlling stake in Bhushan Steel Ltd (BSL) for around Rs 36,400 crore.
The announcement was made by Tata Steel in a statement on May 18, 2018. The deal is set to help the banks recover NPAs amounting to over Rs. 36,000 crore in the time to come.
Speaking on the development Union Finance Minister Piyush Goyal said, "Liquidation value of Bhushan Steel was Rs. 14,541 crore but creditors received almost 4 times the amount (Rs. 36,400). This was possible due to the robust and transparent Insolvency & Bankruptcy Code."
Under the deal, Tata Steel acquired 79 crore share at Rs 2 each. The deal was finalised in accordance with the approved Resolution Plan under the Corporate Insolvency Resolution Process (CIRP) of the Insolvency and Bankruptcy Code 2016 (IBC).
Tata Steel acquired all necessary approvals, like from Competition Commission of India (CCI) and National Compan Law Tribunal (NCLT). The company has also paid the admitted CIRP cost and employee dues, as required under IBC.
RBI modifies norms for setting up of IFSC Banking Units
The Reserve Bank of India modified norms for setting up of the International Financial Services Centres (IFSC) Banking Units (IBUs) by banks in IFSCs.
The modification makes mandatory for parent bank to provide and maintain at all times minimum capital of USD 20 million or equivalent in any foreign currency to its IBU.
However, minimum prescribed regulatory capital, including for exposures of IBU, should be maintained on on-going basis at parent level.
JSW inks pact to acquire Italian steel firm Aferpi
In a bid to get a foothold in the European market, Sajjan Jindal-promoted JSW Steel has signed a deal with Algeria's Cevital to acquire Italy's second largest steel firm Aferpi (Acciaierie e Ferriere di Piombino SpA) for around Rs 600 crore.
According to a reliable source, who spoke to DNA Money on condition of anonymity, the current capacity of Aferpi for producing steel is around two million tonnes. He said JSW Steel wants to enhance it to over three million tonnes over the next two to three years.
The buyout of the Italian steelmaker has come at a time when JSW Steel is eyeing the Essar steel in the domestic market. JSW is the investment partner in the bid submitted by Russia's VTB Bank-led Numetal consortium for Essar Steel in the second round, which has for now been declared invalid by the Ahmedabad bench of the National Company Law Tribunal (NCLT).
According to the source, JSW's senior officials have already reached and an agreement document has been signed at Italy's Ministry of Economic Development.
India
PM Narendra Modi inaugurates Zojila tunnel project in Leh
Prime Minister Narendra Modi on May 19, 2018 unveiled a plaque to mark the commencement of work on the Zojila Tunnel in Jammu and Kashmir's Leh district.
The project, worth Rs 6,809 crore, will be India's longest and Asia's longest and strategic bi-directional tunnel, which will provide all-weather connectivity between Jammu and Kashmir's Srinagar, Kargil and Leh districts. It will be finished within five years.
Speaking on the occasion, the Prime Minister said that he has asked the concerned Ministry to look into ways to reduce the time for the completion of the project. He added saying that the strategically important tunnel will lead to an all-round economic and socio-cultural integration of these regions.
The tunnel aims to provide safe, fast and cheap connectivity. It will reduce the travel time between Srinagar and Leh to 15 minutes from the current 3.5 hours.
It will provide all-weather connectivity to the region. The project has strategic and socio-economic importance and shall be an instrument for the development of the economically backward districts in Jammu and Kashmir.
It will be the longest bi-directional tunnel in Asia. The construction of the tunnel will take around five years given the difficult terrain, as in some areas the temperature dips to minus 45 degree celsius.
The project aims at construction of 14.15 km long two-lane bi-directional single tube tunnel with a parallel 14.2 km long egress tunnel excluding approaches between Baltal and Minamarg in the state.
It is being implemented by the Ministry of Road Transport and Highways (MoRT&H) through the National Highways and Infrastructure Development Corporation Limited (NHIDCL).
Dhanush, India's first long-range artillery gun, to undergo trial in Jaisalmer's Pokhran next week
India's first indigenous, long-range artillery gun 'Dhanush' is all set to take a test at Jaisalmer's Pokhran field firing range. The test will be conducted next week.
The trial will be carried out in presence of representatives of Indian Army technical officers and GCF experts. Along with the trial of its long-range firepower, the performance of 'Dhanush' in heat and other adverse conditions will also be tested.
'Dhanush' has been developed by Ordnance Factory Board (OFB) and manufactured by Jabalpur-based Gun Carriage Factory (GCF). The trial of 'Dhanush' which was going on for the last five years has initially faced some major hiccups over ammunition used.
Railways plans to observe Oct 2 as Vegetarian Day
If a proposal from the railways is approved, October 2 will not only be celebrated as Rashtriya Swachhta Diwas, but also as 'Vegetarian Day' as a mark of respect to Mahatma Gandhi, India's most-famous ambassador for vegetarianism.
The Railway Board has proposed that no non-vegetarian food will be served to passengers on railway premises on October 2 in 2018, 2019 and 2020 when the central government has planned a special commemoration of the 150th birth anniversary of Mahatma Gandhi, according to a blueprint prepared by it.
Besides observing 'Vegetarian Day', the railways plans to run a 'special salt rake' from Sabarmati on March 12 to commemorate the Dandi March and 'swachhata express' trains from Sabarmati to various stations connected with Gandhiji. The national transporter will also issue tickets with watermark of Mahatma Gandhi's image.
Gujarat Government to launch free treatment scheme for road accident victims
The state government of Gujarat would be launching free treatment scheme for the road accident victims on May 18, 2018.
The announcement for the same was made last week by Gujarat's Deputy Chief Minister Nitin Patel, who also handles Health portfolio.
Under the scheme, the state government will bear medical expenses of up to 50,000 rupees for each victim of a road accident in the state for the first 48 hours.
The government would reimburse the amount to the hospital concerned upon submission of bills.
The free treatment facility will include dressing of wounds, X-ray, blood transfusion, treatment in ICU and MRI and all other treatment available in a hospital.
In an instance where a hospital refers the patient to ano
IISER develops device to detect and remove arsenic from water
Indian Institute of Science Education and Research (IISER) in collaboration with private company has developed a new device 'Arsenic Sensor and Removal Media' to detect and remove arsenic content from water and make it safe and usable by households.
The device is easy to use, very cost effective and anyone can use it to detect arsenic easily.
It uses very simple and household detection sensing methodology.
Delhi to become the most populous city: UN estimates
According to the United Nations estimates, Delhi is projected to become the most populous city in the world around 2028.
Tokyo is the world's largest city with population of 37 million inhabitants, followed by New Delhi with 29 million and Shanghai with 26 million.
The projected population size of New Delhi in 2028 is about 37.2 million.
SC orders Karnataka Floor Test on May 19
The Supreme Court on May 18, 2018 scheduled the Karnataka assembly floor test on May 19, 2018, – slashing the 15-day window given by governor Vajjubhai Vala to BJP chief minister BS Yeddyurappa to prove his majority.
Now, the Pro-Tem Speaker will take decisions in accordance with the law on the issue of the floor test.
The apex court was hearing a petition moved by the Congress-JD(S), challenging the governor's decision to invite the BJP to form government in the state.
BS Yeddyurappa resigns as Karnataka Chief Minister
Karnataka Chief Minister BS Yeddyurappa announced his resignation from the post on May 19, 2018, barely 48 hours after he was sworn in to the post.
Yeddyurappa resigned after a long and emotional speech in the assembly that was telecasted live across the country. The move came just minutes before the Supreme Court-ordered Karnataka floor test was about to begin. Yeddyurappa, in an emotional speech, confirmed that his party does not have the required numbers. The assembly was adjourned following the surprising announcement.
Following his speech, Yeddyurappa immediately exited the assembly and went to Raj Bhawan to submit his resignation to Karnataka Governor Vajubhai Rudabhai Vala.
Appointments
---
Ramalingam Sudhakar sworn-in as Chief Justice of Manipur High Court
Justice Ramalingam Sudhakar was on May 18, 2018 sworn-in as the Chief Justice of Manipur High Court.
Justice Sudhakar was administered the oath of office by Governor Jagdish Mukhi at the Raj Bhawan in Imphal.
Prior to this appointment, Justice Sudhakar was serving as the Acting Chief Justice of Jammu and Kashmir High Court, a position that will now be taken over by Justice Alok Aradhe.
KG Bopaiah appointed as Pro-Tem Speaker for Karnataka assembly floor test
Karnataka Governor Vajubhai Vala on May 18, 2018 appointed BJP legislator K.G. Bopaiah as Karnataka Assembly's Pro-Tem Speaker for administering oath to all newly elected legislators on May 19, 2018, ahead of the floor test directed by the Supreme Court.
Bopaiah is a three-time legislator from Virajpet seat in Kodagu region.
He served as the Speaker during the Bharatiya Janata Party rule in Karnataka during 2008-13.
Gina Haspel confirmed as first female director of CIA
The US Senate confirmed Gina Haspel as the first female director of Central Intelligence Agency (CIA) on May 17, 2018.
Haspel's nomination was confirmed in a 54-45 vote, following a difficult nomination process that reopened an emotional debate about brutal interrogation techniques in one of the darkest chapters of CIA's history.
The vote split both parties, with six Democrats joining most Republicans in the CIA veteran's support.
Uttam Pacharne appointed as Chairman of Lalit Kala Akademi
Uttam Pacharne was on May 17, 2018 appointed as the regular Chairman of the Lalit Kala Akademi. His appointment was approved by the President Ram Nath Kovind. Pacharne is an eminent artist and sculptor.
Pacharne succeeds ML Srivastava, Joint Secretary (Akademies), Union Ministry of Culture, who was appointed as Protem Chairman of the Lalit Kala Akademi in March 2018, due to the impending appointment of a regular Chairman.
Pacharne will hold office for a three years term from the date of assuming the charge of the office.
Days
---
International Museum Day observed on 18 May
International Museum Day (IMD) is an international day a celebration that held every year on or around 18 May.
Theme: Hyperconnected museum: New approaches, new publics
World Metrology Day observed on 20 May
World Metrology Day was observed on 20 May 2018.
The theme for World Metrology Day 2018 is Constant evolution of the International System of Units.
World Bee Day celebrated on May 20
World Bee Day is celebrated on May 20. On this day Anton Janša, the pioneer of beekeeping, was born in 1734.
Theme: It's a Bee thing or not
HIV Vaccine Awareness Day is observed annually on May 18
Awards
---
Japanese director Hirokazu Kore-eda wins the Palm d'or at Cannes 2018
Asian, Arab, and women filmmakers scored big at the closing ceremony of the 71st Cannes Film Festival, while Japanese director Hirokazu Kore-eda took home the top prize — the Palme d'Or.
Kore-eda, in the festival's main competition for the fifth time, won the Palme d'Or for 'Manbiki Kazoku' (Shoplifters), a deeply felt film about a cobbled-up family existing on the margins of society and fighting to prevent itself from imploding.
Kore-eda is only the second Asian Palme d'Or winner this millennium (after Thailand's Apichatpong Weerasethakul for 'Uncle Boonmee Who Can Recall His Past Lives', 2010). This is the seventh time that a director from Asia has bagged the coveted trophy.
Spike Lee's engaging, feisty anti-racism period drama 'BlacKkKansman', the true story of an African-American police detective who infiltrated the Ku Klux Klan in Colorado Springs in the 1970s, won the Grand Prix, while Lebanese filmmaker Nadine Labaki's neorealist Beirut street life tale Capharnaum earned the Jury Prize.
Regards
Team Exampundit