Hello and welcome to ExamPundit. Here are the Important Current Affairs of 28th October, 2015. These are important for the upcoming IBPS Clerk 2015 Exam.
Finance/Economy
–
NITI Aayog panel on
Innovation submitted its report recommending private funding for R&D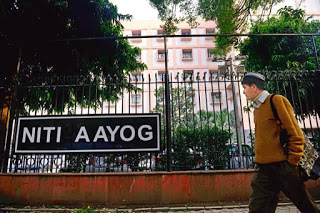 A NITI Aayog panel on Innovation headed by Prof Tarun Khanna
on 27 October 2015 submitted its report recommending that the private sector
should help fund research and development, including in research labs at
universities and startups.
Recommendations of
the committee
It recommended improved tax benefits for investments
equivalent to a percentage of corporate profits in research labs in
universities and startups.
It recommended that all contracts with foreign defence
companies above 5 billion US dollars should include a clause for five percent
of contract value to be directed to establish research-centric universities
with strong emphasis on its core product areas.
It suggested a Make in Universities program which would
involve setting up 500 tinkering labs, where aspiring entrepreneurs can
experiment to create products that address local problems, with one 3D printer
per institute.
For these labs, the panel recommends utilisation of half of
the 1000 crore rupees fund that Finance Minister Arun Jaitley had set aside for
the Self Employed and Talent Utilization (SETU) scheme.
Union Finance
Ministry launched E-Sahyog Pilot Project to facilitate Taxpayers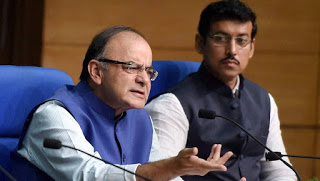 The Union Finance Minister Arun Jaitley on 27 October 2015
launched the e-Sahyog pilot project of the Income-Tax Department to facilitate
taxpayers by reducing their need to physically appear before tax authorities.
The e-Sahyog project is aimed at reducing compliance cost,
especially for small taxpayers.
Highlights of the
e-Sahyog project
The objective of e-Sahyog is to provide an online mechanism
to resolve mismatches in Income-tax returns of those assesses whose returns
have been selected for scrutiny, without visiting the Income Tax Office.
The Income-Tax Department will provide an end to end
e-service using SMS, e-mails to inform the tax assesses of the mismatch.
The taxpayers will simply need to visit the e-filing portal
and log in with their user-ID and password to view mismatch related information
and submit online response on the issue.
The responses submitted online by the taxpayers will be
processed and if the response and other information are found satisfactory as
per automated closure rules, the issue will be treated as closed.
The taxpayers can check the updated status by logging in to
the e-filing portal.
India ranked 130 in
ease of doing business: World Bank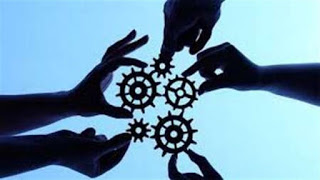 World Bank on 27 October 2015 announced that India ranked
130 out of the 189 countries surveyed in terms of ease of doing business for
domestic firms. It was revealed in the report entitled Doing Business 2016:
Measuring Regulatory Quality and Efficiency.
As per the report, India could improve its ranking by 12
places from the 142nd position of the 2015 report by undertaking significant
improvements in the regulatory framework for starting new businesses.
The findings of the report were based on collection of data
in Mumbai and Delhi between June 2014 and May 2015.
Starting a business: India was placed at the 155th position
overall in this segment. However, it is still one of the areas of greatest
improvement for India, as the number of days to start a business was cut down
to 29 days in 2015 from much longer 127 days in 2014.
Dealing with construction permits: India showed very poor
performance in this segment as it was placed at the 183rd position overall.
Getting electricity: India ranked overall 70 among the
surveyed countries as now companies can get connected to the grid and get on
with their business in 14 days sooner than before in Delhi and Mumbai.
Registering property: India ranked 138. To improve
performance in this segment, the report suggested for undertaking digitization
of land records across the country, taking Karnataka as an example, to make
records more easily accessible and more open for collaboration with external
stakeholders.
Exim Bank announced
setting up of project development firm KPDC in Africa
Exim Bank announced on 27 October 2015 that it will set up a
development firm, the Kukuza Project Development Company (KPDC), in Africa to
facilitate Indian participation in infrastructure projects across the
continent.
IL&FS Group, African Development Bank and State Bank of
India are also the shareholders in KPDC.
KPDC aims to strengthen every partner, who will complement
each other in building Indian project exports while simultaneously aiding the
furtherance of economic and political ties between India and Africa.
The company is expected to provide specialist project
development expertise to take the infrastructure project from the concept stage
to the commissioning stage in the African continent.
Reliance Industries
signed revised Listing Agreements with BSE and NSE
Reliance Industries Limited (RIL) declared on 27 October
2015 that it signed the revised listing agreement with the Bombay Stock
Exchange (BSE) and National Stock Exchange (NSE) as mandated under the newly
introduced Listing Regulation notified by Securities and Exchange Board of
India (SEBI).
With this, RIL became the first listed company to conform to
SEBI norms.
Earlier, the Listing Agreement was a bilateral agreement
between the stock exchange and the company, and SEBI did not have regulations
on it. Therefore, each company's agreement with stock exchange could be at
variance and could lack the full force of SEBI's rigour.
On 2 September 2015, SEBI notified the new Listing
Regulations, which are effective from 1 December 2015.
India
–
India and Sri Lanka
began Joint Naval Exercise SLINEX 2015 at Trincomalee
Indian Navy and Sri Lankan Navy on 27 October 2015 began the
4th edition of Sri Lanka-India Exercise (SLINEX) at Trincomalee, Sri Lanka. The
exercise will go on till 1 November 15. SLINEX 15 is expected to enhance the
capability of two navies to work together and contribute towards maritime
security.
The exercise will commence with a Harbour Phase, during
which, the participants will engage in professional, cultural and social
interactions.
The Harbour Phase will be followed by the Sea Phase, which
will include complex operations including anti-piracy exercises, gun firings,
cross-deck helicopter operations and anti-surface exercises.
Bengaluru-based
Saankhya Labs developed 'Pruthvi' chip to power White-Fi devices
Bengaluru-based Saankhya Labs Pvt Ltd. in the third week of
October 2015 announced that it developed a chip, named as Pruthvi, to augment
capacities of White-Fi devices.
The Pruthvi-based White-Fi devices will be used by Microsoft
to extend the reach of internet services in remote areas of the country.
What is White-Fi
technology?
It uses the unused spectrum in frequencies utilised for
broadcasting of television signals and use it for the internet. In technology
parlance, these unused spectrum spaces are called White Space and thus it is
also called TV White Space technology.
Mahatma, Modi among
most admired globally: WEF survey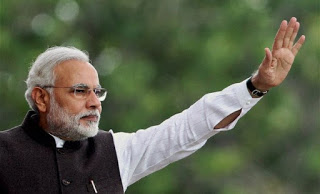 Prime Minister Narendra Modi is the 10th most admired
personality globally, as per a new survey by the World Economic Forum (WEF)
that has ranked late South African President Nelson Mandela on the top.
Mahatma Gandhi is ranked fourth most admired leader,
according to a survey of more than 1,000 millennials. The respondents were
spread across 285 cities in 125 countries.
After Mandela, the WEF's Global Shapers Annual Survey 2015
found that Pope Francis is the second most admired leader. Others in the list
are Tesla Motors' CEO Elon Musk (3rd rank), Microsoft Founder Bill Gates (5),
U.S. President Barack Obama (6th), Virgin Group Founder Richard Barson (7),
Apple Founder Steve Jobs (8), Nobel laureate Mohammad Yunus (9) and U.S.
investor Warren Buffett (11).
Out of the 1,084 respondents, 3 per cent voted for Mr. Modi
as well as for Mr. Yunus while 20.1 per cent favoured Mandela. As many as 12.4
per cent of the respondents voted for Gandhiji.
Appointments
–
Bidhya Devi Bhandari
elected as first women President of Nepal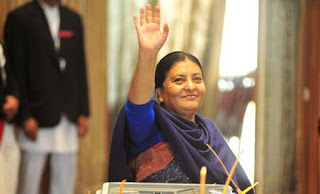 Bidhya Devi Bhandari was on 28 October 2015 elected as the
President of Nepal. She is the first women president of Nepal.
She received 327 votes against her opponent's 214 in the
Nepal's Parliament.
Election to the post of president became necessary as the
first democratically-framed constitution was adopted on 20 September 2015 and
consequently, the then incumbent president Ram Baran Yadav had to resign.
Aruna Sundarajan
appointed new Steel Secretary
Senior IAS officer Aruna Sundarajan was on Wednesday
appointed as Secretary in Ministry of Steel as part of a top-level bureaucratic
reshuffle effected by the government.
Ms. Sundarajan, a 1982 batch IAS officer of Kerala cadre, is
presently Administrator, Universal Service Obligation Fund under Department of
Telecommunications. She has been appointed in place of Rakesh Singh, who
superannuated on September 30, an order issued by Department of Personnel and Training
said.
She is among five new Secretaries appointed by the
government.
Vijay Shankar Pandey will be new Secretary in Department of
Chemicals and Fertilisers. Mr. Pandey, a 1979 batch IAS officer, is presently
posted in his cadre — Uttar Pradesh.
World
–
Russia to launch
manned moon missions by 2029
The Russian Federal Space Agency, commonly called as
Roscosmos, on 27 October 2015 announced that it plans to launch a manned flight
to the moon and the lunar landing is planned for 2029.
It also announced that the Russian scientists are working on
creating a new spacecraft made of composites specifically designed for moon
missions.
Vladimir Solntsev, the head of Roscosmos, made the
announcement during a space technology conference in Moscow.
As per the announcement, the spaceship is expected to make
its first test flight in 2021. It will dock with the International Space
Station in 2023, and the spaceship will carry out its first unmanned mission to
the moon in 2025.
Sports
–
J&K to host South
Asian Rugby 7'S Championship in 2016
Jammu and Kashmir Minister for Youth Services and Sports
Molvi Imran Raza Ansari on 27 October 2015 announced that Kashmir Valley will
host South Asian Rugby 7'S Championship in 2016.
The decision was made during the 131st Standing Committee
meeting of J-K State Sports Council, which was chaired by Ansari. As per the
decision, the championship will be held at Bakhshi Stadium from 18 June to 20
June 2016.
The Championship will be participated by eight teams
consisting of 180 participants from various countries like Sri Lanka, Pakistan,
Afghanistan, Nepal, Bhutan, Bangladesh and India.
Report
–
World Bank released
Doing Business 2015: Going Beyond Efficiency Report
World Bank on 29 October 2014 released the Doing Business
2015: Going Beyond Efficiency Report. The report is 12th in a series of annual
reports published by World Bank measuring the regulations that enhance business
activity and those that constrain it.
In the report, India with a score of 53.97 points has been
ranked 142 among the 189 countries. In 2014 report, India with a score of 52.78
was ranked 140.
Singapore with 88.27 points occupies the top position in the
ease of doing business followed by New Zealand, Hong Kong, Denmark and South
Korea respectively. The USA and UK has been ranked seventh and eighth
respectively.
In the Doing Business, the lowest five economies are Chad
(185), South Sudan (186), Central African Republic (187), Libya (188) and
Eritrea (189).
Obituaries
–
Britain's Curry King
Lord Gulam Noon Died
One of Britain's most well-known Indian-origin peers, Lord
Gulam Noon on 27 October 2015 passed away in London due to liver cancer. He was
79.
Known as the Curry King, Noon founded the Noon Products
business, which is credited with the popularity of chicken tikka masala in
Britain.
Lord Gulam Noon was born on 24 January 1936 in Mumbai. He
travelled to Britain in 1964 and emigrated there permanently in 1972. He established Noon Products in Britain in
September 1987 and manufactured chilled and frozen Indian and Thai ready meals,
mainly for UK supermarkets.


Regards
Team ExamPundit
Sponsored

(adsbygoogle = window.adsbygoogle || []).push({});
Books For 2015 Banking/Insurance Exams