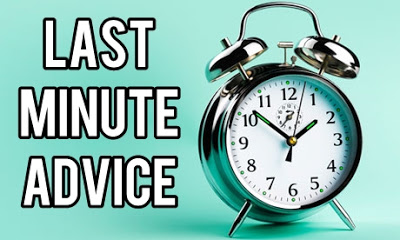 Hello and welcome to ExamPundit. So, 2 more days to go and mostly everyone is worried about
cut-offs, questions and all the last moment doubts. So, lets lighten up the
mood and start believing yourself.
Here are 3 important things to remember for your IBPS PO
Mains 2015.
Time
Management
Its a well-known fact. Isn't it? Well you have to keep
everything tight and follow an IDEAL Time Management Strategy. There are plenty
of ways one can make a time-management-strategy for the exam, but which is
perfect for you is completely on you.
So, Choose wisely and Give your Best.
Make Sure
you have done your Part
Well, you need to make sure you are not leaving anything
behind. You have to practice small things and revise the old ones to make sure
that you are all geared up for the battle. Don't try to learn anything new now,
because it will hamper the concentration level and the overall preparation.
So, keep calm and just brush up.
Stay
Focused and Don't Think Beyond 31st October, 2015
It's a fact. You cannot do anything about the future if you
are not doing anything in the present. So thinking anything beyond the Mains
Examination is foolish. You can always prepare for Interview but you cannot
stress yourself by thinking about something you don't know.
You just need to focus and give your best shot. People often
ruin the present by thinking too much about the future. So be positive and make
sure you give your BEST SHOT EVER.
That's all guys!! All the best and May The Force Be With
You.
Regards
Team ExamPundit
Sponsored

(adsbygoogle = window.adsbygoogle || []).push({});
Books For 2015 Banking/Insurance Exams


EP Recommends: Practicemock Free Mock Tests