Hello and welcome to ExamPundit. Here are the Important Current Affairs Update of 22nd and 23rd of November, 2015. These are Important for the upcoming Banking and Insurance Exams.
Finance/Economy
–
Blue Revolution with
an outlay of 3000 crore rupees proposed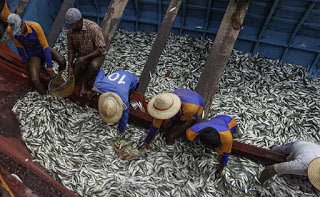 The Scheme Blue Revolution: Integrated Development and
Management of Fisheries was in news as Union Minister for Agriculture and
Farmer Welfare Radha Mohan Singh on the eve of World Fisheries Day 2015 on 21
November 2015 mentioned about it.
The scheme was conceptualized by Prime Minister Narendra
Modi in 2014 and entails a total outlay of 3000 crore rupees.
It visualizes an enabling environment for an integrated and
holistic development and management of fisheries keeping in view the
sustainability, bio-security and environmental concerns.
The scheme is an umbrella scheme that has been formed by
merging all the existing schemes for effective implementation of different
schemes in the fishery sector
India, Bangladesh
market regulators ink pact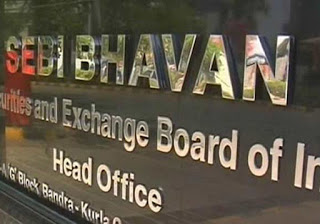 The Securities and Exchange Board of India (Sebi) on Sunday
signed a Memorandum of Understanding (MoU) with Bangladesh Securities and
Exchange Commission (BSEC) on bilateral cooperation and technical assistance.
The MoU was signed by the chairman of the two regulatory
bodies in the presence of Sheikh Hasina, Prime Minister of Bangladesh.
The MoU is aimed at promoting economic links, enhancing
investor protection and development of capital markets. Sebi has so far signed
MoUs with 21 nations.
Urban Development
Minister launched portal for small traders' e-lala
Urban Development Minister Venkaiah Naidu on 23 November
2015 inaugurated 'e-lala', an e-commerce portal of Confederation of All India
Traders (CAIT) in New Delhi.
The e-lala initiative is aimed at promoting the interests of
5.77 crore small businesses in the context of rapid expansion of e-commerce in
the country.
Benefits of e-lala
initiative
E-lala will enable physical stores to have their own online
stores enabling them to retain their customer base besides additional source of
growth in business.
E-lala, a city and location based portal, seeks to promote
business-to-business and trader-to-customer transactions in a city
It seeks to eliminate middlemen and resulting in reduced
cost of goods and services
Sports
–
India Juniors won 8th
Men's Junior Asia hockey cup by defeating Pakistan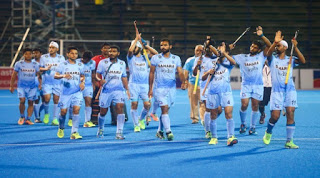 India's junior men's hockey team on 22 November 2015 lifted
the 8th Men's Junior Asia hockey cup. In the finals played at the Wisma Belia
Hockey Stadium in Kuantan, Malaysia, India defeated arch rivals Pakistan 6-2.
Harmanpreet Singh was the top scorer with four goals, Armaan
Qureshi and Manpreet chipped in with a goal each. For Pakistan, the two goals
were scored by Muhammad Yaqoob and Muhammad Dilber.
Both nations have reached the final of Asia's Premier Junior
tournament six times in the last 27 years and on 22 November 2015 India and
Pakistan squared off once again for the fourth time.
Djokovic became 1st
player to win ATP World Tour Finals for 4th consecutive time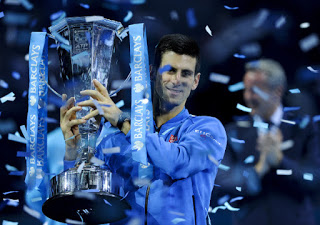 World number one Novak Djokovic on 22 November 2015 won the
season-ending ATP World Tour finals. In the title clash played in London,
Djokovic defeated third seed Roger Federer, in straight sets, 6-3, 6-4.
With this, he also became the first player to win ATP world
tour finals for the fourth consecutive time. He also surpassed Ivan Lendl's
1987 feat, when he had won his third straight Tour Finals title in New York.
Overall, this was the fifth time that Djokovic won this
tournament. He ends the year with 11 titles, including three Grand Slams,
taking his total to 10 majors.
Appointments
–
Swati Dandekar
appointed Executive Director to Asian Development Bank by Obama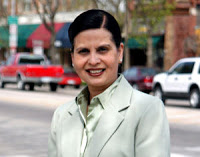 Indian-American politician Swati Dandekar was on 20 November
2015 nominated as executive director to the Asian Development Bank (ADB) with
ambassadorial rank by US President Barack Obama.
Dandekar, 64, will succeed Robert M Orr, who has held the
position since 2010. Dandekar will serve as one of 12 international directors
and hold the title of ambassador.
Obama announced his intent to nominate Dandekar to this top
US position in Asian Development Bank (ADB) along with other key administration
appointments and nominations.
World
–
Mahatma Gandhi
International Centre inaugurated in Matale by Sri Lankan President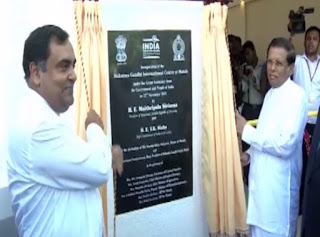 The President of Sri Lanka Maithripala Sirisena on 22
November 2015 inaugurated the Mahatma Gandhi International Centre (MGIC)
inaugurated in Matale. The Indian High Commissioner YK Sinha was also present
at the inauguration ceremony.
The center was inaugurated as a tribute to the contribution
of Mahatma Gandhi to humanity and the continuing relevance of his principles
and philosophy to mankind.
Main highlights of
the MGIC
The centre was built at a cost of over 4 crore rupees
The Centre consists of an auditorium, library, meditation
centre and a conference hall.
It was funded under the Indian government's Development
Cooperation Partnership with Sri Lanka.
The Urban Development Authority of Sri Lankan government was
the consultant for the project.


Regards
Team ExamPundit
Sponsored

(adsbygoogle = window.adsbygoogle || []).push({});
Books For 2015 Banking/Insurance Exams


EP Recommends: Practicemock Free Mock Tests