Hello and welcome to exampundit. Recently ECGC conducted ECGC PO 2018 examination where they asked about Credit Rating Agencies related question. Not only that, previously, we have seen all the major bank exams had questions about Credit Rating and Agencies in India. So, today we are sharing an article on all about Credit Ratings and Agencies in India. It is an important Banking Awareness topic.
A credit rating agency (CRA) is a company that rates debtors on the basis of their ability to pay back their interests and loan amount on time and the probability of them defaulting. These agencies may also analyse the creditworthiness of debt issuers and provide credit ratings to only organisations and not individuals consumers.
Rating is denoted by a simple alphanumeric symbol, for e.g. AA+, A-, etc.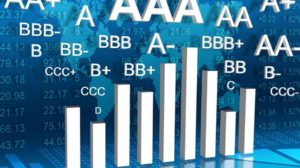 Credit rating agencies are regulated by SEBI. The SEBI (Credit Rating Agencies) Regulations, 1999 govern the credit rating agencies and provide for eligibility
criteria for registration of credit rating agencies, monitoring and review of ratings, requirements for a proper rating process, avoidance of conflict of interest and inspection of rating agencies by SEBI, amongst other things.
What does credit rating convey?
Credit rating is an assessment of the probability of default on payment of interest and principal on a debt instrument. It is not a recommendation to buy, sell or hold a debt instrument. Rating only provides an additional input to the investor and the investor is required to make his own independent and objective analysis before arriving at an investment decision.
How is credit rating done?
Ratings are based on a comprehensive evaluation of the strengths and weaknesses of the company fundamentals including financials along with an in-depth study of the industry as well as macro-economic, regulatory and political environment.
What do the "+" and "-"sign indicate in a rating?
Plus and minus symbols are used to indicate finer distinctions within a rating category. The minus symbol associated with ratings has no negative connotations. In fact, ratings in a higher rating category such as 'AA-' are stronger than ratings in a lower rating category such as 'A+'.
Credit rating agencies in India do not have a distant past. They came into existence in the second half of the 1980s. As of now, there are six credit rating agencies registered under SEBI namely, CRISIL, ICRA, CARE, SMERA, Fitch India and Brickwork Ratings. Ratings provided by these agencies determine the nature and integrals of the loan. Higher the credit rating, lower is the rate of interest offered to the organisation.
Credit Rating Agencies in India
CRISIL
---
CRISIL stands for Credit Rating Information Services of India Limited and it was the first credit rating agency set up in India in 1987. Today, CRISIL has become a global analytical company that rates companies, researches the markets and provides risk and policy advisory services to its clients. At the time of incorporation, the agency was promoted by ICICI Limited, UTI and many such financial institutions. The agency started operations in 1988.
CRISIL is headquartered in Mumbai. CRISIL provides independent opinion and efficient solutions by performing data analysis and research. It has a strong track record of growth and innovation. CRISIL has expanded its business operation to USA, UK, Poland, Argentina, Hong Kong, China and Singapore apart from India. The majority shareholder of CRISIL is Standard & Poor's, one of the biggest credit rating agencies of the world.
CARE
---
Credit Analysis and Research limited was established in 1993 and since then it has gone on to become India's second largest credit rating agency. It was promoted by Industrial Development Bank of India (IDBI), Unit Trust of India (UTI) Bank, Canara Bank and other financial institutions.
CARE has its headquarters in Mumbai and regional offices in New Delhi, Bangalore, Chennai, Hyderabad, Ahmedabad and Kolkata. CARE has the primary function to perform rating of debt instruments, credit analysis rating, loan rating, corporate governance rating, claims-paying ability of insurance companies, etc.
It also grades construction entities and courses undertaken by maritime training institutions. Ratings provided by CARE include financial institutions, state governments and municipal bodies, public utilities and special purpose vehicles.
ICRA
---
Originally named as Investment Information and Credit Rating Agency, the organisation was set up in 1991. It was a joint venture of Moody's and Indian financial and banking service organisations.
It was renamed to ICRA Limited and was listed in the Bombay Stock Exchange and National Stock Exchange in April 2007. ICRA, which is an independent professional corporate investment information and credit rating and advisory agency, is headquartered in Gurugram, Haryana.
SMERA
---
Small and Medium Enterprises Rating Agency of India is one such agency that functions exclusively for the sector it was formed for, i.e. Micro, Small and Medium Enterprises. This agency was founded in 2005 by Small Industries Development Bank of India (SIDBI), Dun and Bradstreet Information Services India Private Limited (D&B) and various public, private sector and other MNC banks of India.
The agency has its headquarters in Mumbai. SMERA has been registered with SEBI as a credit rating agency and accredited by Reserve Bank of India in 2012. It is an external credit assessment institution (ECAI). SMERA rates bank loans under Base II guidelines. Grading of various instruments like IPO, bonds, commercial papers, NCDs, fixed deposits, security receipts, etc. is done by SMERA which can be used by all banks for capital adequacy requirements calculation as authorised by the RBI.
ONICRA
---
ONICRA Credit Rating Agency or Onida Individual Credit Rating Agency is the private rating agency established by Sonu Mirchandani under ONIDA Finance. It is headquartered in Gurugram, Haryana.
The agency provides credit ratings, conducts risk assessment and provides analytical solutions to individuals, corporates and MSMEs. The solutions offered by the agency helps organisations take informed decisions about lending funds to individuals, MSMEs and other organisations.
After its establishment in 1993, the agency has gained expertise in assessing micro, small and medium enterprises. It is one of the seven agencies licensed by the National Small Industries Corporation (NSIC) for the rating of SMEs. Onicra provides grading services as well. Its grading services include education grading, healthcare grading, solar energy grading and APMC grading.
IND-RA
---
India Ratings and Research (Ind-Ra) is a credit rating agency that provides time-bound, accurate and prompt credit opinions. It is 100% owned subsidiary of the Fitch Group.
Ind-Ra covers corporate issuers, financial institutions, banks, insurance companies, urban local bodies, structured finance and project finance.
Fitch's Ind-Ra is headquartered in Mumbai and has branch offices in Ahmedabad, Bengaluru, Chennai, Delhi, Hyderabad and Kolkata. Ind-Ra is recognised by Securities and Exchange Board of India, National Housing Bank and the Reserve Bank of India. Fitch is a major financial information service provider and rating agency having its operations in more than 30 countries across the globe. It checks credit capacity of global leaders in all industries.
We are sorry that this post was not useful for you!
Let us improve this post!
Tell us how we can improve this post?