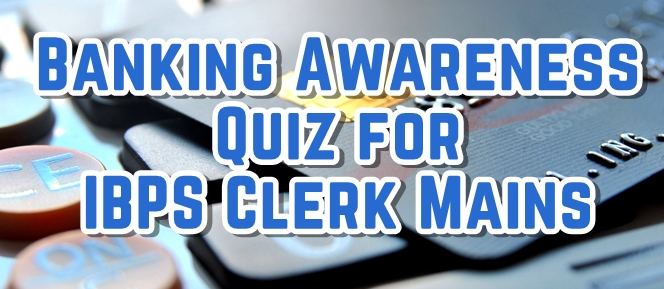 Hello and welcome to ExamPundit. Here is another set of Banking Awareness Quiz for IBPS Clerk Mains 2015 which can also be used for other exams as well.
1. What is the full
form of the term QIP as used in banking/finance?
1) Qualified Industrial Placement
2) Qualified International Placement
3) Qualified Institutional Purchase
4) Qualified Institutional Placement
5) None of these
2. The government has
raised the limit of foreign direct investment (FDI) in the pension sector to
what per cent?
1) 49 per cent
2) 51 per cent
3) 74 per cent
4) 100 per cent
5) None of these


3. The proposed
National Investment and Infrastructure Fund (NIIF) entity will be headquartered
in
1) Mumbai
2) New Delhi
3) Bengaluru
4) Hyderabad
5) Pune


4. As per the
composite announced by government, in private sector banking there will a
sub-limit of 49 per cent on portfolio
investment within the overall foreign investment limit of
1) 69 per cent
2) 74 per cent
3) 75 per cent
4) 76 per cent
5) 100 per cent


5. The term "Deficit Financing"
means the Government borrows money from the
1) IMF
2) Local bodies
3) RBI
4) Large corporates
5) Public at large
6. Which of the
following is India's new rating index developed by the Ministry of Finance?
1) CECA
2) CRIS
3) SENSEX
4) TIEA
5) RTGS


7. Which of the
following is NOT a financial institute/agency?
1) IRDA
2) BCCI
3) FPSB
4) SEBI
5) CAG
8. Consider the
following rates/ratios with respect to the monetary and credit policy of the
RBI and identify the one which is
not used under these policies.
1) CRR
2) Repo Rate
3) Reverse Repo Rate
4) Bank Rate
5) None of these
9. Which of the
following banks falls in the category of development banks in India?
1) IFCI
2) State Bank of India
3) HDFC
4) HSBC
5) None of these
10. A common bank
customer is usually not expected to be involved in which of the following
activities?
1) Using Mobile Banking
2) Using Internet Banking
3) Withdrawing cash from ATM
4) Clearing cheques
5) None of these
Can Also Be Used For: Andhra Bank PO, Syndicate Manipal, LIC AAO 2016

















Regards
Team ExamPundit
Sponsored

(adsbygoogle = window.adsbygoogle || []).push({});
Books For 2015 Banking/Insurance Exams