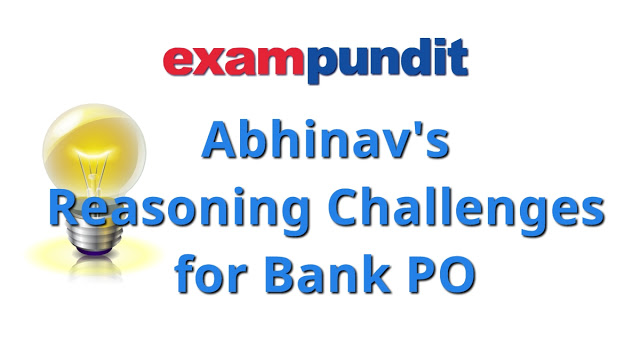 Hello and welcome to exampundit . So here is the Abhinav's Reasoning Challenges for Bank PO Exams 2016.
The rules are same as the fighter's puzzle challenges(which is coming back soon).
Abhinav will conduct and help everyone along with the fighter and Chitrarth who will monitor/feature/delete any other comments.
Directions
(1-5): In each of the questions below is given a statement followed by two
courses of action. Course of action is a step for administrative decision to be
taken for improvement, follow up or further action in regard to the problem, policy
etc. On the basis of the information given in the statement, you have to assume
everything in the statement to be true, and decide which of the given suggested
courses of action is/are logically worth pursuing.
Give your answer as:
(1) if only I follows
(2) if only II follows
(3) if either I or II follows
(4) if neither I nor II follows
(5) if both I and II follow

1. Statement: There are more than 200 villages in the coastal
area of Andhra Pradesh which were severely damaged due to cyclone and it caused
an extra burden of Rs 200 crore on State Government for relief and
rehabilitation work.
Courses of Action:
I. People of coastal area should be shifted to
other safer places.
II. State Government should ask for more
financial support from Central Government.
2. Statement: If the retired professors of the same institutes
are also invited to deliberate on restructuring of the organisation, their
contribution may be beneficial to the institute.
Courses of Action:
I. Management may seek opinion of the employees
before calling retired professors.
II. Management should involve experienced people
for the systematic restructuring of the organisation.
3. Statement: Experts Committee on Industrial Relations has
revealed in their recent reports that not only the internal problems of the
organisations were successfully managed through quality circles but also
employee's motivation level was increased significantly.

Courses of Action:
I. Organisations should organise orientation
programmes for their employees on quality circles.
II. Employees should be encouraged to join
quality circle programmes.
4. Statement: The Minister said that the teachers are still not
familiarised with the need, importance and meaning of population education in
the higher education system. They are not even clearly aware -about their role
and responsibilities in the population education programme.

Courses of Action:
I. Population education programme should be
included in the college curriculum.
II. Orientation programme should be conducted
for teachers on population education.
5. Statement: The Chairman stressed the need for making
education system more flexible and regretted that the curriculum has not been
revised in keeping with the pace of the changes taking place.
Courses of Action:
I. Curriculum should be reviewed and revised
periodically.
II. System of education should be made more
flexible
Sponsored
(adsbygoogle = window.adsbygoogle || []).push({});
Directions: In the following questions, the symbols @, ©, $, % and # are
used with the following meaning as illustrated below:


'A $ B' means
'A is not smaller than B'
'A # B' means
'A is not greater than B'
'A @ B' means
'A is neither smaller than nor equal to B'
'A © B' means
'A is neither smaller than nor greater than B'
'A % B' means
'A is neither greater than nor equal to B'
6. Statements:
H % J
J © N
N @ R
Conclusions:
I. R % J
II. H @ J
III. N @ H
(1) Only II is true
(2)Only I and III are true
(3) Only I is true
(4) Only III is true
(5) None is true
7. Statement:
M @ J
J $ T
T © N
Conclusions:
I. N # J
II. T % M
III. M @ N
(1) Only I and II are true
(2) Only II and III are true
(3) Only I and III are true
(4) None is true
(5) All are true
8. Statement:
D © K
K # F
F @ P
Conclusions:
I. P @ D
II. K # P
III. F $ D
(1) Only II is true
(2) Only I and II is true
(3) Only III is true
(4) Only II and III are true
(5) None of These
9. Statement:
K # N
N $ T
T % J
Conclusions:
I. J @ N
II. K @ T
III. T @ K
(1) None is true
(2) Only I and II is true
(3) Only II and III is true
(4) Only I and III are true
(5) None of These
10. Statement:
M @ D
D © V
V $ W
Conclusions:
I. W @ M
II. M % V
III. D $ W
(1) Only I and II are true
(2) Only II and III are true
(3) Only I and III are true
(4) Only III is true
(5) None of These
Regards
Team ExamPundit