Hello and welcome to exampundit. Here is a Vocabulary Test for Bank & SSC Examinations.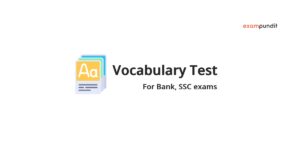 DIRECTONS (Qs. 1-10) Choose the word which best expresses the closest meaning of the given word.
BEDIZEN
(a) Nomadic Arab (b) Gaudily Dressed
(c) Honest Citizen (d) Tumultuous Event
CACHINNATE
(a) Sing Aloud (b) Speak Aloud
(c) Laugh Aloud (d) Cry Aloud
CANOODLE
(a) Cuddle (b) Canonise
(c) Brazen (d) Articulate
TUMESCENT
(a) Shrink (b) Annoy
(c) Engorge (d) Enlighten
TWADDLE
(a) Smart (b) Indecisive
(c) Obscene (d) Waffle
ENNUI
(a) Lassitude (b) Confront
(c) Enthuse (d) Entrap
LOW-KEY
(a) official (b) secretive
(c) subdued (d) complicated
STIPULATION
(a) imitation (b) signal
(c) excitement (d) requirement
ANTITHESIS
(a) fixed dislike (b) musical response
(c) lack of feeling (d) direct opposite
ENTRENCHED
(a) filled up (b) fortified
(c) followed by (d) kept down
Regards
Team Exampundit
Average rating / 5. Vote count:
We are sorry that this post was not useful for you!
Let us improve this post!
Thanks for your feedback!
EP Recommends: Oliveboard Mock Tests