"If your ship doesn't come in, swim out to meet it!

  -Jonathan Winters
---
A struggle of 4 years and 3 months has finally fetched what I was desiring the most. I would rather say "A peculiar milestone achieved". This New Year (2019) is just the beginning. Though the perseverance required to grab it was a slugfest for me. I have no bad or good stories to share with you all. The Impetus that brought me today towards this glorious day is the faith that my parents, guru's & friends have in me.
---
I, (Gaurav Monga), with God's grace so far have everything in my life. To begin with, I have many beautiful people with me, my grandmother, parents, my Guru's (from whom I have learnt everything), little brother, and my friends. My Grand Maa left us in 2016 but I know she is with us everywhere. Elders are our backbone, always remember that and listen intently when they say. 2014 pushed me hard when my father went through open heart surgery. At that time, I realised that I need to settle myself instead of roaming around in my life. From there onwards, I started my preparation to become a government employee. My Mum, Dad, Grand Maa, Guru's & Bro supported me a lot.
I am a completely different person today. I have positivity. I have learned to control many things in my life during these years because Patience is the key to everything that you want to achieve. It could be any goal. I had a great career in private sector. I worked with Pace, vC and then later on moved to Dell- It was the best experience that I have with me and I know it will stay forever between my friends & me.
---
Along with above said, I would like to mention about one more person who had always motivated me, and he is none other than, my friend from eXaMpUnDiT (Ep): The Anubhab Lahiri- You're an awesome friend and a smart cook too. Brother, you have the ability to bring out best in other people. You must explore this quality. One must have a lackadaisical person like you in their life. Well, there is nothing new I can share about him. You all know him. The best part of Ep is its ATM called "Ask the Mentor". ATM & other members are the fulcrum of Ep. It will always be a fructified platform for candidates. Besides, I remember many other friends from Ep like Kapil, Chitu aka Chitrarth, Maumita, Dixit G, Nisha G, Ruchi, Aritra Da, Shubhankar, Op- Akarsh, Sorry if I am missing any name. We really had a great time. Thank you all from bottom of my heart.
---
Now, keeping it short, I will let you know about the exams in which I appeared. Please have a brief look at the below table which include the number of exams appeared and scores obtained by me. I am a General category candidate (though I don't support caste-based system)
---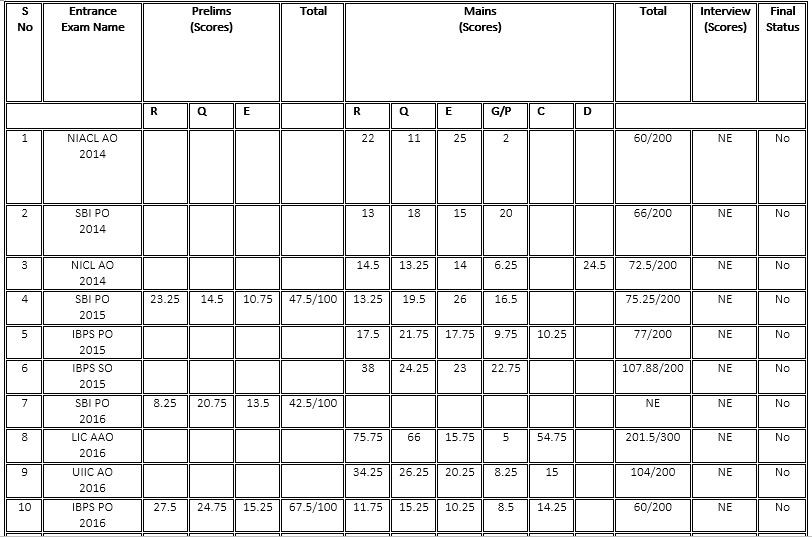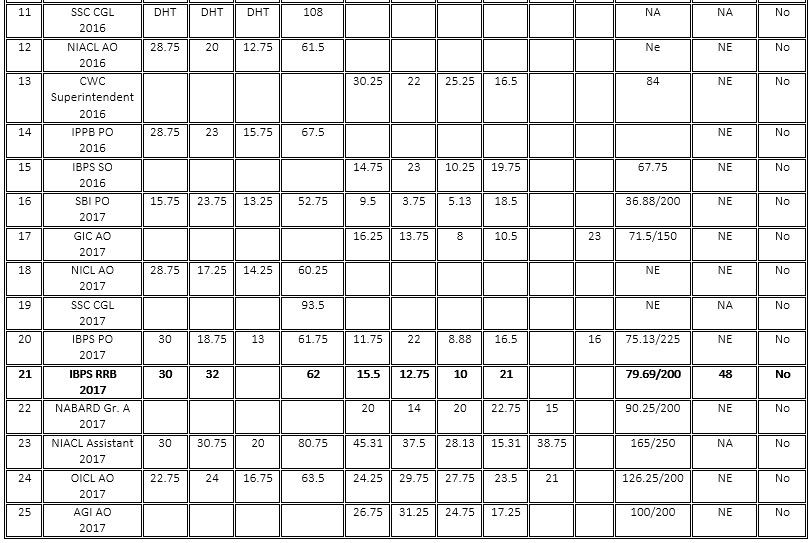 Total weighted scores for Mains are mentioned after calculating it the way it was described in IBPS advertisements like RRB PO.
R means Reasoning
Q means Quantitative Aptitude/Numerical Ability
E means English
G means General Awareness including current affairs and General Studies for exams like SSC CGL and other subjects like Agriculture and Economy for exams like NABARD Gr. A
P means Professional Knowledge
C means Computer Aptitude
D means Descriptive Writing
Blank Space(or NA) means Not Applicable
NE means Not Eligible
---
By looking at the above table, you would have understood that I am a below average candidate but I consider this as my strength. As these difficult situations had always pushed me to fulfil ultimate condition "Try One More Time".  So, Always hope positive , work hard & achieve the Best.
You can not draw any strategy from my story but I hope I would have shared some motivation. Because it is beautifully said "लहरों से डर कर नौका पार नहीं होती, कोशिश करने वालों की कभी हार नहीं होती"!
So, here I am signing of with a story which might make you to write your own one day.
And as quoted from my friend "Anubhab":- mAy tHe fOrCe bE WiTh uS aLwAyS.
God Bless you all
Blessings
Gaurav Monga
We are sorry that this post was not useful for you!
Let us improve this post!
Tell us how we can improve this post?