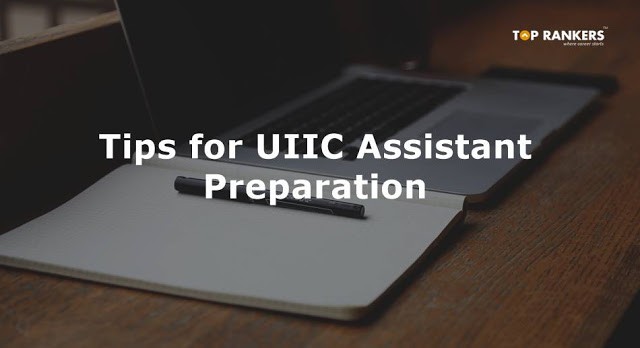 United India
Insurance Company (UIIC) is a nationalized Insurance company, incorporated in the year
1938 through the merging of 12 Indian insurance companies, 4 Cooperative
Insurance Societies and Indian operations of 5 Foreign Insurers, General
Insurance operations of southern region of Life Insurance Corporation of India.
The online
registration for the
UIIC Assistant 2017
started on
14th August 2017
and the last date for the
registration of the online applications is
28th August 2017
. The UIIC
Assistant Exam is slated to be conducted tentatively on
22nd Sept 2017
(Preliminary exam) and 23rd Oct 2017
(Main exam).
Coupon Code: You May use Coupon Code "EXAMPUNDIT" to
Avail 10 % Instant Discount.
In this post we will discuss some
tips on how to prepare for UIIC Assistant 2017 Exam.
Understand the Exam Pattern: The first
step for preparation is to be clear about the pattern of the examination.
UIIC
Assistant 2017 Exam Pattern
UIIC Assistants exam 2017 has two
Online examinations, Preliminary and Mains Examination. Candidates
qualifying in the Main Examination will be shortlisted for Regional Language
test before final selection.
Tier I – Preliminary
Examination would be an online examination. It will consist of objective type
questions for 100 marks for a duration of One hour consisting of 3 sections
like English Language, Reasoning and Numerical Ability.
Tier II – Main
Examination will have objective and descriptive tests of 2 hours duration for
250 marks from following sections like Reasoning, English Language, General
Awareness, Numerical Ability and Computer Knowledge.
Practice Mock Tests
Do take
UIIC
Assistant
mock test
as they will help you to check your level of preparation for each
section. Mock tests will help you to get familiar and friendly with the online
interface of appearing exams. Analysing mocks is very important to know where
you are making the mistakes and then you can improve on the topics accordingly.
The best way to maximize your score is by practicing Mock Tests.
Analyze Strengths and weakness
Access your strengths and
weaknesses and prepare accordingly. Take negative marking into consideration
while answering questions.
Reading
Read newspapers, magazines and
editorials for general awareness and current affairs. Reading newspapers will
also enhance your vocabulary. Writing essays from the topics that you are
reading will help you in descriptive section. Also, stay updated with
daily current affairs.
Coupon Code : You May use Coupon Code "EXAMPUNDIT" to
Avail 10 % Instant Discount.
Time Management
Time is the most important part of
the preparation. Learn to manage your time so that you are able to answer the
questions well in time.
Focus on Subjects and Syllabus
Syllabus for Reasoning
Seating Arrangements
– Pre/Mains
Puzzles –
Pre/Mains
Test of
Direction Sense – Pre/Mains
Number
Ranking – Pre/Mains
Coding-Decoding
– Pre/Mains
New Pattern Coding-Decoding
– Mains
Decision
Making – Mains
Blood
Relations – Pre/Mains
Analytical
Reasoning – – Mains
Syllabus for English Language
Comprehension
– Pre/Mains
New Pattern
Cloze Test – Pre/Mains
Vocabulary –
Pre/Mains
Error
Correction – Prelims
Subject Verb
Agreement – Prelims
Sentence
Rearrangement – Mains
Synonyms/Antonyms
– Pre/Mains
Fill in the
Blanks with Models, Articles etc – Mains
Sentence
Connectors – Mains
Sentence
Fillers – Mains
Syllabus for General Awareness
Current
Events
Questions
relating to India and its Neighbouring Countries pertaining to
Insurance terms, definition etc.
Current
Affairs (National and International)
Major
Financial / Economic News
Budget and
Five Year Plans
Sports
Books and
Authors
Awards and
Honors
Abbreviations
Important
Days
International
and National Organizations are some related topics
Syllabus for Numerical Ability
Approximation
– Pre/Mains
Average,
Percentage – Pre/Mains
Time &
Work – Pre/Mains
Area – Pre/Mains
Profit &
Loss – Pre/Mains
Simple &
Compound Interest – Pre/Mains
Time &
Speed – Pre/Mains
Investment –
Pre/Mains
Probalitiy –
Pre/Mains
Ages Problem –
Pre/Mains
Date
Interpretation like Bar Graph, Pictorial Graph, Pie Chart. – Pre/Mains
Syllabus for Computer Knowledge
Basic
knowledge of computers
The Internet
Text
Formatting of the Paragraphs
Insertion of
Table
Skill to
Print and Save
File Transfer
Website
Searching
Browsing and
Downloading
E-mail
Use of pen
drive, and other software etc.
Programs of accounting,
etc.
Computer
Fundamentals
MS-Office
Word
Processing (MS-Word)
Spread Sheet
(MS-Excel)
Presentation
Knowledge (MS-Power Point)
MS Access and
Usage of Internet Services
Communication
Technology
Networking
Concepts
Revision
Once you have prepared for the
topics, keep revising important topics from time to time. Make notes will help
you to revise at the last moment and focus more on your weak areas.
Best of Luck
Coupon Code : You May use Coupon Code "EXAMPUNDIT" to
Avail 10 % Instant Discount.

Get a FREE UIIC Assistant 2017 Mock Test – Click Here