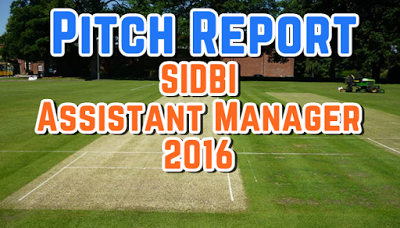 Hello and welcome to ExamPundit. Here is the much awaited Pitch
Report of SIDBI Assistant Manager 2016. First of all, we will look at the
examination pattern and marks. Then we will give a brief preview on the
examination.
So, how many questions will be
there? What kind of questions will be there? Will descriptive marks count?
Lets find out.
Exam Pattern:
| | | | |
| --- | --- | --- | --- |
| Test | Type | No. of Questions | Marks |
| Computer Knowledge | Objective | 20 | 20 |
| English Language | Objective | 40 | 40 |
| General Awareness | Objective | 40 | 40 |
| Reasoning Aptitude | Objective | 50 | 50 |
| Quantitative Aptitude | Objective | 50 | 50 |
| English Language and Drafting Ability | Descriptive | 2 | 50 |
Time:
Composite time of 120 minutes for
the Objective Test and 45 Minutes for the Descriptive Test.
Note:
The total marks of the
examination will be 250 which includes 50 marks of the English Descriptive
Section. Candidates will be shortlisted
for Interview on the basis of overall marks scored in objective and descriptive
section taken together against full marks of 250.
Descriptive paper will be
provided only in English. Descriptive questions will be displayed on the screen
of your computer. Answers are to be
typed using the keyboard. Before
start of typing answers to questions in Descriptive Paper please check all key
functions of the keyboard. You will get 45 minutes to answer the questions.
What to Expect?
Reasoning: Its an Assistant Manager "Grade A" exam. So you have
keep yourself ready for some real tough questions. Be it reasoning or
quantitative aptitude. So, you need to focus on Input-Output questions,
Syllogisms and GOOD LEVEL of PUZZLES. The basic or common questions which
includes direction test and etc. are expected to be of normal level. But the
Puzzles, Syllogisms and Seating Arrangements are expected to be PO Level
totally.
Expectation – Moderate to Hard
Computer Knowledge: Computer Knowledge has 20 questions
carrying 1 mark each. So, expect it to be of PO level and do all the basics
along with common chapters like Hardware, Networking, Internet, Acronyms.
Expectation – Easy – Normal
English Language: English language is expected to be Normal to
Moderate level. So you need to focus on Comprehension, Cloze Test and Sentence
Rearrangements. Expect a good and lengthy passage for both Cloze Test and
Comprehension. So brush up your vocabulary real nice. On the other hand,
grammatical questions are expected to be of Normal level. English not expected
to be very hard buy definitely not EASY.
Expectation – Moderate – Normal
Quantitative Aptitude:
Quantitative Aptitude, the name says it all. Last year, if IBPS aspirants had a
twitter for themselves, this would have trended 24×7 throughout the year. Never
take risk with quantitative aptitude, no matter which exam you are appearing
for. For the SIDBI Assistant Manager 2016, quantitative aptitude is expected to
be real nice. So prepare good level of DI, Profit & Loss, Compound
Interest, Quadratic Equations, Time and Work problems. Calculations and Time
Management skills will be key to unlock maximum number of marks in this test.
Expectation – Hard – Moderate
General Awareness: General Awareness will contain Current
Affairs, Stock GK and Banking Awareness. Focus on Banking Awareness and Current
Affairs from December to January Middle. Make sure you have practices our
Banking Awareness Quizzes and read our Expected Questions PDFs. Stock GKs are
already elaborated, what type of questions may appear.
Expectation – Moderate – Normal
Descriptive Test: Descriptive Test will have Essay and Letter
Writing. Make sure you have seen formats of the letters and done some good
research on the recent topics and the ones which we have provided.
The descriptive chest of SBI PO
can be accessed from below:
→ View Descriptive Chest ←
Expectation
–
Normal – Moderate
The exam is expected to be of PO
level. Prepare good and give your best shot. All the best. And Do share your
experience at
admin@exampundit.in
or
the given page for the exam.
May the Force be with you.
Regards
Team ExamPundit
Sponsored

(adsbygoogle = window.adsbygoogle || []).push({});
Books For 2015 Banking/Insurance Exams


EP Recommends: Practicemock Free Mock Tests