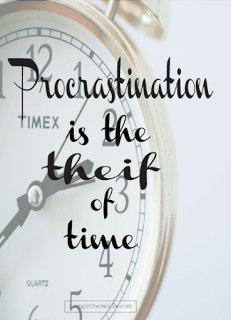 Hello and welcome to exampundit. Procrastination
is one of the most crucial problem that
aspirants face in today's world, courtesy the increasing pressure of social
media. Where on one side it connects you with the world, on the other hand, it
makes you delay your important stuff, sometimes even without you realizing it. You know in your heart that a
certain work is on the topmost priority and should be done without
delay but the procrastinating keeda inside you keeps you so busy that you
keep pushing it to another day and before you know exam is on your head.
And before
pointing any of you out there, I myself am guilty of procrastinating. This
article is the most fresh example. I have
a full week to pen it down but, its only done on Sunday night. (Shhh…let's keep it a secret from Anubhab dada) So
coming back to point, we are here to discuss how to actually deal with this
problem.
Given the
time frame, we the aspirants of competitive exam, actually don't have much time
to delay our preparation. We need to keep
ourselves updated every minute with the new updates
and the rising level of competition because while your procrastinate someone
else is leaving us behind and improving. So here are some tips to help you guys
stop procrastinating.
Try making
a to-do-list. That way you will be gratified when you check off those things at
the end of the day and in case you don't it will make you feel a little bit
guilty and next time you won't push it to tomorrow
or other day. Also, don't think too much about it, just get started. Starting
is the most difficult task and once you get started, you will be more likely to
finish it off.
Also, for
the aspirants, timetable is a must. Since most of us do maximum preparation from
home, it is important to stick to a timetable
to inculcate the habit of discipline. And when we talk about discipline, I also
need you to promise me to try and NOT procrastinate (as much as possible) this
week. I know the amount of study we have to do is huge, but trying won't harm.
Maybe, we end up sticking to our goal and feel more confident till the end of the
week.
#Aarushi
EP Recommends: Toprankers Mock Tests
Sponsored

(adsbygoogle = window.adsbygoogle || []).push({});
Regards
Team ExamPundit