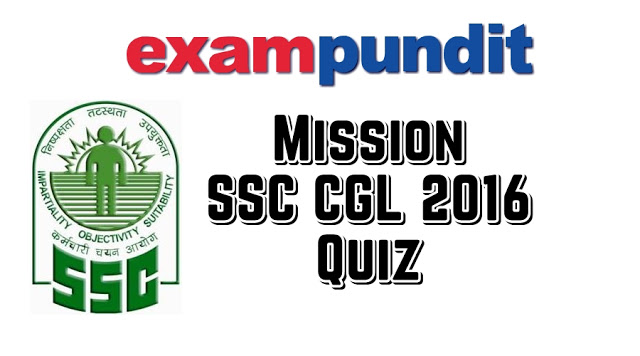 Hello and welcome to exampundit . Here is the Fifth Quiz of the 50 Days Mission SSC CGL 2016 series.
Read the followings carefully and answer
Rules:
Post answers according to the following format(s)
1-2
2-3
3-4
Or
12345
54213
In case the options are ABCD, use the Appropriate Options.
Do Not Rectify anyone.
If you have any doubt regarding any question of the quiz, kindly ask after the quiz is over i.e answers given.
DO NOT GOOGLE ANSWERS!! IT WILL HAMPER YOUR PREPARATION
Do Not CHAT here. If you have any query, use today's Ask The Mentor Page.
At least 7 Attempts for Scores.

Exampundit.in reserves the right to choose winner or give scores.
Questions-1
to 10 – one word substitution
1. A person who tries to deceive people by claiming to be able to
do wonderful things
(A) trickster
(B) impostor
(C)
magician
(D)
mountebank
2. Official misconduct
(A) malefactor
(B) malfeasance
(C) maltreatment
(D) maladministration
3. Policemen riding on motorcycles as guards of VIP
(A) outriders
(B) servants
(C) commandos
(D) attendants
4. large dark grey cloud that brings rain or snow
(A) blizzard
(B) nimbus
(C) hail
(D) fog
5. A line of animals or slaves fastened or driven along together-
(A) cortege
(B) company
(C) crew
(D) coffle
6. A person with refined taste in food and wine-
(A) puritan
(B) ascetic
(C) novice
(D) epicure
7. Science of improving the environment :
(A) Euthenics
(B) Optics
(C) Graphemics
(D) Pedagogics
8. Worshipping of idols or images :
(A) Iconoclast
(B) Iconolatry
(C) Iconography
(D) Ichthyology
9. One who introduces performing artiste on the stage programmes-
(A) Compere
(B) Cynic
(C) Coquette
(D) Callous
10. Holding together or making sense :
(A) Commensurate
(B) Amorphous
(C) Coherent
(D) Dogmatic
11-15(Idioms
and phrases)
11. Anubhav is a man of parts and is respected by all his colleagues.
(A) A weak person
(B) A literary person
(C) A man of qualities
(D) A debatable person
12. A mealy mouthed student is always successful in an interview.
(A) Weak
(B) Soft spoken
(C) abusive
(D) Reserve
13. At christmas, even the elderly
fathers paint the town red.
(A) indulge in rioting
(B) paint the houses red
(C) spill red wine
(D) have a lively time
14. To mind one's P's and Q's
(A) To be cautious
(B) To be accurate and precise
(C) To be careful of one's accounts
(D) To be careful of one's personality
15. Why do you wish to tread on the toes ?
(A) To give offence to them
(B) To follow them grudgingly
(C) To treat them indifferently
(D) To be kicked by them
Regards
Team ExamPundit