Herewith we have provided Important Days and Theme for each day. As we all know Important days and dates topic plays crucial role in all competitive exams. Aspirants those who prepared for competitive exams can get Daily Important Days and Theme 2020. In this page we have given Important Days and Theme in September 2.
Important Days and Theme – September 2
World Coconut Day: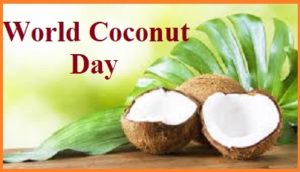 World Coconut Day is observed on September 02 every year.
It was first celebrated on 2nd September, 2009.
It is observed to tell people about the benefits of the coconut fruit.
The coconut palm is known as the "tree of life" because it is one of the most useful trees in the world.
The theme of World Coconut Day 2020 is 'Invest in coconut to save the world'.
Extra Shots:
Coconut water on average contains 94% water with around 46 calories a cup.
A coconut tree can have up to 180 coconuts harvested during a single harvest.
We are sorry that this post was not useful for you!
Let us improve this post!
Tell us how we can improve this post?