Herewith we have provided Important Days and Theme for each day. As we all know Important days and dates topic plays crucial role in all competitive exams. Aspirants those who prepared for competitive exams can get Daily Important Days and Theme 2020. In this page we have given Important Days and Theme in July 1.
Important Days and Theme – July 1
National Doctors Day: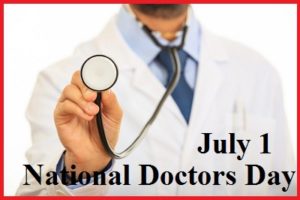 The National Doctors' Day is celebrated on July 1 all across India.
To honour the legendary physician and the second Chief Minister of West Bengal, Dr. Bidhan Chandra Roy.
He was born on July 1, 1882 and died on the same date in 1962, aged 80 years.
He was a Physician, Politician, Educationist.
Extra Shots:
He was awarded Bharat Ratna on 4 February 1961.
India Post has released Bidhan Chandra Roy Postal Stamp on 01-07-1982 (100th Birth Anniversary).
He was obtained F.R.C.S. and M.R.C.P. degrees simultaneously.
The B.C. Roy National Award was instituted in 1962, it has been awarded annually since 1976.
GST Day in India:
The tax came into effect from 1 July 2017.
It was implemented by 101st amendment of the Constitution of India.
It was divided by five different tax slabs for collection of tax – 0%, 5%, 12%, 18% and 28%.
The bill was passed by the Rajya Sabha on 3 August 2016, and passed by the Lok Sabha on 8 August 2016.
In 12 August 2016, Assam became the first state to pass GST.
For Details About GST – Click Here
We are sorry that this post was not useful for you!
Let us improve this post!
Tell us how we can improve this post?