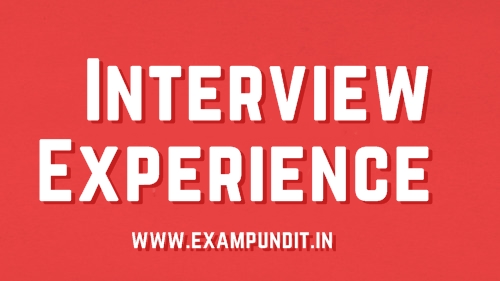 Hello and welcome to ExamPundit. Here is a IBPS PO V Interview Experience shared by Anamika from Kanpur.
Anamika
gupta
Venue
– Kanpur at 1 p.m.
We
reached at 12.45p.m.
Documents
got verified till 1.45 p.m.
I
was last in my panel so had to wait alot.my all energy, smile, enthusiasm n
excitement came at zero level. yet when
my turn was to come I tried to maintain what I was required to maintain in the
interview hall…
Time-
4.40 p.m
5
members around the table
Female,
male 1 (observer), male 2( head), male 3 (question asker and giving a lil
strict expressions ), male 5 ( kind of male 3 ye but less than him)
Bell
rang…I knocked
Me –
may I come in please
M2-
aiye aiye..baithiye. ..
Me –
gud evening ma'am…gud evening sirs
Baithiye
baithiye….bataiye apne bare mei kuch….
I
was so confused shud I take them in professional way or to take them in a lil
casual with professional way…I chose 2nd one…
Spoke
about my self a lil…my name's meaning is ring finger….wen i told dem this
thing den M3 asked about odr fingers name as well…never thought of this so
got blank suddenly..I said I cnt remember right now….head said mumma se
poochna shaam ko…wo bata dengi… ( I cnt understand interviewers ko har baar
meri mumma kyu yaad ajati h….last tym also d same thing happened)…he den
said thenga suna h ? N we all strtd laughing….i strtd again wid my academics
where I added learned french basic and advance 2 yrs from iit-kanpur…den
cross questions on French….M3 asked me to pronounce french president name
correctly…I did dt and helped dem to pronounce it again…1 min discussion on d pronunciation…he hehehehehee. ….den
I told dem dt i have completed diploma in banking and finance last
year…everybody got impressed….M2 said to d female dt poochiye fir ap
kuch….unke poochne se pehle hi maine bola shyd muje utni knowledge na ho bt
mai banking seekhna chahti hu….M2 said to apse kch na poocha jaye? He said in
very normal and funny tone..I said sir ap poochiye,muje jo ata hoga mai jarur
bataungi…ni ata hoga to mana kar dungi….bt galat ni bataungi…ye sahi bola
beta apne – dey said
Female
asked – she asked about banking regulation act…I told… jo balance sheet
banti h bank ki wo companies act k acc banti h ya banking regulation act k
acc…i said no idea….she asked jo holidays list banti h wo rbi banata h ya
wo kis k acc banti h…I said no idea….M3 said aree madam kya pooch ri h
ap….abi ye sab bacche h…..jab kaam karenge tab apne ap sab pata chal
jaega…abi in logo ko kya pata hoga ye sab…den she asked about narsimham
committee…told evrythng…he asked about his designation….I said
economist…..bt he wntd d exact designation…I said I dnt know sir….den dey
asked 2-3 more questions n i answered dem….we all totally enjoyed d process
because I wanted to make it light evrytym (fr me as well as for dem as I ws d
last candidate and dey must have been tired alot since whole day meeting each
and evry kind of candidate…so I wanted d meeting shud be rejenuvating for dem
and unhe b lage ki haan mast ladki se jate jate mulakat hui)…..
Dey
said atlast ok anamika u may go now….I greeted dem very properly…all smiled and said me bye n
i left d room by thanking dem…
I
seriously dnt knw ow ws my interview bt i didnt wanted to make it boring fr
dem, like too much professional…so dts y i took dis kind of approach in my
interview as it is my strength…we all laughed together during whole
process…sum tym dey were pulling my leg…sumtym dey were accepting ki
haa ye answer bachhe ko ni pata higa is
stage pe .sumtym dey were accepting my approach towrds life n career…i dnt
know ow much marks wil I get bt I am sure about one thing dt i as well as dey
enjoyed d meeting
I
request my friends to share wat dey think about my interview..where ws I right
n where wrong…what shud b improved… .thank you….


Regards
Team ExamPundit
Sponsored

(adsbygoogle = window.adsbygoogle || []).push({});
Books For 2015 Banking/Insurance Exams