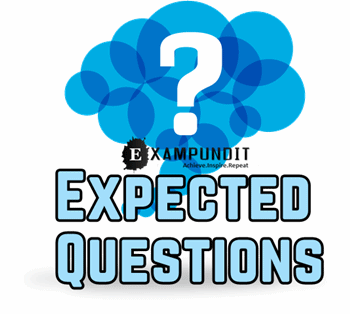 Hello and welcome to ExamPundit. Here are the Expected Questions from India and its states from April 1 to April 15, 2015.
1. Name the Women
Milk Bank recently opened in Jaipur.
– Jeevan Dhara




2. Which state
government opened Jeevan Dhara Women Milk Bank recently?
– Rajasthan




3. Rajasthan
Government opened Jeevan Dhara women milk bank collaborating with
_____________.
– Norwegian Government


4. Name the scheme
launched with an aim to boost sales of eco-friendly vehicles in the country.
– FAME – India Scheme




5. What is the
approved name of Andhra Pradesh capital?
– Amaravati


6. The newly approve
Amaravati, capital of Andhra Pradesh is supposed to be built on the banks of
which river?
– Krishna River




7. Capital of Andhra
Pradesh, Amaravati is proposed to be built in which region?
– Guntur district




8. Name the newly
launched campaign by Narendra Modi for the better off section of society to
forego their LPG Subsidy.
– Give it Up campaign
9. BR Ambedkar
memorial at Indu Mill, Dadar, got a major push after a tri-partite agreement
was signed between the Union
ministry of textile, government of Maharashtra and _______________.
– National Textile Corporation (NTC)




10. Union Government
approved the projects for strengthening and widening of National Highways of
____ Kilometers.
– 455


11. What is the total
cost of the newly approved projects for strengthening and widening of 455 kilometers of National Highways (NH) by
Union Government?
– 9500 Crore


12. What is the new
of Tourist Visa on Arrival Scheme?
– e-Tourist Visa


13. Name the NGO
which was suspended by Union Government foreign contribution and regulation
act.
– Greenpeace India
14. Ministry of
Railways signed a MoU with which institute to develop 'Railway Design Centre'?
– National Institute of Design, Ahmedabad
15. Name the ballistic
missile was successfully test-fired from Orissa coast recently.
– Dhanush
16. Who won the Shrimad
Bhagwad Gita Champion League?
– Mariyam Asif Siddiqui
17. Mariyam Asif
Siddiqui was in the news because –
– She won the Shrimad Bhagwad Gita Champion League
18. Who organised the
Shrimad Bhagwad Gita Champion League which was won by Mariyam Asif Siddiqui?
– International Society for Krishna Consciousness (ISKCON)
19. Which city was
named as the National Earth Hour Capital 2015?
– Thane
20. Thane was named
as National Earth Hour Capital 2015 by which organisation?
– World Wildlife Fund (WWF)
21. Ri Su Yong became
the first ever Foreign Minister from which country to visit India?
– North Korea
22. Name the
e-commerce portal which recently pulled out itself from Airtel Zero which
allegedly violates Net Neutrality.
– Flipkart
23. What is the name
of the Marketing Platform by Airtel which allegedly violated the net
neutrality?
– Airtel Zero
24. Along with India,
in how many countries did Google showed the Doodle of BR Ambedkar on his birthday?
– 8
25. The 5th meeting
of SAARC Health Ministers was held in which city?
– New Delhi, India
26. What is the rank
of India in Global Networked Readiness Index?
– 89th
27. What is the rank
of India in 2015 FM Global Resilience Index?
– 119th
28. Bidyut
Chakraborty who passed away recently, was a famous ________.
– Filmmaker
29. Name the famous
Assamese Filmmaker who passed away recently.
– Bidyut Chakraborty
30. Name the famous
mountaineer of India who passed away recently.
– Malli Mastan Babu
31. Malli Mastan Babu
who passed away recentlys created the world record of __________________.
– surmounting seven peaks in seven continents in 172 days in
2006.
Don't Miss out: Expected Questions from World Current Affairs from April 1 to April 15




Regards
Team ExamPundit
Sponsored

(adsbygoogle = window.adsbygoogle || []).push({});
Books For 2015 Banking/Insurance Exams