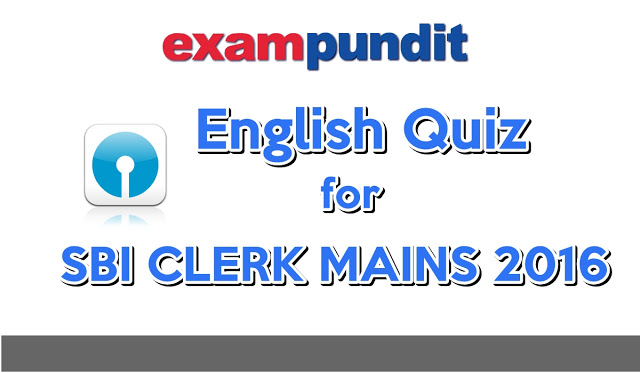 Hello and welcome to exampundit . Here is a set of English Quiz for the upcoming SBI Clerk(Junior Associates) Mains 2016.
Read the followings carefully and answer
Rules:
Post answers according to the following format(s)
1-2
2-3
3-4
Or
12345
54213
In case the options are ABCD, use the Appropriate Options.
Do Not Rectify anyone.
If you have any doubt regarding any question of the quiz, kindly ask after the quiz is over i.e answers given.
DO NOT GOOGLE ANSWERS!! IT WILL HAMPER YOUR PREPARATION
Do Not CHAT here. If you have any query, use today's Ask The Mentor Page.
At least 7 Attempts for Scores.

Exampundit.in reserves the right to choose winner or give scores.
Directions (Q. 1–10):
In the following passage there are blanks, each of which has been numbered.
These numbers are printed below the passage and against each five words are
suggested, one of which fits the blank appropriately. Find out the appropriate
words.
Recent debates on secularism,
though _____(1) by the Hindutva campaign, take up much the same issues that __________(2)
the Constituent Assembly members after independence. There was much _____(3)
then, as now, about the scope, relevance and meanings of secularism. There was
uncertainty and _____(4) in the hallowed precincts of the Assembly, just as
clouds of doubt _____(5) around academic and political circles today.
Secularism was _____(6) with western liberalism or with minority appeasement.
It still is. Many members argued then, just as they do now, that the "hegemonic
language of secularism" was no more than a western _____(7), _____(8) on a
traditional society. The argument is _____(9) for the Nehru era but not
thereafter. After all, the secular ideology has been in a state of steady _____(10)
from the early 1970s and its appeal has diminished even among the "westernised
intellectuals and middle classes".
1. 1) developed 2) launched 3) spared 4) triggered 5)
established
2. 1) throttled 2) engaged 3) did 4) terrified 5) attired
3. 1) delirium 2) debate 3) thrill 4) confusion 5) hoi
polloi
4. 1) nihilism 2) cynicism 3) realism 4) opportunities 5)
scepticism
5. 1) rumble 2) thunder 3) rain 4) escort 5) hover
6. 1) equalled 2) equated 3) entrusted 4) endangered 5)
encumbered
7. 1) import 2) influence 3) tradition 4) immigrant 5)
contour
8. 1) planted 2) grafted 3) going 4) eschewed 5) splashed
9. 1) tenuous 2) tenable 3) obsolete 4) empirical 5) logical
10. 1) progress 2) decline 3) race 4) work 5) movement
And the winners are……..
Abhinav – 9/9
Sourav – 9/10
Chitrarth – 8/10
Regards
Team ExamPundit