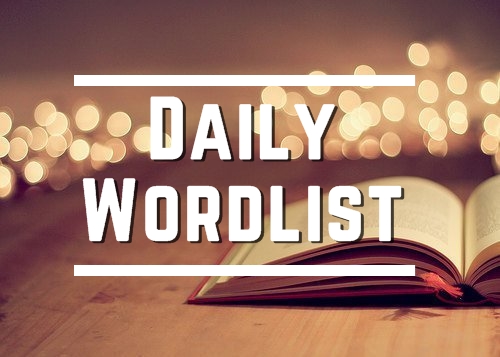 Hello and welcome to ExamPundit. Here is the Daily Word List Set 3 prepared by our very own Wazza.



1.
Affinity- Attraction, Liking
e.g.:- Humans have a special affinity
for dolphins.
2.
Culmination- Achievement, Completion
e.g.:- The reforms marked the successful
culmination of a long campaign.
3.
Grapple- Struggle, Wrestle mentally
e.g.:- I was grappling to find an answer
to his question.
4.
Insolent- Disrespectful and rude
e.g.:- Her insolence cost her her job.
5.
Serenity- Calm, Unruffled
e.g.:- The hotel offers a haven of peace
and serenity away from the bustle of the city.
6.
Effervescence- Enthusiasm, Vigour, Lively
e.g.:- A warm effervescent personality.
7.
Demean- To humiliate, Degrade
e.g.:- Behaviour like this demeans
politics.
8.
Irresolute- Not able to decide what to do, Weak
willed
e.g.:- She stood irresolute outside his
door.
9.
Pallid- Pale, Tedious, Dull
e.g.:- A pallid complexion.
10.
Burgeon- To grow
e.g.:- A burgeoning population.

CLICK HERE TO CHECK THE WORD LIST SET 2
Regards
Team ExamPundit
Sponsored

(adsbygoogle = window.adsbygoogle || []).push({});
Books For 2015 Banking/Insurance Exams