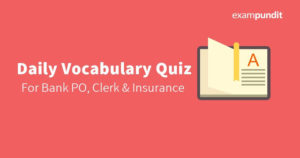 Hello and welcome exampundit. Here is the set of daily vocabulary quiz.
Choose the word which is not a synonym for the given word.
1. Astern
(a) aft (b) abaft
(c) behind (d) apt
2. Ashamed
(a) bashful (b) venerable
(c) sheepish (d) shy
3. Attire
(a) array (b) raiment
(c) apparel (d) assail
4. Assert
(a) engross (b) vindicate
(c) aver (d) insist
5. Asperse
(a) calumniate (b) traduce
(c) slander (d) disconcert
6. Diligent
(a) assiduous (b) appendage
(c) industrious (d) persevering
7. Asylum
(a) shelter (b) refuge
(c) sanctuary (d) presage
8. Majestic
(a) august (b) heinous
(c) stately (d) grand
9. Aureate
(a) brilliant (b) gilded
(c) resplendent (d) archaic
10. Greed
(a) avarice (b) expiation
(c) rapacity (d) cupidity
May the force be with you!
Team EP
Average rating / 5. Vote count:
We are sorry that this post was not useful for you!
Let us improve this post!
Thanks for your feedback!