Hello and welcome to ExamPundit. Here are the important current affairs of 6th April, 2015.
Banking/Insurance
–
Dena Bank, LIC tie up
for insurance on Aadhar-linked savings A/Cs
Public sector lender Dena Bank has partnered with
government-owned LIC (Life Insurance Corporation) of India to provide insurance
cover to all Aadhaar-linked savings account holders.
As per the terms of rush coverage, a person has to opt for
the scheme every year. Account holder can also prefer to give a long term
option of continuing, in which case his or her account will be auto debited
every year by the bank, the statement added.
The scheme provides insurance cover to all Aadhar linked
savings account holders in the age group of 18-50 years . After enrollment,
coverage will be available up to 55 years of age for existing members.
The scheme will come into effect from June 1, 2015.
Earlier, Corporation Bank tied up with LIC.
Indian, Turkish
Industry Bodies Sign Pact to Boost Ties
Aiming to boost bilateral business ties, industry bodies
from India and Turkey today signed agreements here.
To achieve the objective, Union of Chambers and Commodity
Exchanges of Turkey (TOBB) signed separate pacts with industry bodies CII and
FICCI.
The Ficci-TOBB agreement is for establishing India-Turkey
Working Committee to identify obstacles in trade and economic cooperation. The
two organisations will also co-host and organise Investment Forums to promote
investment opportunities both in India and Turkey.
TOBB President Rifat Hisarciklioglu said that Turkey could
open markets of North Africa, Middle East and Eurasia to India which would
supplement its quest for new markets.
Under the MoU between TOBB and CII, both parties agreed to
take all such steps as may be necessary and feasible to promote bilateral trade
and economic cooperation between the two countries.
These include undertaking studies to determine support which
might benefit their respective members and exchange of information on all
economic and commercial matters with regards to Turkey and India including
specific industrial sectors relevant to both the countries.
Business
–
Myntra to shut website
from May 1, will be available only as mobile app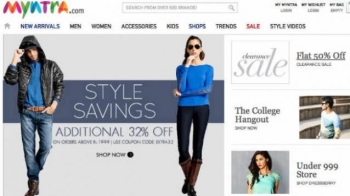 Myntra will shut its website from May 1 to become a mobile
app-based retailer.
Fashion retail website Myntra is expected to shut down its
website in favour of moving all operations to its mobile app, according to a
report in The Times of India. Myntra was acquired by Flipkart last year for a
sum of Rs 2,000 crores.
The report states that Myntra pulls in about 80% of its
traffic and 60% of sales through its mobile application. It has plans to take
the sales number to 90% by the end of the year. When that happens, the fashion
e-tailer will most likely shut down its websites according to sources familiar
with the matter. If it does indeed happen, it will be the first instance of an
online e-tailer going mobile-only from web + mobile format.
Myntra is on course to complete Rs 2,000 crore in sales or
gross merchandise value (GMV) for the current financial year. GMV refers to the
overall revenue generated by online retailers through sale of goods on the
online platforms. Out of the total GMV, the e-tailer makes around 5% to 20%
depending on the category.
India
–
Narendra Modi
launched National Air Quality index to monitor pollution level in 10 cities
Prime Minister Narendra Modi on 6 April 2015 launched a
National Air Quality Index (NAQI) to tackle the menace of air pollution. This
National Air Quality Index will provide information on the quality of air in 10
major cities in the country on a real-time basis.
The ten cities where the quality of air can be monitored are
Delhi, Agra, Kanpur, Lucknow, Varanasi, Faridabad, Ahmedabad, Chennai,
Bangalore and Ahmedabad.
Later the index will be extended to 22 State capitals and 44
other cities with a population exceeding one million.
The index was launched before the inauguration of the
Conference of State Environment and Forest Ministers in New Delhi. The
conference is being attended by state environment and forest ministers.
The national conference aims at consulting states on making
changes in existing laws that govern environment and forest clearances.
Manohar Parikkar
launches first indigenously-built Scorpene submarine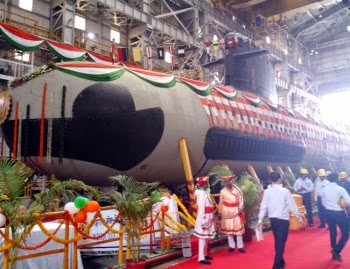 Defence Minister Manohar Parrikar on Monday launched the
country's first indigenously-built Scorpene submarine at the Mazagaon Dockyard
Ltd in Mumbai.
The Scorpene is part of the ambitious Project 75 of Indian
Navy's submarine programme, undertaken with French collaboration, which will
include six such vessels joining the fleet over the next few years.
Parikkar, along with Chief Of Naval Staff Admiral R.K.
Dhowan, Chief Minister Devendra Fadnavis and others officials attended a puja
ceremony to mark the auspicious undocking of the vessel.
The submarine is expected to be commissioned by September
2016.
Presently, Indian Navy has 14 conventional diesel-electric
powered submarines which include 10 Russian Kilo Class and four German HDW
class vessels.
Parikkar is in the city to review the progress of Project 75
programme undertaken by the Western Naval Command and is likely to get a status
report on the Project 15 B-Class stealth destroyers being constructed at MDL.
India to host fifth
meeting of SAARC health ministers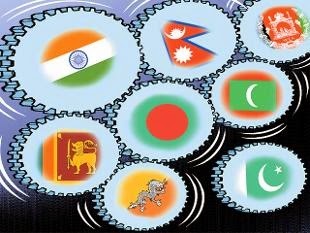 India will host the fifth meeting of SAARC health ministers
next week to deliberate on key issues including HIV/AIDS, prevention of communicable
and non-communicable diseases and to strengthen collaborations amongst the
nations.
The health ministers will also discuss adoption of the the
"Delhi Declaration" affirming their commitment to work together in
identified areas and further strengthen health collaboration with agreed road
map and timelines, in the meeting scheduled to take place on April 8.
Prior to the Health Ministers' meeting, the 7th Meeting of
SAARC Expert Group on HIV/AIDS, 5th Meeting of the SAARC Technical Committee on
Health and Population and the 5th Meeting of the SAARC Senior Officials (Health
Secretaries) will be held on April 6-7.
The 4th meeting of the SAARC Health Ministers was held at
Maldives in April 2012.
Union Government,
Government of Maharashtra and National Textile Corporation signs tripartite MoU
for the proposed BR Ambedkar memorial at
Indu Mill
After being stuck in legal and administrative hurdles for
the past two years, the proposed BR Ambedkar memorial at Indu Mill, Dadar, got
a major push after a tri-partite agreement was signed between the Union
ministry of textile, government of Maharashtra and the National Textile
Corporation (NTC) on Sunday.
The agreement was signed at New Delhi in the presence of
Prime Minister Narendra Modi, Union minister of state for textiles Santosh
Gangwar and state chief minister Devendra Fadnavis.
Fadnavis said the foundation stone for the memorial will be
laid by Modi in a few weeks.
The Maharashtra government said it will decide on the
compensation to be paid to the NTC, the owner of the land, in the next 15 days.
However, it is yet to be cleared if the NTC will be compensated in form of land
or otherwise.
According to the sources in the Mantralaya, the government
may transfer land, equivalent to the price of the one to be acquired at the
Indu Mill, elsewhere in the state.
Appointments
–
M Annadurai takes
over as Director of ISRO Satellite Centre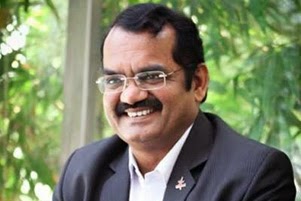 M Annadurai, senior scientist and programme director, Indian
Remote Sensing Satellites (IRS) and Small Satellite Systems (SSS) of ISRO
Satellite Centre (ISAC), Bengaluru, has assumed the office of Director, ISAC on
April 1.
He took over as Director, ISAC from S K Shivakumar, who
superannuated on March 31, 2015. Annadurai, born on July 2, 1958, graduated in
Electronics and Communication Engineering from Government College of
Technology, Coimbatore, obtained his Post Graduate degree in Applied
Electronics from PSG College of Technology, Coimbatore and Doctoral degree from
Anna University, Coimbatore.
Joining ISRO in 1982, Annadurai began his career at ISAC as
the team leader to design and develop Software Satellite Simulator. During the period
1992 -2005, Annadurai was the lead member of ISRO's satellite mission team and
managed eight INSAT Missions as the Mission Director and brought about the
efficient ground automation for satellite operations.
P.G. Jayakumar lays
down office as MD and CEO of Dhanlaxmi Bank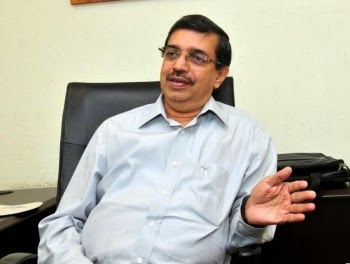 P.G. Jayakumar has laid down office as Managing Director and
CEO of the Kerala-based Dhanlaxmi Bank on Monday. He took charge as MD &
CEO three years ago.
G. Sreeram, who was Chief General Manager, Canara Bank,
Mumbai Circle, is succeeding him.
Jayakumar rose from the cadre to the highest office and
served the bank for more than 37 years in various capacities including Branch
Head, Zonal Head, and General Manager in charge of HR, Administration, Credit,
Risk Management, and Treasury.
He assumed charge as MD & CEO at a crucial juncture
after the exit of Amitabh Chaturvedi.
The bank, during Jayakumar's period, raised capital funds of
₹521crore. This helped it
comply with the regulatory capital adequacy requirements. The bank underwent
total reorganisation as a customer-focused branch-centric model and a series of
customer-friendly products and technology services were introduced, a press
release said.
Rajeev Shukla
appointed IPL Governing Council chairman
Rajeev Shukla was, on Monday, reappointed chairman of the
powerful Indian Premier League (IPL) Governing Council. Former Union Minister
and Congress leader Shukla was the IPL chairman till 2013 when he resigned from
the post in the aftermath of the IPL 'spot-fixing' scandal.
After intense speculation over who will take charge of the
league with former Indian captain Sourav Ganguly, Ajay Shirke and Ranjib Biswal
being the others in the fray, Mr. Shukla ultimately emerged as a consensus
candidate. His appointment came just one day before opening ceremony of the
IPL-8 in Kolkata.
Sourav Ganguly was a new entrant to the IPL Governing
Council while the senior national selection committee led by Sandeep Patil was
retained for another season. Team India Director Ravi Shastri also remained in
the IPL Governing Council.
Another former captain Anil Kumble has been retained as chairman
of the Technical committee while Congress leader and MPCA top boss Jyotiraditya
Scindia will head the powerful finance committee.
Chetan Desai of Goa will head the Marketing Committee while
Gokaraju Gangaraju of Andhra will be in-charge of the Tours and Programmes
Committee.
Pedro Alvaro
Cateriano Bellido appointed as 7th Prime Minister of Peru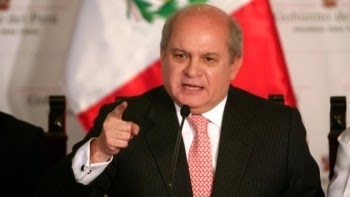 Pedro Cateriano Bellido was appointed as the seventh Prime
Minister of Peru on 2 April 2015. He was appointed by the President Ollanta
Humala in a ceremony held at the Government Palace in Lima, Peru.
He replaced Ana Jara, who was sacked on 30 March 2015 after
losing the vote of confidence in Congress. She was sacked by Peruvian Congress
amid allegations of spying and corruption.
At the time of this appointment, 56-year-old lawyer Bellido
was serving as Defence Minister of Peru. He was serving as Peru's Defence
Minister since July 2012.
Sports
–
Sania Mirza and
Martina Hingis won 2015 Miami Open Women's Doubles title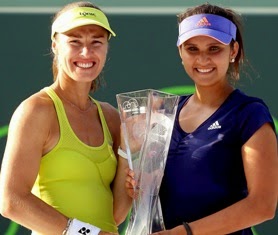 Sania Mirza and Martina Hingis, the Indo-Swiss women pair of
Tennis, on 5 March 2015 won the Miami Open Tennis women's doubles title. In the
title clash played in Miami, Florida, the duo defeated the Russian pair of
Elena Vesnina and Ekaterina Makarova, 7-5, 6-1.
This was second consecutive team title for the Indo-Swiss
pair. Earlier on 21 March 2015, Mirza and Hingis had won the Indian Wells Open.
Novak Djokovic and
Serena Williams won the 2015 Miami Open Tennis Singles titles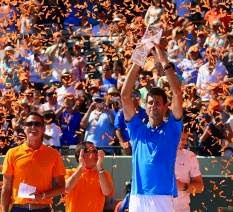 Novak Djokovic and Serena Williams won the 2015 Miami Open
Men's and women's singles titles of the
respectively at Crandon Park Tennis Center in Miami, Florida.
Novak Djokovic of Serbia on 5 April 2015 beat the third
seeded Andy Murray of Britain 7-6 (3), 4-6, 6-0 to win his fifth Miami Open
title.
In doing so, Djokovic became the first player to win at
Indian Wells and Miami back-to-back for three consecutive years.
With this win, Djokovic and Murray have combined to win
eight of the past ten Miami Open men's titles.
Serene Williams of the US on 4 April 2015 defeated the
twelfth seed Suarez Navarro of Spain 6-2, 6-0 to secure the title for eighth
time.
With this win, Williams has won 66 singles titles, one
behind Billie Jean King of the US.
Indian Grandmaster
Harika Wins Bronze in World Women's Chess Championship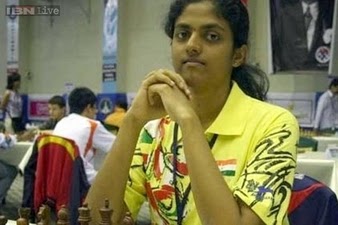 Indian Grandmaster Dronavalli Harika won the bronze medal
along with Swedish Grandmaster Pia Cramling by virtue of making it to the
semifinals of World Women's chess championship here.
Harika lost to the eventual winner Mariya Muzychuk of
Ukraine in the semifinals.
Muzychuk bagged the title after defeating Russian Natalija
Pogonina 2.5-1.5 in the four-game final. She had earlier defeated top seeded
Indian Grandmaster Koneru Humpy in the quarters.
While both Humpy and Harika got excellent chances to beat
Muzychuk, the Ukrainian prevailed over them, thanks to some steely nerves.
Against Humpy, she was looking at a hopelessly lost position
in the deciding tiebreaker when the Indian played an inexplicable blunder and
lost.
100-Year-Old Japanese
Woman Sets Swimming Record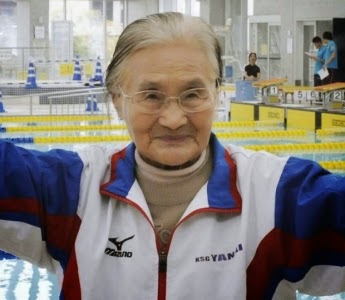 A 100-year-old Japanese woman has become the world's first
centenarian to complete a 1,500-metre freestyle swim.
Mieko Nagaoka, from Yamaguchi Prefecture, took just under an
hour and 16 minutes to finish the race in a 25-meter pool. She was the sole
competitor in the 100 – 104-year-old category at a short course pool in Ehime,
western Japan on Saturday.
Her time is expected to be recognised by Guinness World
Records after she submits an application to the international swimming federation,
Japan Times reported.
Nagaoka began swimming at the age of 80 as part of
rehabilitation for her hurt knee. At that time, she could barely swim.
Awards
–
Delhi International
Airport Limited won Golden Peacock National Quality Award 2015
Delhi International Airport Limited (DIAL) on 5 April 2015
won the prestigious Golden Peacock National Quality Award for the year 2015.
The award will be presented to DIAL by the UAE Minister for
Culture, Youth and Development Sheikh Nahyan bin Mubarak Al Nahyan at a
ceremony to be held in Dubai on 20 April 2015.
DIAL is a joint venture consortium of GMR Group, Airports
Authority of India, Fraport and Malaysia Airports Holdings Berhad (MAHB).
Indian-Origin Student
Pratap Singh in the UK Wins Major Physics Prize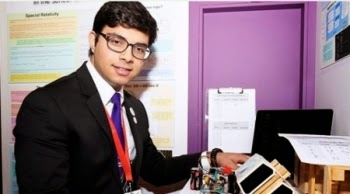 A 15-year-old Indian-origin schoolboy in the UK has been
awarded the Institute of Physics Prize for conducting an experiment that
verified an effect of Albert Einstein's theory of special relativity.
Pratap Singh, a student at The Perse School, Cambridge, has
won the 500 pounds Institute of Physics (IOP) prize at the Big Bang Fair held
at the National Exhibition Centre in Birmingham in March.
The prize was among several awarded in the finals of the
National Science and Engineering Competition at the fair.
More than 200 UK students aged 11-18 competed in the finals,
demonstrating their projects to thousands of visitors.
In his experiment, Singh used two Geiger-Muller tubes to
detect cosmic-ray muons, which should not reach the Earth in detectable numbers
unless time dilation occurs.
He created a mathematical model for their arrival rate with
and without time dilation, and using a Raspberry Pi and some statistical
analysis, showed that they follow the model predicted by Einstein's 1905 theory
of special relativity.


View the Current Affairs Archive >>


Download the March Monthly Magazine >>
Regards
Team ExamPundit
Books For 2015 Banking/Insurance Exams