Hello and welcome to ExamPundit. Here are the Important Current Affairs of 4th September 2015. These are important for the upcoming IBPS PO Exam.
India
–
Commemorative coins
of Rs 125, Rs 10 released in honour of former President S Radhakrishna
Prime Minister Narendra Modi on 4 September 2015 released
two commemorative coins of 125 rupees and 10 rupees in the memory of former
President Sarvepalli Radhakrishnan.
Modi released the coins at a function of his interaction
with the central school students at Zorawar hall, Manekshaw Centre in New
Delhi. The interaction session was organised on the eve of Teachers Day, which
is celebrated across India on 5 September 2015.
Teachers Day celebrates the birthday of India's second
President and scholar Dr Radhakrishnan.
NASA and ISRO jointly
working on NISAR mission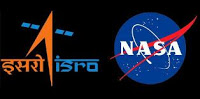 NASA-ISRO Synthetic Aperture Radar (NISAR) mission was in
news recently as its first Joint Steering Group (JSG) meeting was held on 21
July 2015.
NISAR is a dedicated US and Indian InSAR mission, in
partnership with ISRO, optimized for studying hazards and global environmental
change.
As part of it NISAR satellite, which will be the first radar
imaging satellite to use dual frequency, is expected to be launched during the
year 2021. The satellite will also be used for remote sensing to observe and
understand natural processes of the Earth.
Union Government
cancelled FCRA registration of NGO Greenpeace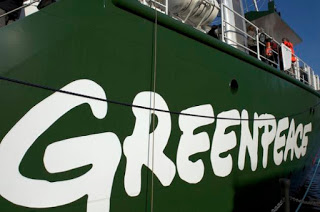 Union Government cancelled the registration of Greenpeace
India under the Foreign Contribution Regulation Act (FCRA), 2010. This move of
the government will make the NGO ineligible to receive funds from abroad, which
means it may force it to close down its operations in India.
In an affidavit submitted to Delhi High Court on 3 September
2015, the Union Home Ministry said Greenpeace violated FCRA by mixing its
foreign and domestic contributions.
Meanwhile, the NGO that has accused the Government of trying
to shut it down and termed the action as an attempt to silence campaigns and
said it will not be deterred.
The high court will hear Greenpeace plea challenging the
suspension of its licence under FCRA apart from freezing of its bank accounts
on 4 September 2015.
InSPA, global
alliance of 107 sunshine countries to be launched in New Delhi
The term InSPA was in news in the first week of September
2015 as the Union Government is planning to launch the global alliance on solar
energy at a conclave in New Delhi.
The conclave will be held in the third week of November 2015
ahead of the COP-21 of The United Nations Framework Convention on Climate
Change (UNFCC) in Paris.
InSPA stands for International Agency for Solar Policy &
Application. Its launch event is expected to be attended by 107 member
countries that are located between tropic of cancer and tropic of capricorn
including China and Australia.
The members of the grouping are also called as sunshine
countries as they receive high solar energy round the year.
Union Government
launched Indian Wind Resource Atlas as an online GIS tool
Union Government on 2 September 2015 launched the Indian
Wind Resource Atlas at 100 metre level. The Atlas will help policy makers at
Centre and State Governments to deal with issues related to tariff fixation,
transmission, grade frequency, etc.
It will also help in providing better infrastructure for the
investors. The Indian Wind Atlas is an important online GIS (Geographic
Information System) tool for identification of the regional and local wind
energy potential in India.
It contains average annual values of Wind Speed, Wind Power
Density and Capacity Utilization Factor (CUF) calculated for an average 2 MW
turbine at 100 m. In the atlas the resultant layers are at very high resolution
and joint frequency tables have been derived for the entire country at 500 m
resolution.
Also, high resolution Re-analysis data set has been used for
the study- NCEP/CFSR which enhanced the accuracy of the mapping. The Atlas uses
dynamic meso-micro coupled WRF modelling technique.
Appointments
–
Vinod Dasari
appointed as President of Society of Indian Automobile Manufacturers
Vinod Dasari was on 3 September 2015 appointed as President
of the Society of Indian Automobile Manufacturers (SIAM), an automobile industry
body. Dasari is the Managing Director of Ashok Leyland.
Other Appointments
Arvind Saxena, President of General Motors India, was
elected as the Vice-President of the organisation.
Kenichi Ayukawa, Maruti Suzuki India Managing Director and
CEO, was appointed as the Treasurer of SIAM.
Awards
& Honors –
Naxal-Hit Bastar
District Wins Literacy Award
Naxal-hit Bastar district of Chhattisgarh has now won a
national award for achievement in the field of literacy.
Giraud village panchayat in Raipur district, too, has been
selected for the award constituted under 'Literate India' programme this year.
The award will be presented on the International Literacy
Day (September 8) by President Pranab Mukherjee at Vigyan Bhawan in New Delhi,
an official release said here.
Expressing happiness over the achievement, Chief Minister
Raman Singh said it is a matter of honour for the State that despite fighting
the menace of Naxalism, the people of Bastar have contributed in literacy
mission with full enthusiasm.
Similarly, the people of Giraud village panchayat, too, have
brought laurels to the State, he said.
Along with Bastar, two other districts – Haveri (Karnataka)
and Dharmapuri (Tamil Nadu) will also receive the award.
Haryana bags Skoch
Order-of-Merit National Award for implementing e-governance, IT
Haryana has bagged the Skoch Order-of-Merit national award
in implementation of six e-Governance and IT initiatives in the state.
The award will be presented to the state government on
September 22-23, Chief Minister Manohar Lal Khattar said while addressing the
members on the second day of Monsoon session of Haryana Vidhan Sabha, today.
Sports
–
Kerala to name
cricket stadium after Sachin Tendulkar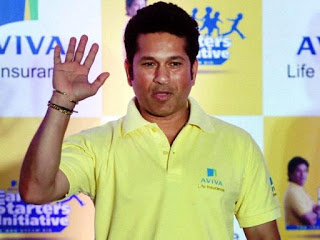 The Kerala Cricket Association (KCA) is all set to name one
of its stadiums after Sachin Tendulkar.
The KCA president T.C. Mathew said on Friday that while
there was a pavilion at the Jawaharlal Nehru Stadium in Kochi named after
Tendulkar, the KCA was going to name a stadium after him.
The new stadium built by the KCA in Wayanad recently hosted
the two four-day matches between South Africa A and India A. It is one of the
most scenic grounds in the country, with mountains on three sides.
Mathew added that the KCA plans to work closely with
Tendulkar as in another two years they will set up a state-of-the-art cricket
ground in each of the 14 districts of Kerala.
Mourinho, Ronaldo,
Djokovic receive Guinness World Records certificates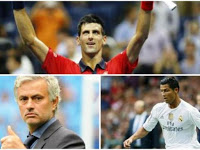 Some of the biggest names in the sporting world Frank
Lampard, Jose Mourinho, Cristiano Ronaldo, Lewis Hamilton, Novak Djokovic and
many more have been included in the new Guinness World Records book and were
honoured with certificates.
English football champions Chelsea's manager Mourinho was
given four different awards, which included prizes for the most points in a Premier
League season (95), most Champions League's won at different clubs (two),
youngest manager to reach 100 Champions League games (49 years 12 days) and
most games unbeaten at home in the Premier League (77).
Manchester United defender Chris Smalling also bagged two
records after scoring the fastest goal in the Premier League by a substitute
from kick-off, when he netted against Burnley in just five minutes nine seconds
last season.
He scored again to earn himself a second record, for the
most goals in the Premier League scored by a substitute in the first half.
Marvan Atapattu
resigned as head coach of Sri Lanka Cricket Team
Marvan Atapattu on 3 September 2015 announced his
resignation as head coach of Sri Lanka cricket team. His resignation was accepted
by the Sri Lanka's Cricket Board.
He resigned just two-days after the team's Test series loss
to India at home. The series loss was their first to India on home soil since
1993. Apart from this, Sri Lankan team has lost four Tests out of six since
June 2015.
Atapattu first became the batting coach of Sri Lanka cricket
team in 2011 and in April 2014 he was made interim head coach of the team
following Paul Farbrace resignation.
In September 2014, he was made the head coach of the team
making him the first full-time coach of the team in 15 years.
List/Indexes
–
Llyod's City Risk
Index 2015-2025 released
Llyod's City Risk Index 2015-2025 was released on 3
September 2015. The Index is the first of its kind as it quantified the
expected loss to cities' Gross Domestic Product (GDP) from various natural and
manmade threats.
While Taipei topped the Index with 181 billion US dollars,
Mumbai is expected to face maximum risk in India with 47 billion US dollars.
The selected 301 countries together are expected to see a
loss of 4.56 trillion US dollars out of 372.56 trillion US dollars of total GDP
during 2015-25 from 18 threats together.
The share of emerging cities (cities outside G8) in the
total loss is projected at around 72 percent.
Daily
Expected Questions on Stock GK:
1. Barkatullah University Stadium is located in which city/state?
– Bhopal/Madhya Pradesh
2. Chandoli National Park is located in which state?
– Maharashtra
3. Tamor Pingla Wildlife Sanctuary is located in which state?
– Chhattisgarh
4. Pranahita Wildlife Sanctuary is located in which state?
– Telengana
5. Charanka Solar Park is located in which state?
– Gujarat


Regards
Team ExamPundit
Sponsored

(adsbygoogle = window.adsbygoogle || []).push({});
Books For 2015 Banking/Insurance Exams