Hello and welcome to ExamPundit. Here are the important current affairs from 2nd April, 2015.
Finance
–
Indirect tax
collection exceeds revised estimate by Rs 4,000 cr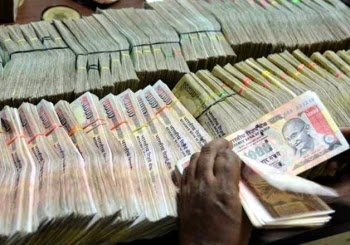 Struggling to rein in the fiscal deficit at 4.1 per cent
of the gross domestic product (GDP)
during 2014-15, the Centre has received a good news on the indirect tax front–
collections under this head exceeded the Revised Estimates (RE) by Rs 4,000
crore.
The indirect taxes — customs duty, excise duty and services
tax–yielded Rs 5.46 lakh crore against RE of Rs 4.42 lakh crore.
The collections were also higher 9.9 per cent over Rs 4.97
lakh crore during 2013-14, an official statement said here.
The government has also got Rs 8,000-10,000 crore from
spectrum auction in March.
However, these figures may not be sufficient to bridge the
fiscal deficit to the targeted level. Also, the government is likely to have a
shortfall on the direct tax collections front, even against RE.
India
–
Andhra Pradesh
Cabinet approved Amaravathi as capital of the State
Andhra Pradesh Cabinet chaired by Chief Minister N
Chandrababu Naidu on 1 April 2015 approved that Amaravathi will be the new
capital city of the state. The capital will come up at Tullur in Vijayawada-Guntur
region of the state.
The name of Amaravathi as state capital was finalised in
view of its historical, spiritual and mythological significance.
Besides this, AP cabinet also approved the first phase of
the master plan prepared by Singapore government agencies and the new
industrial policy, which will accelerate industrialisation of the state.
Union Government
launched FAME-India scheme to boost electric, hybrid vehicle sales
Union Government on 1 April 2015 launched Faster Adoption
and Manufacturing of Hybrid and Electric vehicles (FAME) – India Scheme.
The scheme was launched with an aim to boost sales of
eco-friendly vehicles in the country. It is a part of the National Mission for
Electric Mobility.
The scheme envisages providing 795 crore rupees support till
2020 for the manufacturing and sale of electric and hybrid vehicles.
Characteristic Features of FAME – India Scheme
It envisages providing demand incentives to electric and
hybrid vehicles from two wheelers to buses in range of 1800 rupees to 66 lakh
rupees
Focus areas of the scheme will be technology development;
demand creation; pilot projects; and charging infrastructure
Depending on technology, battery operated scooters and
motorcycles will be eligible demand incentives ranging between 1800 rupees to
29000 rupees
In three-wheeler the incentives will range from 3300 rupees
and 61000 rupees
In four-wheeler segment incentive ranges from 13000 rupees
and 1.38 lakh rupees
In case of Light Commercial Vehicles (LCV) incentive ranges
from 17000 rupees to 1.87 lakh rupees
In case of buses the incentive ranges from 34 lakh rupees to
66 lakh rupees
The Department of Heavy Industries will be nodal department
for the scheme.
Union Government
issued Guidelines for administration and operationalisation of Nirbhaya Fund
Union Government on 1 April 2015 issued Guidelines for
utilization of the Nirbhaya Fund with a corpus of 3000 crore rupees. The fund
has been approved by the Union Finance Ministry.
The Nirbhaya Fund was set up by Union Government under which
various departments can seek money from the Union Ministry of Women and Child
Development (WCD) for schemes to improve safety and security of women in the
country.
The Guidelines are
as follows:
Ministry of WCD is the nodal authority which can be
approached by various Ministries/Departments with the proposals/schemes, to be
funded from Nirbhaya Fund targeted to strengthen the safety and security of
women in the country.
Ministry of WCD would appraise these schemes to decide their
suitability to qualify for getting funds from the Nirbhaya Fund.
Ministry of WCD shall forward the suitable proposals to
Department of Economic Affairs (DEA) for necessary budgetary allocations in the
respective Demands.
DEA shall appraise the proposal on financial and other
aspects to avoid any duplicity of schemes/Government efforts to strengthen
safety and security of women in the country.
Budget Division of DEA would approve the funding of schemes
from the fund and would also be the nodal Ministry for any accretion into and
withdrawal from the fund.
88th All-India
Marathi Literary Festival Begins in Gurdaspur on Apr 3
The 88th edition of the Akhil Bhartiya Marathi Sahitya
Sammelan (ABMSS) will be held from April 3-5 in Ghuman village in Gurdaspur
district, where Marathi saint Namdev spent last years of his life.
The nondescript village is located about 260 km from here.
Saint Namdev hailed from Maharashtra and his 61 shabads were included in Guru
Granth Sahib, a holy scripture of the Sikhs.
Ghuman spiritually connects Punjab and Maharashtra like
Nanded and for many Saint Namdev, who is an important saint of the Bhakti movement,
is an example of our country's social and communal unity.
A large contingent of Marathi litterateurs is scheduled to
take part in the event.
Top politicians from Maharastra, including Union Minister
Nitin Gadkari, former Union ministers Sharad Pawar and Sushilkumar Shinde would
also be present at the event tomorrow, officials said.
Index
–
India Ranks Seven
Notches Down to 119 on 2015 FM Global
Resilience Index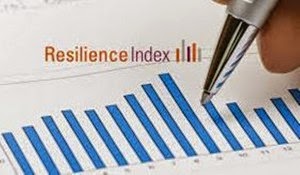 India has been ranked a low 119 out of 130 countries on an
index that measures business resilience of nations based on economic, risk
quality and supply chain factors, dropping seven notches from last year.
The 2015 FM Global Resilience Index has been topped by
Norway for being the country best suited for companies seeking to avoid
disruptions in their global supply chain operations.
Venezuela is ranked last on the list.
India, "despite its scope and global potential",
ranks 119, falling from 112th rank in 2014.
On the economic parameter, which takes into account GDP,
political risk and oil intensity, India is ranked 115, the same as last year.
In the risk quality factor, India is ranked 109 for its
quality of natural hazard and fire risk management, a slight improvement from
its 113th rank in 2014.
Among the top 10 countries that are most resilient, Norway
is followed by Switzerland (2), Netherlands (3), Ireland (4), Luxembourg (5),
Germany (6), Qatar (7), Canada (8), Finland (9) and the US (10).
Appointments
–
Justice Sunil Kumar
Sinha appointed as Chief Justice of the Sikkim High Court
Justice Sunil Kumar Sinha on 30 March 2015 was appointed as
the Chief Justice of the Sikkim High Court (HC). He was appointed by the
President Pranab Mukherjee in accordance with the Article 217 (1) of the
Constitution of India.
He assumed the charge of the office of Chief Justice of
Sikkim HC on the date he was appointed.
Before this appointment he was serving as the acting Chief
Justice of the Sikkim HC since October 2014. He became a Judge in the Sikkim HC
in July 2014.
Gulshan Rai takes
charge as first Cyber Security chief of India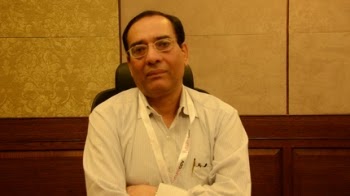 Gulshan Rai, the Director General of Indian Computer
Emergency Response Team (Cert-In), took over as India's first Cyber Security
chief.
Rai, who also heads the eSecurity and Cyber Law division in
the Ministry of Communications and Information Technology, has been involved in
various capacities regarding cyber security for over two decades. He is part of
the Department of Electronics and IT ( DeitY).
Rai's appointment comes at a time when cyber security
assumes importance in the backdrop of growing network intrusions and hacking
attempts on not just businesses but also on the government.
According to government data, more than 700 government
websites that are hosted under 'gov.in' and 'nic.in' domains have been hacked by
cyber criminals since 2012.
As per CERT-In, 371, 189, 155 and 13 government websites
were hacked during the year 2012, 2013, 2014 and 2015 (January), respectively.
During the Budget Session last month, Home Minister Rajnath
Singh had said an experts committee was set up to suggest ways and means to
strengthen cyber security and was likely to submit its report within three
months.
Awards
& Honors –
Indian-American
Professor Rajani Ganesh Pillai Wins Peltier Award in Teaching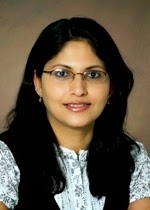 An Indian-American assistant professor, who employs a game
called "Baffa Baffa" to have students understand culture's role in
business, has won the prestigious Peltier Award for her innovative teaching
methods.
Rajani Ganesh-Pillai, who teaches marketing at the North
Dakota State University, will be recognised for her efforts to bring hands-on
experience, theory-based understanding and an enhanced global perspective to
her students.
One of her innovative practices is a game called "Baffa
Baffa," where the goal is to have students understand culture's role in
business and how it can affect transactions and relationships.
Sports
–
Union Sports Ministry
signed MoU with IIFCL to support TOP Scheme for Badminton
Union Ministry of Youth Affairs & Sports (MYAS) on 31
March 2015 signed a Memorandum of Understanding (MoU) with India Infrastructure
Finance Company Limited (IIFCL) to support Target Olympic Podium Scheme (TOP)
Scheme for Badminton sport.
Under the MOU, IIFCL shall contribute 30 crore rupees to the
TOP Scheme under its initiatives for Corporate Social Responsibility (CSR).
IIFCL have contributed 10 crore rupees so far.
Activities that
will be taken as part of the MoU
To provide customized training and coaching to TOP Scheme
Athletes at institutes/centers having world class facilities under the guidance
of renowned coaches,
To provide world class equipment to TOP Scheme Athletes,
Brendon McCullum
conferred with Sir Richard Hadlee Medal for 2014-15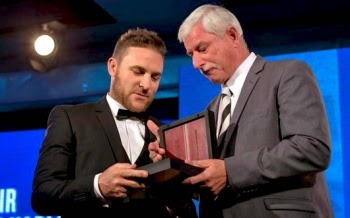 New Zealand cricket team captain Brendon McCullum on 1 April
2015 was conferred with the Sir Richard Hadlee Medal for 2014-15. McCullum won
the award for his remarkable performance both as a player and the captain
during the 2014-15 season.
The highest cricketing honour of New Zealand was presented
to him during the New Zealand Cricket (NZC) Awards presentation ceremony held
in New Zealand's capital Auckland.
World
–
Pakistan Set to Buy
Eight Submarines From China
Pakistan is set to acquire eight submarines from China for
nearly USD 5 billion, in what is likely to be the biggest arms export deal for
the Communist giant which today defended the move, saying its defence ties with
Pakistan adhered to international treaties.
The deal was reportedly finalised during last month's visit
by Pakistan Naval Chief Muhammad Zakaullah to China. He met Vice Chairman of
China's Central Military Commission Fan Changlong on March 26.
However, there have been reports that Yuan-class Type-041
diesel-electric submarines were being considered.
The-Type 041 'Yuan' class is described by IHS Jane's
Fighting Ships as a diesel electric attack submarine (SSK), potentially with
Stirling air independent propulsion.
China is Pakistan's biggest supplier of military hardware
which included battle tanks, naval ships as well as fighter jets. The two
jointly manufacture J-17 Thunder warplane.
Obituaries
–
Sunita Tomar, the
face of India's anti-tobacco campaign, died
Sunita Tomar, the face of India's anti-tobacco campaign,
died on 1 April 2015 at her native village in Bhind district of Madhya Pradesh.
She was 28.
In 2014, she shot a 30-second video titled Sunita
highlighting the devastating effect of smokeless tobacco. In the video she
shared her experience, which later was used by the government for its
anti-tobacco drive to warn people against consumption of smokeless gutkha and
pan masalas.
She teamed up with Voice of Tobacco Victims (VoTV) to
produce the video which tells about her struggle with oral cancer.
Renowned Hindi poet
Kailash Vajpeyi died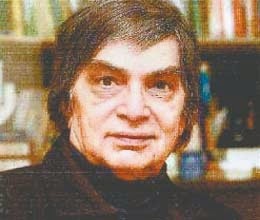 Renowned Hindi poet Kailash Vajpeyi died on 1 April 2015 due
to cardiac arrest in a private hospital of Saket in New Delhi. He was 79.
He is survived by his wife and daughter Ananya Vajpeyi.
Kailash Vajpeyi was born in 1936 at Hamirpur of Uttar
Pradesh and began his career as a journalist and subsequently started teaching
at Delhi University.
He published 28 books, including 14 volumes of poetry. Some
of his works includes Sufinama, Sankrant, Dehant se Hatkar (Away from Death),
Teesra Andhera (Third Darkness), Prthvi ka krshnapaksha, Rajdhani and Bhavishya
Ghat Raha Hai (The future is shrinking).
A number of his poems were banned like Naya Rashtrageet (A
new national anthem).
Award and hounours
conferred on Kailash Vajpeyi includes
Sahitya Akademi award in 2009 for his work Hawa mein
hastakshar (Signature in the air)
Vachaspati title from Lucknow University
He was honoured by Delhi Academy of Letters and New York's
Literary Society
It's never too late – never too late to start over, never too late to be happy. – Jane Fonda




Also, view the Current Affairs Archive >> (Ctrl+D to Bookmark the Page!!)




Regards
Team ExamPundit
Books For 2015 Banking/Insurance Exams