Hello and welcome to ExamPundit. Here are the Important Current Affairs of 25th April, 2015.
World
–
Earthquake of
magnitude 7.9 on the Richter scale struck Nepal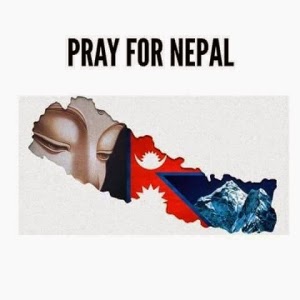 A high-intensity earthquake of magnitude 7.9 on the Richter
scale struck Nepal on 25 April 2015. The epicenter of the quake was 80km east
of Pokhra near Kathmandu, Nepal at a shallow depth of 11 kilometers (7 miles).
The powerful quake that rocked Nepal killed at least 449
people and several were injured. It also led to collapse of houses and
centuries-old temples.
The quake also led to avalanche on Mount Everest.
The tremors of the quake, which is the worst in the
Himalayan nation in over 80 years, were felt in northern India, Pakistan and
Bangladesh. In India, the tremors were felt in Bihar, Jharkhand, Uttar Pradesh,
Rajasthan, Madhya Pradesh, West Bengal, Haryana, Assam, and Punjab.
Nepal suffered its worst earthquake of magnitude 8.0 in
1934. The quake destroyed the cities of Kathmandu, Bhaktapur and Patan.
We are not sharing Disaster Images.
UNESCO World Heritage
Site Dharahara Tower Collapses in Kathmandu After 7.9 Earthquake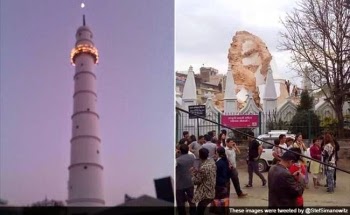 A historic tower built in the 19th century collapsed in the
Nepali capital Kathmandu when an earthquake struck shortly before noon local
time. A policeman said that up to 200 people had been trapped there.
The Dharahara Tower, built in 1832, was a landmark that had
been open to visitors for the last 10 years and had a viewing balcony.
A stump just 10 metres (33 feet) high was all that was left
of the 14-storey structure. Several bodies were brought away from the ruins.
At the main hospital in Kathmandu, people with broken limbs
and arms were being rushed in for treatment. Crowds and volunteers formed human
chains to clear the way for ambulances to bring in the injured.
Banking
–
Reserve Bank of India
asks banks to add 'third gender' column in all forms
In a move aimed at helping transgender persons open bank
accounts and avail related services, the Reserve Bank today directed banks to
include a separate column 'third gender' in all their forms and applications.
It has been brought to our notice that transgender persons
face difficulties in opening accounts as there is no provision for them in the
account opening and other forms, the RBI said.
As per a judgment on April 14, 2014, the Supreme Court had
upheld transgender persons' right to decide their self- identified gender and
directed the centre and state governments to grant legal recognition of their
gender identity such as male, female or as third gender.
Awards
& Honors –
Anil Kapoor Receives
Deenanath Mangeshkar Award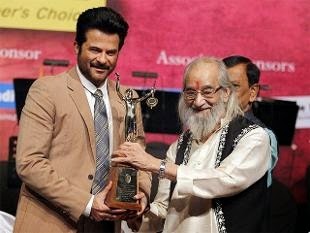 Bollywood actor Anil Kapoor has been felicitated with the
prestigious Deenanath Mangeshkar Award.
The 58-year-old actor also met Maharashtra Chief Minister Devendra
Fadnavis at the event.
This was the 73rd edition of the awards. Besides Anil,
Marathi actor Dilip Prabhalkar was also conferred with the honour.
Deenanath Mangeshkar was a well-known Marathi theatre actor,
a renowned Natya Sangeet musician and a Hindustani classical vocalist.
He is also the father of well-known singers Lata Mangeshkar,
Asha Bhosle, and Usha Mangeshkar as well as composers Hridayanath Mangeshkar
and Meena Khadikar.
The prestigious Deenanath Mangeshkar Award is given to
various eminent personalities for their outstanding contribution in the field
of cinema, music, theatre, literature and social work.
The Deenanath Mangeshkar Award, carries a memento, citation
and cash prize of Rs 1 Lac each.
Indian-Origin
Diplomat Gopinath Pillai Awarded For His Services in Singapore
Indian-origin diplomat Gopinath Pillai has been bestowed
with 'Outstanding Service Award' for his services to the city-state by the
National University of Singapore (NUS) here.
78-year-old Gopinath Pillai, who is currently the
Ambassador-at-Large of Singapore and special envoy to Andhra Pradesh recieved
the award yesterday.
He recalled his earlier days and the challenges that he had
to face of shaping Singapore when the island state was still in the last stage
of shedding colonial rule.
A former journalist, he has worked in a number of fields
including banking and now is chairman of Information Technology company Savant
Infocomm and a director of Gateway Distriparks Ltd in India.
Pillai has contributed significantly to Singapore through
his distinguished service as a diplomat for more than 25 years. Additionally,
his past and current involvement in a number of agencies, ranging from NTUC
FairPrice Co-operative Limited and Ang Mo Kio-Thye Hua Kwan Hospital to Hindu
Advisory Board, has had substantial impact on the social fabric of Singapore.
Days
–
World Malaria Day
observed with theme Invest in the Future. Defeat Malaria
World Malaria Day (WMD) was observed on 25 April 2015. The
theme for the 2013-2015 campaign is Invest in the Future. Defeat Malaria.
The day is observed to recognise the global efforts to
control malaria. It is an occasion to highlight the need for continued
investment and sustained political commitment for malaria control and
elimination
World Malaria Day was instituted by World Health
Organization (WHO) Member States during the 2007 World Health Assembly.
On the occasion of the 2015 World Malaria Day (WMD), WHO
called on the global health community to urgently address significant gaps in
the prevention, diagnosis and treatment of malaria.
Sports
–
Japan to host FIFA
Club World Cup in 2015 and 2016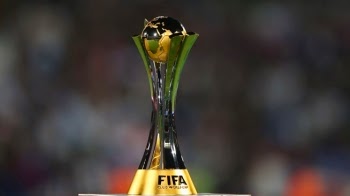 Preparations for the upcoming edition of the annual FIFA
Club World Cup are underway as the prestigious competition gets set to return
to Japan.
After last staging the event in 2012, Japan will play host
again in 2015 and 2016, with this year's FIFA Club World Cup confirmed for
10-20 December.
FIFA Secretary General Jerome Valcke says the experience of
the Japan Football Association (JFA) in organising a number of major football
tournaments will go a long way to ensuring further success for the event.
Regards
Team ExamPundit
Sponsored

(adsbygoogle = window.adsbygoogle || []).push({});
Books For 2015 Banking/Insurance Exams