Hello and welcome to ExamPundit. Here are the Important Current Affairs Update of 21st November, 2015. These are Important for the upcoming Banking and Insurance Exams.
Finance
–
Rajasthan Government
signed 295 MoUs attracting 3.3 lakh crore rupees investment
Rajasthan Government on 20 November 2015 signed 295 MoUs
attracting about 3.3 lakh crore rupees investment during the Resurgent
Partnership Summit 2015. With this, a task force will be formed to get the
projects implemented in a time-bound manner.
Highlights of the
MoUs
It aims to provide around 239694 lakh jobs in the state.
The Energy sector got MoUs worth 190000 crore rupees
followed by Petroleum with 77657 crore rupees worth MoUs.
Infrastructure got MoUs worth 17038 crore rupees while
Manufacturing sector of the state fetched MoUs worth 11760 crore rupees.
Roads and Highways fetched 10000 crore rupees MoUs.
India
–
Francois Hollande to
be Chief Guest at 2016 Republic Day celebrations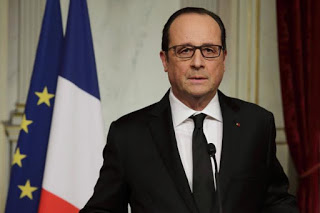 French President Francois Hollande will be the chief guest
at the Republic Day parade of January 26, 2016. Though official sources are yet
to confirm this information, Julien Bouissou, the South Asia correspondent of
French daily La Monde has tweeted the same. He later on clarified that his
information was based on the French sources.
The visit of Mr. Hollande to New Delhi for the mega pageant
of January 26 will be symbolic and send a message of a worldwide solidarity
among the democratic countries against terrorism of the IS which staged the
November 13 attacks in Paris.
France is going to host the COP 21, Paris Climate
Conference, summit in Paris starting from November 30. French ambassador
Francoise Richier told the media in Delhi earlier this week that the climate
conference, though overshadowed by the terror attacks will go ahead as planned
but for some changes about the peripheral events planned for the summit. Prime
Minister Narendra Modi is expected to attend the COP21 brainstorming in Paris,
said official sources earlier this week.
Rajasthan, South
Australia signed Sister-State Agreement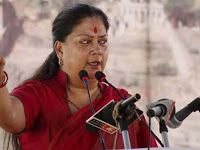 Rajasthan and South Australia on 20 November 2015 signed the
historic Sister-State Agreement to boost export and investment opportunities
between the two states.
The agreement was signed by South Australia Trade and
Investment Trade Minister Martin Hamilton-Smith and Rajasthan Chief Minister
Vasundhara Raje in Rajasthan.
Highlights of the
agreement
The sister-state relationship between South Australia and
Rajasthan is based on a two-way exchange of research, policy and technical
capabilities.
The agreement provides partnership opportunities across key
sectors where South Australian business will offer services and product
support.
Jharkhand Day
celebrated at India International Trade Fair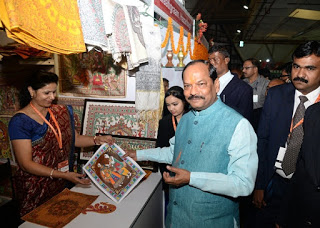 Jharkhand celebrated its state day at the India International
Trade Fair in New Delhi on Saturday. Amid a host of traditional and cultural
activities showcasing the art and dance forms of different regions of
Jharkhand, some 200 people visited the event.
Inaugurating the event, which was also attended by Chief Secretary
Rajiv Gauba, Jharkhand Chief Minister Raghubar Das said: "Jharkhand this time
is the partner State of IITF, 2015, and it is a real pride for us." Das also
visited the stalls at the Jharkhand pavilion and praised the arrangements.
Appointments
–
Yusuf Hamied appointed
to high-level UN panel on health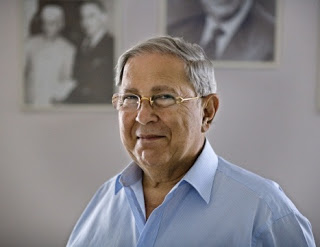 Yusuf Hamied, non-executive chairman of Indian pharma
company Cipla, has been named by UN chief Ban Ki-moon to a high-level panel on
health technology innovation and access. The panel is tasjed with escalating
investments in research and development for diseases where financial returns
are not guaranteed.
Hamied will be part of the 16-member panel that will be
co-chaired by former President of Switzerland Ruth Dreifuss and former
President of Botswana Festus Mogae.
The UN said Hamied has led efforts to treat and eradicate
AIDS and other diseases in the developing world, and to give patients
life-saving medicines regardless of their ability to pay.
He offered the world's first affordable AIDS medicine at the
unprecedented cost of $1 per day in 2001.
Harshavardhan Neotia
elected as President of FICCI
Harshavardhan Neotia, Chairman of Ambuja Neotia group, was
on 20 November 2015 elected as the President of industry body Federation of
Indian Chambers of Commerce and Industry (FICCI) for the year 2016.
Neotia will succeed the current FICCI President Jyotsna
Suri, Chairperson and Managing Director of Bharat Hotels Ltd, during the
chamber's AGM in December 2015.


Regards
Team ExamPundit
Sponsored

(adsbygoogle = window.adsbygoogle || []).push({});
Books For 2015 Banking/Insurance Exams