Hello and welcome to ExamPundit. Here are the Important Current Affairs of 18th April, 2015.
PM's
Visit to Germany, Canada, France –
PM Narendra Modi
concluded his three-nation visit to France, Germany and Canada
Prime Minister Narendra Modi on 17 April 2015 returned to
India after his three-nation visit to France, Germany and Canada.
During his nine-day visit, which took place from 9 April to
17 April 2015, he met leaders of the three nations namely French President
Francois Hollande, German Chancellor Angela Merkel and Canadian Prime Minister
Stephen Harper.
The visit concluded with some major agreements which would
boost Modi's vision of Clean India, Make in India and others.
Some major agreements include purchase of 36 Rafale fighter
jets with France, agreement for supply of uranium with Canada for nuclear power
plants in India and Airbus plan to come to India and be a part of Make in India
initiative.
Appointments
–
Supreme Court
appointed Vivek Priyadarshi to lead the probe on IPL scandal
The Supreme Court of India (SC) on 17 April 2015 appointed
Vivek Priyadarshi to head the team probing the Indian Premiere League (IPL)
scandal. The decision was taken by a SC bench headed by Justice TS Thakur.
At present he is working as a Superintendent of Police (SP)
in Central Bureau of India's (CBI) anti corruption unit.
He succeeds BB Mishra as the head of the probing team who
was retired on 31 March 2015.
The bench took the decision on the recommendation of a three
member panel headed by former Chief Justice of India (CJI) RM Lodha. The panel
was appointed by the SC in January 2015 to decide action against Gurunath
Meiyappan and Raj Kundra who were found to have indulged in betting during the
T20 league.
Vankadarath Saritha
joined as first woman bus driver of the DTC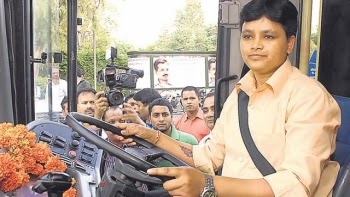 Vankadarath Saritha was in news as on 17 April 2015 she
became the first woman bus driver of the Delhi Transport Corporation (DTC).
She is a 30-year-old driver from Nalgonda in Telangana. She
has been posted in day-time duty at the Sarojini Nagar depot and will start
working officially from 20 April 2015.
Saritha started her career as an autorickshaw driver and has
worked as a bus driver earlier in Hyderabad too. Before getting selected for
the DTC, she was working as a taxi driver in Delhi.
The recruitment of Saritha into DTC will lessen the gap of
gender inequality.
Awards
& Honors –
Rahul Pandita, Zeena
Johar among 2015 Yale World Fellows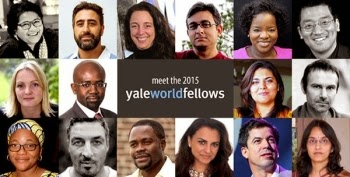 Indian journalist Rahul Pandita and Zeena Johar, founder and
CEO of SughaVazhvu Healthcare, based in Tamil Nadu, are among the 2015 Yale
World Fellows selected this year.Yale World Fellows is Yale University's
signature global leadership development initiative and a core element of Yale's
ongoing commitment to internationalization. Each year, the University invites a
group of exemplary mid-career professionals from a wide range of fields and
countries for an intensive four-month period of academic enrichment and
leadership training.The 16 selectees this year bring the total number of Yale
World Fellows since the program's start in 2002 to 273 Fellows, representing 84
countries.
The 2015 Asian Awards
held in London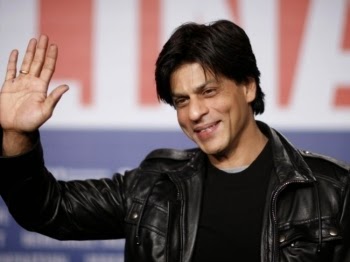 Bollywood superstar Shah Rukh Khan won an Outstanding
Contribution to Cinema honour at the fifth annual The Asian Awards.
Picking up the award for Outstanding Contribution to Sport
was Sri Lankan batsman Kumar Sangakkara, and the prize for Outstanding Achievement
in Science and Technology went to Tejinder Singh Virdee.
The Outstanding Achievement in Television award went to
comedian, actor and broadcaster Sanjeev Bhaskar, while the Hinduja brothers
were awarded as Business Leaders of the Year.
World
–
China fines Alibaba
$129,000 for pricing violations
China's e-commerce giant, Alibaba Group, has been fined
800,000 yuan ($129,000) by the price bureau in eastern Zhejiang province for
violations by third-party sellers during promotions on its e-commerce
platforms.
Since Alibaba turned "Singles' Day", a November 11
Chinese response to Valentine's Day, into an online shopping festival in 2009,
the event has grown to similar proportions as Cyber Monday and Black Friday in
the United States.
Sales of more than $9 billion were achieved at last year's
event, and the company has copyrighted the phrase "Double 11", a
reference to the date (11/11), which in turn, refers to the status of single
people.
Alibaba shares have lost more than a fifth this year, with
analysts citing concern about counterfeits along with lacklustre third-quarter
earnings and waning investor excitement after last September's record-setting
$25-billion IPO. ($1=6.1976 Chinese yuan)
TERI, FNI,
INTASAVE-CARIBSAVE signed MOU to further Climate & Development Agenda
TERI (The Energy and Resources Institute) on 16 April 2015
signed an agreement with two global research institutes, namely Fridtjof Nansen
Institute (FNI) and INTASAVE-CARIBSAVE Group. The agreement was signed for
exchange of knowledge and cooperation on issues related to climate change.
As part of MoU, the three institutes will work together to
promote research and development, including policy analysis in the areas of
green growth, climate change, sustainable energy, natural resource management,
capacity building and knowledge exchange.
India
–
Maharashtra
Government decided to discontinue Guard of Honour to ministers
The State Government of Maharashtra on 18 April 2015 decided
to discontinue the colonial-era practice under which police guard of honour was
given to ministers and top officials. Government termed the practice as a waste
of time and resources.
The directive will apply to all ministers and senior state
officials. The guard of honour was given to ministers and officers during their
district-level visits.
This practice of providing the guard of honour was reserved
for the Governor Generals and Viceroys during the British age.
Days
–
World Heritage Day
2015 observed globally
World Heritage Day was observed across the world on 18 April
2015. The day is observed with an aim to create awareness among the people to
conserve and protect the valuable assets and cultural heritage across the
world.
The day marks the necessity of protecting the historical
monuments and sites located in every part of the world by making collective
efforts at international level.
The 2015 World Heritage Day also marked 50th anniversary of
International Council on Monuments and Sites (ICOMOS) in Tunisia.
World Hemophilia Day
2015 observed globally with theme Building a family of support
World Haemophilia Day was observed globally on 17 April 2015
with theme Building a family of support. The day provides an opportunity to
talk to your extended family and friends, colleagues, and caregivers to raise
awareness and increase support for those living with an inherited bleeding disorder.
Hemophilia day was established in 1989 with the support of
the World Federation of Hemophilia (WFH). The date of 17 April was chosen to
honor Frank Schnabel the founder of WFH, whose birthday falls on the same date.
Sports
–
Y Pranjala Wins Asian
Junior Tennis Championship
India's Y Pranjala clinched the Asian Junior Tennis
championship title after a come-from-behind victory over top seed Chinese Zheng
Wushuang here today.
The second seeded Indian won with a 5-7 6-2 7-5 scoreline in
the final against her formidable rival, who happened to be her doubles partner
in the event.
It was double delight for the 16-year-old Pranjala as she
had won the doubles trophy yesterday.
Coached by former Davis Cup player Ilyas Ghouse, Pranjala
trains at GVK Tennis Academy in Hyderabad.
Regards
Team ExamPundit
Sponsored

(adsbygoogle = window.adsbygoogle || []).push({});
Books For 2015 Banking/Insurance Exams