Hello and welcome to ExamPundit. Here are the Important Current Affairs of 11th December, 2015. These are important for the upcoming IBPS Clerk Mains and Insurance Exams.
Finance
–
Union Government
slashed Minimum Export Price of onions to 400 dollar per tonne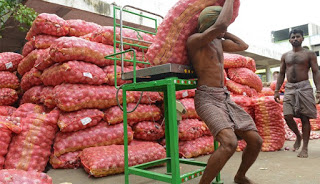 Union Government on 10 December 2015 slashed the Minimum
Export Price (MEP) of onions to 400 US dollars per tonne from 700 dollars a
tonne. The decision to slash the MEP on Onions was taken at a meeting chaired
by Finance Minister Arun Jaitley.
MEP is the rate below which no traders are allowed to export
their goods. The rise in MEP restricts exports and improves domestic supply.
Earlier on 23 August 2015, the MEP on onions were hiked to
700 dollars per tonne, as prices at both wholesale and retail levels were
skyrocketing on lower output due to unseasonal rainfall.
However, earlier in first week of December 2015, Maharashtra
government asked the Union Government to slash the MEP for onions to help boost
overseas shipments after its wholesale prices went down to the 10 rupees per kg
level.
Tata JLR will build 1
bn pound factory in Slovakia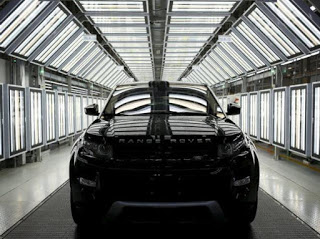 Tata Motors-owned Jaguar Land Rover will set up a
one-billion pound premium manufacturing plant in Slovakia to make all-new
aluminium vehicles as part of its commitment to deliver lightweight cars, the
company said on Friday.
The UK-based luxury car maker clinched an agreement with the
government of the Slovak Republic to build a new plant in the city of Nitra,
western Slovakia. The new world-class 1-billion pound worth premium
manufacturing facility is expected to employ around 2,800 people over time.
It is anticipated that the first cars will come off the
production line in late 2018.
The factory will have an initial capacity of 150,000
vehicles and construction will commence in 2016.
List/Indexes
–
India Ranks 135 on
Women Empowerment Index of UN: Govt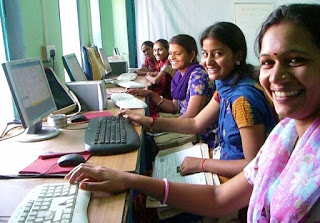 India ranks 135 among 147 nations on women empowerment as
per United Nation's Human Development Index, Women and Child Development Minister
Maneka Gandhi said today.
"According to the Human Development Index as reported
in the Human Development Report 2014 published by United Nation Development
Programme, India ranks 135 out of 147 countries," Gandhi said in a reply
to Lok Sabha.
The report titled 'Women and Men in India-2015' by Ministry
of Statistics and Program Implementation highlights the status of women
covering health, education, work and decision making along with social obstacles
in women empowerment.
She also said over 80 per cent women in India do not receive
full ante-natal care during pregnancy, while replying to another question.
"As per the Rapid Survey of Children Report 2013-14,
full Ante-Natal Care (receipt of 3+ ANC, at least one dose of TT and consumption
of 100 Iron Folic Acid Tablets/syrup) has been received by 19.7 per cent of
pregnant women," she said.
Shah Rukh Khan
Unseats Salman As India's Top-Earning Celebrity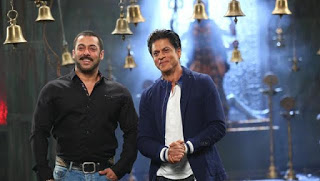 Shah Rukh Khan has regained his position as India's
top-earning celebrity with estimated earnings of Rs 257.5 crore this year, pushing
Salman Khan to the second position in the latest Forbes list.
Shah Rukh had lost his top rank to 'friend and archrival'
Salman last year and had slipped to the third position, Forbes said in its
annual India Celebrity List for 2015 today.
Incidentally, the list comes a day after Salman Khan was
acquitted by Bombay High Court in a nearly 13-year-old hit and run case.
Salman's estimated earnings, as per the latest list, stands
at Rs 202.75 crore — more than Rs 50 crore less than that of Shah Rukh Khan.
Amitabh Bachchan is at third position, down from his second position last year.
Forbes said the total wealth of top 100 celebrities stood at
Rs 2,819 crore, while cinema and cricket dominate the top-ten positions.
Mahendra Singh Dhoni has been ranked fourth and is followed
by Aamir Khan, Akshay Kumar, Virat Kohli, Sachin Tendulkar, Deepika Padukone
and Hrithik Roshan in top-ten.
India
–
India Health Report:
Nutrition 2015 released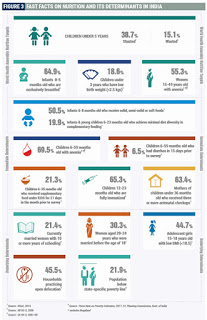 Union Minister for Health and Family Welfare J P Nadda on 10
December 2015 released the India Health Report: Nutrition 2015.
The report by Transform Nutrition consortium offers a
critical analysis of the current situation with nutrition at the national and
state levels in India.
Highlights of the
India Health Report: Nutrition 2015
It provides easy-to-understand, state-wise data dashboards
for 28 states and Delhi that give a comprehensive view of nutrition and its
determinants.
It looks at disparities in these outcomes and their multiple
determinants across geographical regions, socio-economic classes, and
demographic groups and helps identify strategic choices for policy-making at
the state level.
O.P. Jindal
University signs MoU with London university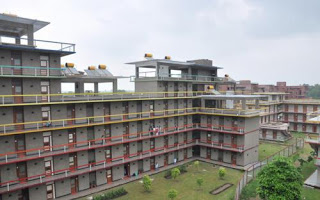 Queen Mary University of London (QMUL) and O.P. Jindal
Global University (JGU) have signed a Memorandum of Understanding (MoU) to
facilitate collaboration between emerging research universities in South Asia
for teaching, academic and research activities.
The MoU was signed on Decemebnr 9th at the start of a
three-day British ministerial visit led by Secretary of State for Business,
Innovation and Skills Sajid Javid and Minister for Universities and Science, Jo
Johnson, to promote cooperation in education, skills and research.
QMUL's Vice Principal David Sadler and O.P. Jindal
University's Vice Chancellor C. Raj Kumar signed the MoU, under which QMUL
expresses support for the International Institute for Higher Education Research
and Capacity Building (IIHEd), O.P. Jindal Global University, in its endeavour
to create the Association of Emergent South Asian Research Universities
(AESARU).
The AESARU is perceived as a network of universities that
are relatively newly-established, aspire to a significant research ambition in
their institutional mission, aim to contribute to economic and social progress
and are genuinely not-for-profit in their operating model.
Awards
& Honors –
Naseeruddin Shah
honoured with Lifetime Achievement Award at Dubai International Film Festival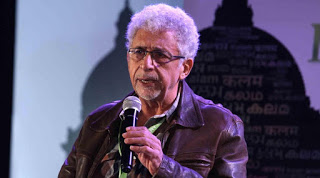 Veteran Indian actor Naseerudin Shah on 9 December 2015 was
honoured with the Lifetime Achievement Award at the 12th edition of Dubai
International Film Festival (DIFF) in Dubai.
Besides, Egyptian actor Ezzat Al Alayli, award-winning
French-Tunisian actor Sami Bouajila and French actress Catherine Deneuve were
also honoured with a Lifetime Achievement Award at the festival.
Salman Rushdie
receives Mailer Prize for lifetime achievement
Salman Rushdie is this year's recipient of the Mailer Prize
for lifetime achievement.
The author of Midnight's Children, The Satanic Verses and
other novels was presented his award by Laurie Anderson at a ceremony on
Thursday night at the Pratt Institute in Brooklyn, the New York City borough
where Norman Mailer was raised and lived off and on until his death in 2007.
Mr. Rushdie, like Mailer, is a former president of the
American chapter of PEN, the literary and human rights organization. He said
Mailer had inspired him to help found the PEN World Voices Festival, an annual
gathering of writers from around the world.
JNU Confers Honorary
Doctorate on Japanese PM Shinzo Abe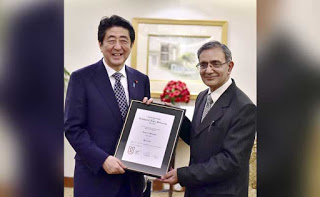 Japanese Prime Minister Shinzo Abe was today conferred with
an honorary doctorate in International Relations by Jawaharlal Nehru University
here for Japan's role in India's economic development.
The Japanese prime minister is on a three-day visit to India
during which he will hold annual summit talks with his Indian counterpart
Narendra Modi.
Upon receiving the doctorate degree, which was conferred on
him by JNU Vice Chancellor Sudhir Kumar Sopory, Abe expressed hope that his
meeting tomorrow with Modi will further elevate Indo-Japan ties.
JNU has Japanese Studies Programme at research, postgraduate
and undergraduate level in the School of International Studies and School of
Language, Literature and Culture Studies.
Books
& Authors –
Sharad Pawar's
autobiography On My Terms released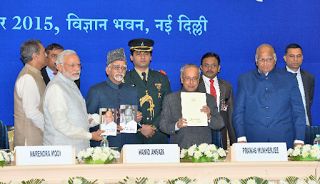 On My Terms: From the Grassroots to the Corridors of Power,
an autobiography of Sharad Pawar was released by Prime Minister Narendra Modi
on 10 December 2015.
The book was released on the 75th birthday of Pawar, the
Maratha strongman and the leader of Nationalist Congress Party (NCP).
In this book, Pawar has detailed his experiences of
political and social issues spanning 50 years. He, in his book, has provided a
detailed account of the reason which helped in creation of rough patches in his
relation with Rajiv Gandhi. He tells that his proximity with Chandra Shekhar
brought rough patches to his ties with Rajiv.
World
–
Myanmar inaugurated
Yangon Stock Exchange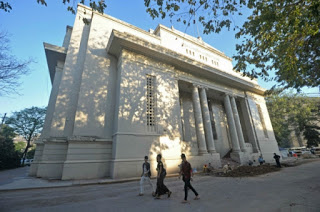 Myanmar on 9 December 2015 inaugurated a new stock exchange,
named Yangon Stock Exchange (YSX), with plans for six companies to start
trading in March 2016.
The six companies
that will start the business by March 2016 are:
First Myanmar Investment Company
First Private Bank Limited
Great Hor Kham Public
Myanmar Agribusiness Public Corporation
Myanmar Citizens Bank
Myanmar Thilawa SEZ Holdings Public
Initially, the Yangon Stock Exchange will be open only to
Myanmar companies and investors and will eventually allow foreigners to invest
in Myanmar shares.
UN agencies launched
$1.98 billion Sahel humanitarian appeal for 2016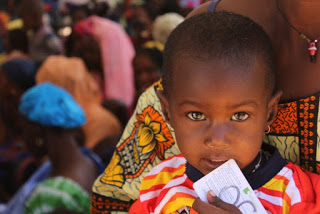 The United Nations agencies and partners on 9 December 2015
launched the Sahel humanitarian appeal for 2016. The purpose of the initiative
is to mobilise international support to tackle triple crisis of poverty,
insecurity and climate change that plagues the Sahel region in Africa.
Highlights of Sahel humanitarian appeal for 2016
It includes a regional plan that calls for 1.98 billion US
dollars to provide vital assistance to millions of people in nine countries
across the region.
It will focus on tackling dire effects of climate change,
abject poverty, fast population growth and a tormenting rise in violence and
insecurity in Africa's Sahel region.
Appointments
–
Mauricio Macri Blanco
sworn in as President of Argentina
Mauricio Macri Blanco was on 10 December 2015 sworn in as
the President of Argentina. He succeeded Cristina Elisabet Fernandez de
Kirchner who was in the office for two terms between 2007 and 2015.
Mauricio Macri is the leader of the centre-right Cambiemos
(Let's Change) coalition. He secured 51.5 percent of votes in the elections
held in November 2015.
He defeated Centre-left Peronist candidate Daniel Scioli who
secured 48.5 percent votes.
ABB India appoints
Sanjeev Sharma as MD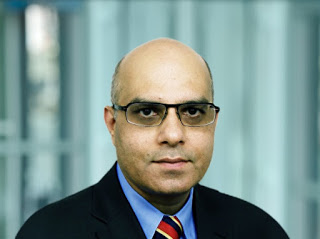 Power and automation company ABB India Ltd said it has appointed
Sanjeev Sharma as its managing director effective January.
He replaces Bazmi Husain, who ABB said in September will
take over as the global chief technology officer for ABB Group. Husain was
leading ABB India as its managing director since 2011.
Sharma, who joined ABB in 1990, was the global managing
director for ABB's low voltage systems business unit based out of Malaysia
prior to the new post, a statement said. He started his career working for ABB
in India and has also lived and worked in Germany and Switzerland.


Regards
Team ExamPundit
Sponsored

(adsbygoogle = window.adsbygoogle || []).push({});
Books For 2015 Banking/Insurance Exams

Average rating / 5. Vote count:

EP Recommends: Practicemock Free Mock Tests