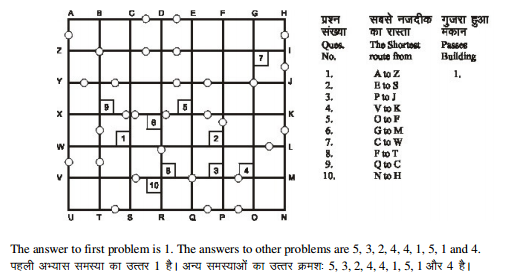 Sample Question


Hello and welcome to exampundit. Here are all the information we could gather about the psychological test for Assistant Station Master in RRB NTPC 2015.
What sort of tests you will have to undergo?
The Psychological tests have been designed for different categories of job in critical safety categories, viz., Assistant Station Master, Assistant Drivers and Motorman.
You will be given the test battery prescribed for the job you have applied for.
Type of Questions for Assistant Station Master (ASM)
Odd Figure Test
Similar Figure Test
Short Route Search Test
Shape, Size & Colour Test
Aptitude Test
Number Based Test
Why do Railways use tests?
Tests are often used by employers when people apply for jobs.
The test help the employer decide if someone has the abilities and personality traits needed to do the job.
How can tests help you?
They help you to understand where your strengths lie.
They have been chosen on the basis of the skills desired for the job.
The tests are carefully designed and are fair to all the applicants.
Taking tests will help you to adjust to the requirement of job.


CATEGORIES FOR WHICH PSYCHOLOGICAL TESTS ARE PRESCRIBED
For direct recruitment, the Psychological Tests are applicable to the following three categories —
Assistant Station Master
Assistant Loco Pilot
Motorman
WHAT CAN YOU DO TO GET HIGHER SCORES?
Before the Session
Don't stay up all night. Make sure you get a good night's sleep.
Give yourself plenty of time to get to the session so you don't have to rush.
If you wear glasses or a hearing aid, be sure to take them with you.
At the Session
Listen carefully to the instructions.
Do exactly as you are told.
Don't be afraid to ask questions.
:: Click here to View the PDF ::
Sponsored

(adsbygoogle = window.adsbygoogle || []).push({});
Regards
Team ExamPundit

EP Recommends: Practicemock Free Mock Tests