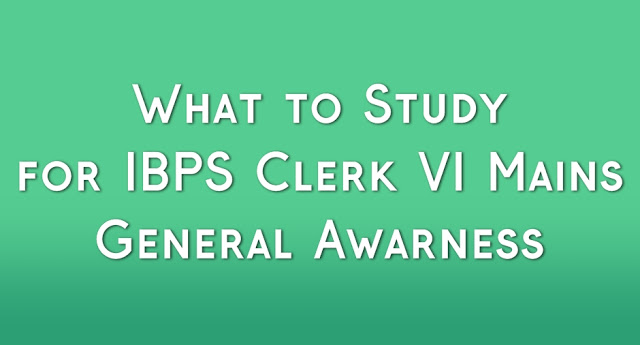 Hello and welcome to exampundit . As promised yesterday, here are the important things to study for IBPS Clerk VI Mains General Awareness.
Firstly, Don't try to mix up IBPS PO VI Mains, SBI PO Mains with IBPS Clerk/RRB Exams.
It is expected that the IBPS Clerk VI Mains General Awareness will have a 50-40-10 ratio of Current Affairs – Banking Awareness – Stock GK
1. Current Affairs: The most important part of the general awareness are the recent news & events. Not only it is quite hard to know everything in the last 2 months, but if you mess up 1 or 2 events, you mess up a large portion of the section.
So, what exactly do you need to study?
Current Affairs from November 1 to December 21 is VERY IMPORTANT. On the other hand, major updates from October and September are crucial.
However, during the demonetisation period, there were too many reforms and rules created and then changed. So you don't need to study them.
Important things to study for IBPS Clerk VI Mains Exam
News from Financial/India related events – November 1 to December 21
News from World/Sports – November to December 21
IFFI GOA – Best Actor, Best Actress, Best Film, Lifetime Achievement
Various Awards – During November 1 to December 21
Major Schemes launched between September to December 21
Major Loans/Credit during September to December 21
Indexes and Lists – October to December 21
Appointments – Mainly from November 15 to December 21
Schemes, Committees & First things about Demonetization – First state to be cashless, highest deposits, committees etc.
Currency & Capitals – Countries signed MoU with India, was in news during November – December 21
Days & Themes – From October to December 21
Days – NO THEMES – December 22 to January 20
Guests/Themes/Place in Republic Day, Pravasi Bharatiya Diwas or any national event
Books – Authors/Launched by from October to December 21
Above list is only about the VERY IMPORTANT stuffs you HAVE TO study.
2. Banking Awareness: Banking Awareness will consists various functions of banks, acronyms and various limits & features of the products related to the financial industry.
So, you need to study:
Banking Functions & Types of Various Products
Limits & Features of Various Financial Products
Acronyms that are used on a regular basis
Acronyms that were in news
Various Funds & Schemes by banks
HQ, Share Percentage and various other information about Banks & Financial Organisations
3. Stock GK: The stock GK portion is not expected to be a very prominent part in the general awareness section. However, you have to prepare a basic list of stock gk.
The things you have to study
State CMs
State Governors
Union Ministers
Capitals of States
Stadiums/Palaces
National Parks/Sanctuaries
Powerplants
Focus on the Current Affairs and Banking Awareness mainly. Since there is 25 minutes for the General Awareness section, you can always take a deep breath, focus and then answer carefully.
Believe in yourself. These are common information, you can easily make it through!
All the best! May the force be with you!
Sponsored

(adsbygoogle = window.adsbygoogle || []).push({});
Regards
Team ExamPundit