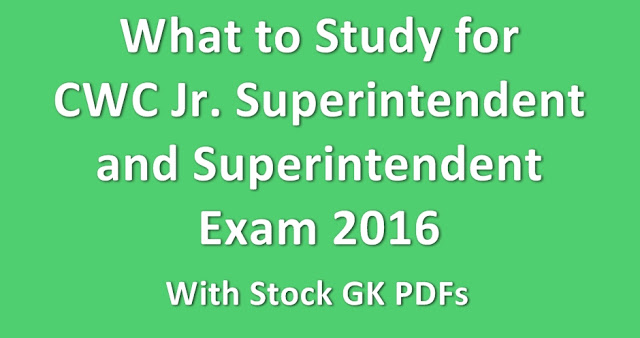 Hello and welcome to exampundit . Almost everyone of you have asked
for an article on CWC Superintendent and Jr. Superintendent Exam 2016
repeatedly. So here we are giving you a detailed insight on What to Study for
CWC Superintendent and Jr. Superintendent Exam 2016.
At first, we will see the format
of the exams i.e. Superintendent and Jr. Superintendent
Format of Superintendent

Format of Jr. Superintendent


Note : Cutoffs will be applied on Total Score and there is no section-wise cut-off
Both of the exams are "quite"
similar but not exactly. Why? Firstly, because of the post difference and
second the number of questions and total time allotted. On the other hand, you
can clear see Superintendent has "Quantitative Aptitude" and Jr. Superintendent
has "Numerical Ability" which we are going to explain in this article.
So, What to study?
Even though the exam is conducted
by IBPS, the pattern is expected to be little different from the traditional
IBPS exams.
What to study in General Awareness for Superintendent and Jr. Superintendent?
The general awareness is expected
to have a good amount of Stock GK, slightly older current affairs, Financial
Knowledge (the one we get in
lucent's
) and obviously Current Affairs.
You must prepare a lot of STOCK
GK for both of the exams.
Important General Awareness Topics for Superintendent and
Jr. Superintendent Exam:
Important Palaces in India – DOWNLOAD
Major Newspapers in the world – DOWNLOAD
Major Stadiums in India – DOWNLOAD
Major National Parks, Wildlife
Sanctuaries – DOWNLOAD
Important Awards and their field – DOWNLOAD
Important Dams in India – DOWNLOAD
Cities on the river banks – DOWNLOAD
Important Mountains in India – DOWNLOAD
Important Autobiographies by
Indians – DOWNLOAD
Major Airports in India – DOWNLOAD
Important Folk Dances – DOWNLOAD
States and Capitals – DOWNLOAD
Capitals and Currencies
Important Ports in India – DOWNLOAD
Important Lakes in India – DOWNLOAD
Major Powerplants in India – DOWNLOAD
Major Temples in India – DOWNLOAD
Symbols of Indian States – DOWNLOAD
Major News agencies in the world – DOWNLOAD
Current Affairs – From August to
November
Financial Knowledge – Stock Knowledge
of Indian Financial System
Reasoning Ability:
For the superintendent exam
reasoning ability part level is expected to be like PGDBF exams. Although it is
advised to study everything in the subject.
For the jr. superintendent
examination reasoning ability is expected to be RBI Assistant level. We are
giving examples of banking exams but it does not mean the exam will be totally
like that. It is always advised to prepare some SSC reasoning to be on the safe
side.
The most important
topics for the exam
Syllogisms
Direction Test
Blood relation test
Analogies
Shape Analogies and other
non-verbal reasoning
Input Output
Seating Arrangements
Puzzles
Coding and Decoding
Statements and Assumptions, Cause
and Effect
Quantitative Aptitude / Numerical Ability:
The superintendent exam will have
Quantitative Aptitude and the Jr. superintendent exam will be having Numerical
Ability. So what exactly differs both?
Well, to be very honest, both of
the terms are related yet a lot different.
Quantitative Aptitude tests both
your numerical ability as well as logical ability. So, in the quantitative
aptitude section you need to be very careful about the steps and the logics of
the problems. When it comes to numerical ability, it is mainly about the
calculation.
In short
Quantitative Aptitude = Numerical Ability (Calculation + Speed) +
Logical Ability
Numerical Ability = Calculation + Speed
Important Topics for Superintendent Exam Quantitative
Aptitude:
Data Interpretation
Calculative Interest/Profit &
Loss / Partnership / Average / Time and Work
Quadratic Equation
Probability
Important topics for Jr. Superintendent Exam Numerical
Ability:
Simplification
Approximation
Profit & Loss
Interest
Average
Number Series
Time and Work
Time and Distance
English Language
The English language is expected
to be PGDBF level for superintendent and assistant level for jr. superintendent
exam.
The key in English is attempting
with accuracy. Do not foul attempt and lower your chances. The questions are
not going to be SBI PO or IBPS PO mains. So you have to do what you know.
Because others, who have already gone for those mains exams, will have a upper
hand (HONESTLY).
The important topics for superintendent and jr. superintendent
in English:
Comprehension
Cloze Tests
Spelling Tests
Fillers – Single – Double
Error Corrections
Sentence Rearrangements
So that is it guys!
It is recommended to study both
banking and ssc problems to be on the safer side. And also focus on the STOCK
GK part as mentioned.
All the best!!
May the force be with you!
Sponsored

(adsbygoogle = window.adsbygoogle || []).push({});
Regards
Team ExamPundit
EP Recommends: PracticeMock Mock Tests
EP Recommends: Oliveboard Mock Tests