Hello and welcome to exampundit. Here is a Vocabulary Test for Bank & SSC Examinations.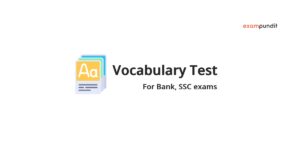 DIRECTONS (Qs. 1-10) Choose the word which best expresses the closest meaning of the given word.
1. FRUGALITY
(a) Foolishness (b) Extremity
(c) Enthusiasm (d) Economy
2. HARBINGER
(a) Massenger (b) Steward
(c) Forerunner (d) Pilot
3. EXODUS
(a) Influx (b) Revenge
(c) Exit (d) Expatriate
4. EQUANIMITY
(a) Resentment (b) Dubiousness
(c) Duplicity (d) Excitement
5. VERACIOUS
(a) False (b) Varied
(c) Image (d) Truthful
6. PERTURB
(a) Stipulate (b) Turn around
(c) Disturb greatly (d) Compatible
7. ACQUIESCENCE
(a) Quiet Submission (b) Great Diligence
(c) Intense Confrontation (d) Subtle Variation
8. WHEEDLE
(a) Emaciated (b) Flattery
(c) Purge (d) Scant
9. IMMISERATION
(a) Immigration (b) Immersion
(c) Impoverishment (d) Discrimination
10. BEATITUDE
(a) Accursed (b) Cleansed
(c) Retreated (d) Blessed
Regards
Team Exampundit
We are sorry that this post was not useful for you!
Let us improve this post!
Tell us how we can improve this post?
EP Recommends: Oliveboard Mock Tests