Hello and welcome to exampundit. Here is a Vocabulary Test for Bank & SSC Examinations.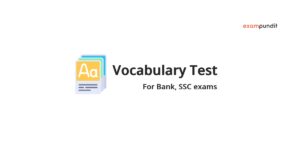 Each question below consists of a word printed in capitals, followed by four small lettered words or phrases. Choose two small lettered words or phrases that are most nearly the same in meaning to the word in capitals.
1. SHAM
(a) feign (b) spread
(c) mellow (d) hypocrisy
2. WILE
(a) during (b) guile
(c) entice (d) guilt
3. FIAT
(a) decree (b) edict
(c) auto (d) design
4. SECT
(a) crowd (b) belief
(c) faction (d) party
5. RANK
(a) bottom (b) complete
(c) lever (d) flagrant
6. AVER
(a) avoid (b) attest
(c) avow (d) deny
7. CANT
(a) jargon (b) contradiction
(c) argot (d) talk
8. DOLE
(a) senator (b) put
(c) distribute (d) parcel (out)
9. MIRE
(a) bog (b) mush
(c) briar (d) entangle
10. TILT
(a) charge (b) incline
(c) fall (d) admire
Regards
Team Exampundit
We are sorry that this post was not useful for you!
Let us improve this post!
Tell us how we can improve this post?