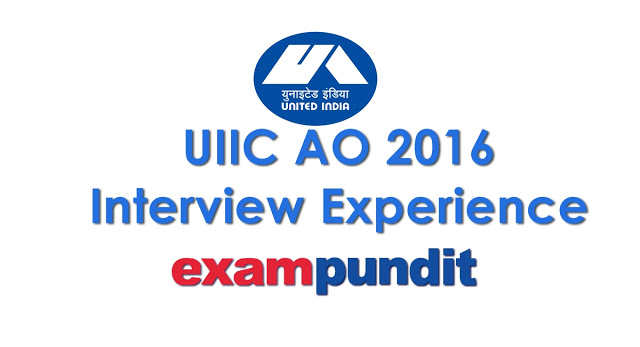 Hello and welcome to exampundit . Here is the second Interview Experience of UIIC AO 2016. The Interview experience is shared by disqus ID – Sakshi.
Name- Sakshi bubna
Qualification- graduate in maths hons …taken admission in pg this year
Date- 18.08.2016
Venue- peerless inn, kolkta
Time- 1 pm
But I was 17th out of 20 so my interview was at 6.30 pm….waiting…waiting…. Too nervous… They were taking 15-20 mins per candidate….
Now the main experience starts….
Q- tell me abt urself n ur family
Ans- told everything
Q- wat is ur aim in life?
A- aim of my life is to b a successful person by doing the task well which I have been assigned with best of my capabilities..
Q- any extra ciriccular activities…
Ans- cooking sir…wen ever I want to relax myself…I cook smthng for my parents ..
Panel- so its like a destresser for uuh…
Me- no no not like that, but I love cooking , I like cooking
Q- wat all u have studied for this interview?
A- sir, some topics related to insurance, details abt the company m going to join, some current affairs…
Q- so tell me wat are the principles of insurance
A- (feeling happy) as I had prepared this ques perfectly..
Started speaking…all …then some cross questions related to that…one qyes they asked related to insurable interest …which is one of the principles of insurance… I cudnt tell the ans..so I said sorry…
Moving next..one of the panel members was previous cmd of Uiicl…Mr milind kharat…he was very cool n friendly..
He asked me so u ll get posting in south or west…how ll u manage…n sm qyes regarding that…I answered…
Q- why not teaching… U r a maths graduate n pursuing pg also…
A- answered…
Lady member- diff bw life n non life , diff bw health n life insurance… Are they not same?? …I was on cloud 9 as these quez I have perfectly prepared… In between sm funny moments were there…we all laughed…
Q- wat is medicare policy…
A- I was just confused as I forgot ..I said sir just one miniut…I have prepared this…
They said dn worry take ur time…
Then I remembered n answered it.
Q- what is TPA ??
Answered it.
That's all…it was all 10-15 mins for me…n a very nice experience.. Overall m very satisfied with my experience… Now fingers crossed ..hope for final selection…
Sponsored

(adsbygoogle = window.adsbygoogle || []).push({});
You can share your experience at exampundit@gmail.com
Regards
Team ExamPundit