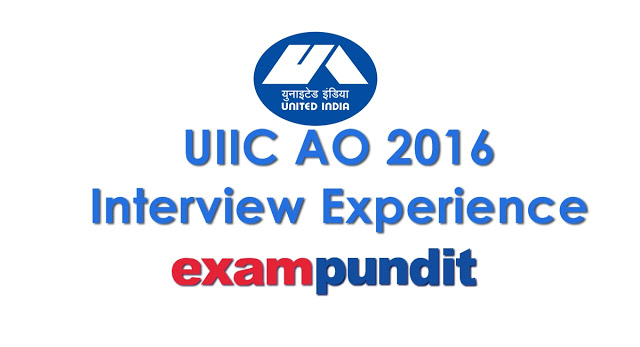 Hello and welcome to exampundit . Here is the second Interview Experience of UIIC AO 2016. The Interview experience is shared by disqus ID – unique from Odisha.
Disqus id – Unique
Qualification- Btech in ECE
Date – 18/08/16
Venue- Hotel The Peerless Inn, near Espanade metro rly st., Kolkata
Reporting time – 9.00 am
My interview started at 1:40 pm and went on for 10-12 minutes. I was the last one in the list in my batch.
In each batch 20 candidates were there( morning n afternoon).
There were 4 members; 3 males and 1 Female(strict), the panel was good as they laughed in some of my answers in between…
M2- Tell me about yourself.
Me – I m A( my name). I belong to Bhubaneswar. I have completed my btech in electronics and communication engg from B(clg name) in 2014.
My strengths are regularity , sincerity, punctuality and truthfulness. I never let my work pending and try to finish today's task today itself.
…So they all smiled and immediately asked me whether we asked u that u finish ur work or not!!
M2 – where do u finish work?
Me- sir for example in daily life and in college while doing assignments..
…He nodded..
M3- What is cloud computing?
Me- (told d definition) "cloud computing allows application software to be operated using Internet enabled services." (thank god one guy shared his 16th Aug uiic ao interview experience at kolkata itself and this question was asked to him then I got the answer byheart from Google)
When he started asking in detail if Tcs company do like dis lyk dat…….. I said sorry sir I don't know much about this.
He said this was not in ur subject???
I said no sir. He understood..
M2 – Ur extracurricular activities?
Me – sir I don't have extracurricular activities but as my hobby I write poems in Odia, my native language and listening to songs is also my hobby.
So he asked how many poems have u written?
Me – I haven't counted, may be 10-15.
M2 – u got them published or written in any blogs?
Me- no sir…
F – Why do u think women should work and why do u want to work?
Me – I want to engage myself and be self dependent.
F – Where you will go, becoz we have very very less vacancies (means no vacancies) in ur state Odisha. But Ur parents will want u to get married and stay there.
Me – I love south India very much. I like authentic south indian dish..so if I m posted there it is fine…( I told this as uiic head quarter is at Chennai and this time they have more vacancies in southern n western region.)
F- u have gone to south India ever?
Me – yes mam during childhood in summer vacations, I used to travel to south India with my family and visited places like Chennai, bengaluru..
F – How u will manage ur family life..it is also important.?
Me – If I can balance both my personal and professional life, It will be fine.
F- Why are you not pursuing ur career in ur field?
Me – ( I was blank,fumbled and was silent for a few seconds.) Then told that, in my sectors psu's r not doing well.
Then she murmured 'then why did u do engineering??!!'
I simply smiled and she switched over to next question suddenly..
F – Women chief ministers of India?
Me – Jk- Mehbooba Mufti, West Bengal – Mamata Banerjee, Rajasthan – Vasundhara Raje, TN – J Jayalalitha, nd gujarat cm anandiben Patel recently resigned..
Then she asked previous women cm's of Delhi n UP?
Me – Delhi – Sheila Dikshit, up – Mayabati
Then bombarded d question, woman president of india?
Me – smt. Indira Gandhi ( wrong)
So M3 said she was the pm, not president! (But they didn't tell the correct answer either..)
M1- What is cryptography?
Me – (managed to say something like..) it is about encrypting data, encryption and provide data security.
M1- where it is used?
Me – IT and computer networking.
He nodded his head.
M1 – What is IMEI?
Me- It is related to mobile communication, I don't know much.
M1- Its (IMEI) full form?
Me – sorry sir I don't know the full form, but I stands for International, M stands for mobile…. He said ok ok…
They said thank u and I thanked them.
My view – I don't know why they r asking computer and information technology related questions to all like in my case, cloud computing and cryptography, so read about IT related things.( especially engg. Students)
And friends, give ur feedback to me about my interview performance it was good or not.
ADDTION:
M2- What is insurance?
Me – Insurance is a financial tool specially created to reduce the financial impact of unforeseen events and to create financial security.
M2- What is unforeseen event?
Me – accident
M2 – If a business suddenly goes down, is there any insurance( non life) for the businessman?
Me – sorry sir, don't know.
M2-What r some types or non-life insurance?
Me- personal accident, health, property, automobile, travel insurance..
F-so in these two years u r only appearing in these exams?
Me – yes mam, I have been appearing in banking and insurance exams.
F – What ot her interviews have u given?
Me – IBPS IT OFFICER, IBPS RRB ASSISTANT.. ( didn't tell about lic aao)
F- Those results declared?
Me – yes
F- so u not selected!
Me – no mam..
Regards
Team ExamPundit
Average rating / 5. Vote count:
EP Recommends: Oliveboard Mock Tests

EP Recommends: Practicemock Free Mock Tests