Twitter Campaign for SSC and Railway Students:
Dear aspirants, as we all know SSC result announcement and Railway exams are delayed due to covid 19 pandemic situation. But candidates are very anticipatory to know about the SSC result declaration date and Railway recruitment exam date. Huge number of aspirants are joined to organize one twitter campaign. To grab the attention of SSC and Railway recruitment Board authorities to release the appropriate notice regarding SSC recruitment result and RRB exam date. Twitter campaign is planned to conduct on September 1, 2020 at 11AM this twitter campaign is purely initiated to turn the attention on these things. The twitter campaign is hash tag SpeakUpForSSCRailwayStudents. Many of our candidates requested us to inform the aspirants to tweet in the hag tag to grab the attention. Here we have the details about twitter campaign ##SpeakUpForSSCRailwayStudents.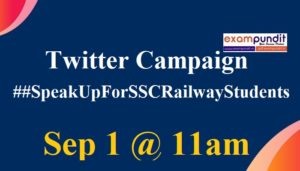 Candidates can use the details to participate in the Twitter Campaign for SSC Result and Railway Exam Date Declaration.
We are sorry that this post was not useful for you!
Let us improve this post!
Tell us how we can improve this post?