Hello and welcome to exampundit. Here is a set of Topicwise Banking Awareness Quiz on Goods and Services Tax(GST). This is the Part 2.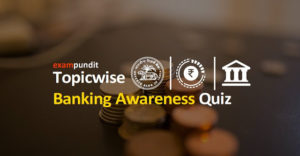 HSN is a ___________ code for identifying the applicable rate of GST on different products as per CGST rules.
1) 2 Digit
2) 4 Digit
3) 6 Digit
4) 8 Digit
5) 5 Digit
How much share does Indian Government hold in "Goods and Services Tax" Network (GSTN)?
1) 51%
2) 49%
3) 25%
4) 100%
5) 75%
How many digits are there in Goods and Service Tax Identification Number (GSTIN)?
1) 12
2) 14
3) 15
4) 10
5) 8
The first two digit of Goods and Service Tax Identification Number (GSTIN) represents ____________.
1) Unique GST Code
2) Industry/Sector Code
3) State Code
4) First two letters of the company
5) Unique Check Code
Which of the following statement(s) is/are true about Goods and Service Tax Identification Number (GSTIN)?
i) From third to twelfth digit will be the PAN number of the taxpayer.
ii) The fourteenth digit will be Z by default.
iii) The thirteenth digit will be assigned based on the number of registration within a state.
1) Only I
2) Only II
3) Only III
4) Both I and III
5) All of them are true
In Goods and Services Tax, what does Q stands for in UQC?
1) Quality
2) Quantity
3) Quantum
4) Quoted
5) Quick
Which of the following article has been repealed so now service tax is subsumed in GST?
1) Article 248A
2) Article 249A
3) Article 268A
4) Article 272A
5) Article 255A
Who holds the maximum share in Goods and Services Network?
1) Government of India
2) Reserve Bank of India
3) Private Companies
4) State Governments
5) Both 1 and 4
Which of the following country was the first to introduce Goods and Services Tax?
1) Germany
2) Italy
3) Canada
4) Australia
5) France
Apart from India, which of the following nation has a Dual GST (Centre and State)?
1) Australia
2) Singapore
3) Germany
4) Canada
5) Spain
The first ever committee to design a GST Model was set up by former Prime Minister Atal Bihari Vajpayee. Who was the chairperson of that committee?
1) Asim Dasgupta
2) Bimal Jalan
3) P V Narshimha Rao
4) Vijay Kelkar
5) Manmohan Singh
Who is the chairman of GST Council?
1) Narendra Modi
2) Arun Jaitley
3) Vivek Debroy
4) Amitabh Kant
5) Urjit Patel
Regards
Team EP
Average rating / 5. Vote count:
We are sorry that this post was not useful for you!
Let us improve this post!
Thanks for your feedback!