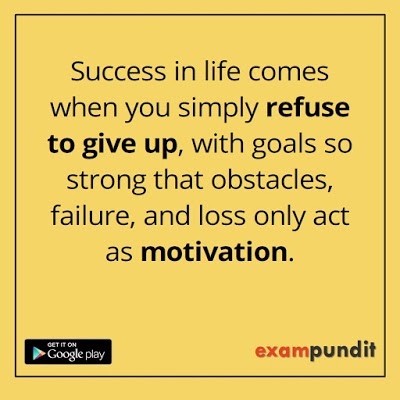 Hello and welcome to exampundit. Success in life comes when you simply refuse to give up, with goals so strong that obstacles, failure, and loss only act as motivation. Remember this line till you achieve you goal!
The simplest thing in life is to GIVE UP! When nothing goes right we think about giving up. We simply forget the fact how Giving Up is easy! It takes guts to face the reality, it takes stamina to fight back and achieve!
Today we may give up but later in life, we will regret. If you have believe in luck then remember 'Luck favors the brave'.
Hard Work always pays off! Today you may feel sad, demotivated, but if you don't give up and continue to work hard and improve yourself, you will shine for sure!
Sponsored

(adsbygoogle = window.adsbygoogle || []).push({});
Regards
Team ExamPundit