The banking industry in India is providing an excellent career start at various levels. The level of banking exam has changed a lot as compared to the previous years. The days are gone when you could qualify an exam with traditional books and limited number of topics. The exam pattern changes in almost every new exam. The level of exam is also increasing exponentially. The aspirants need a continuous support for this changing scenario. Through this article we will be guiding you the best way possible to prepare for banking exams in 2018 with the mentorship of Gradeup team.
 The preparation for banking exam can be categorized in the following sub categories:-
Complete Knowledge of exam eligibility, pattern, syllabus and cut-offs.
A comprehensive coverage of syllabus, topic wise and as per levels of difficulty.
The subject wise and topic wise quizzes to test your subject knowledge.
The mock tests are the crucial part of banking exams preparation. Taking mocks in time bound manner and analyzing solutions to know the gaps.
Now we will guide you on, how to prepare step by step for the banking exams using Gradeup.
Know your exam:-
The candidates must have the complete knowledge of the exam for which they are preparing. The Gradeup app and website provides a lucid way of knowing your exam. There is a notification section for every exam (exams within banking category).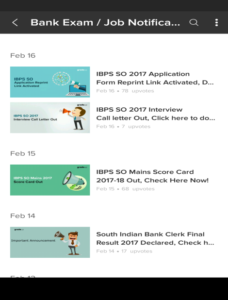 Covering syllabus of exam:-
This is a vital step of your preparation. The candidates should not rush in this step as all your success depends on the quality of content you refer. While you preparing through study material present at Gradeup, you can rest assure of the quality of content. The candidates should complete syllabus subject and topic wise. In order to help you a picture is given below which depicts the study material section. The content is sufficient enough to grasp the basic concepts and start practicing questions to feel comfortable with every topic.
As shown in the above picture, the candidates can select the topics for which he/she wants to refer the study material. The completion of syllabus may take time, but stay calm and keep on covering these subjects and topics at your own pace. There are video lectures also available on app for the convenience of aspirants.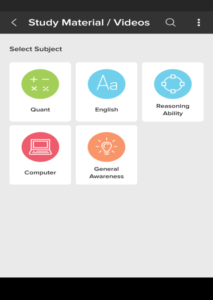 Taking daily quizzes:-
Once you are able to complete your syllabus, it's time to start taking quizzes to test your level of preparation. The preparation of any topic is said to be perfect only after you start feeling comfortable with the topic, and you are able to crack questions based on new concepts of that topic. The candidates are suggested to study each and every topic to the root level. As there are narrow chances that the questions in exam will be asked as it is. The trend is shifting towards questions based on new concepts as seen in Tier 2 exam of SSC CGL 2017 and also can be seen in all recently conducted banking exams. The daily quizzes are updated and questions are based on the recent trends set by competitive exams. The aspirants should try to take topic wise quizzes for more focused exam preparation.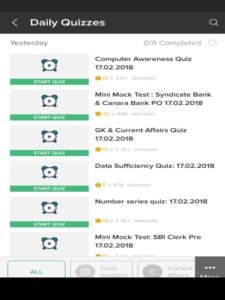 Review of the day:-
The review of day is a kind of refresher for aspirants. It gives a glance of all new things learnt by candidate in a particular day. This is an important tool of revision also. The candidates can go through previous day's reviews also. In another words candidates can learn and grasp things as per their pace of learning.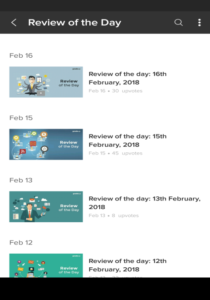 Previous year papers:-
Once syllabus is covered and candidates are able to practice sufficient number of questions, now time is to go through the levels of previous exams. Gradeup app provides previous years question papers to practice and get familiar with the changes in recent years. While attempting previous year's papers take care of following points:-
If your preparation is sufficient enough to score 20% more marks than previous year's cut-offs.
What are the changes in concepts asked in exam, how the level is shifting?
Are you able to predict the changes which you can expect in upcoming exams?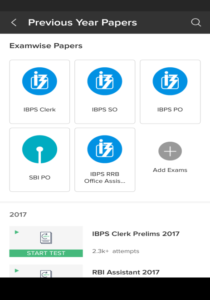 Taking mock tests:-
Your preparation is not complete without assessing your level. The candidates must start taking mock tests once they are able to go through previous steps. Mock exams let students practice revision strategies that are proven to be more helpful and discover what works best for them. There are several memory strategies that have been found to be effective. In one of the most comprehensive reviews on memory, researchers found that the following strategies are useful: spacing out revision sessions (so that there is enough time to forget and then re-learn); teaching the material to someone else (this forces you to think about the material in a clear and structured way); and switching between topics every now and then (which helps you build on previous revision sessions).
Taking mocks early enough in the preparation gives you time before the real thing to target areas that need improvement. Mock exam results can identify how best to spend the coming months for students. Once these areas are identified, it is then a case of putting in the hours. It is not enough to think about what you need to do better, it is the action and the doing that really makes a difference. Being comfortable and confident enough to ask someone else for help, be it a teacher, parents or app, is a big part of having a growth mindset.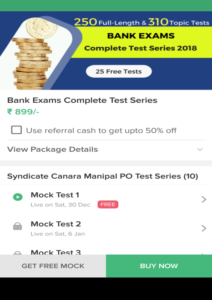 All the best for your exams,
Team gradeup!
Average rating / 5. Vote count:
No votes so far! Be the first to rate this post.
We are sorry that this post was not useful for you!
Let us improve this post!
Thanks for your feedback!
EP Recommends: Oliveboard Mock Tests

EP Recommends: Practicemock Free Mock Tests